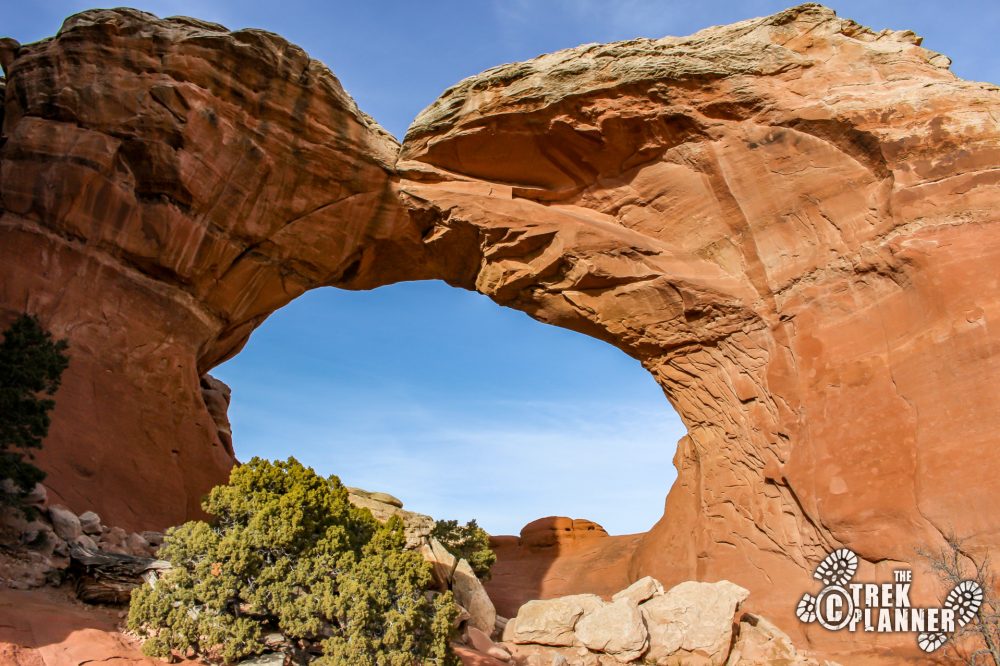 Overview
Arches National Park – near Moab, Utah
Yes, there are entrance fees for Arches National Park
Very little shade on this hike
Trail mostly be on dirt and sand. It is about 1.24 miles round trip.
Yes, at Delicate Arch or Devils Garden trailheads
Yes, in designated camping areas only. There are camping fees involved
Hat, sunglasses, good hiking shoes, bag for food and water
GPS Coordinates
Trailhead: 38° 45.885'N, 109° 35.001'W
Broken Arch: 38° 46.291'N, 109° 34.663'W


Trail Map
---
Driving Directions:
---
The Trail:
Broken Arch, which actually isn't broken, is a great little hike for everyone to enjoy.  You can even see Broken Arch from the parking lot.
The parking lot is the same for Sand Dune Arch so if you have an extra half hour and want to see another amazing arch go see it.
The trail is very flat, in fact you will be losing about 30 feet overall by the time you reach Broken Arch at the end of the .62 miles.  The trail winds around a small valley that is very picturesque.
---
The trail hugs the east side of the valley for a few hundred feet and then it drifts to the west side of the valley.   You can see Broken Arch even from far away still.
---
Despite its name, Broken Arch is not broken in the sense that Wall Arch is in Devils Garden.  There are several large pieces that have crumbled to the ground put it is very much still intact.  The times that I have hiked to Broken Arch I have been the only person in the area.  It really is not that popular of a hike.
---
The Return:
Head back on the trail to the parking lot
---
Personal Thoughts:
This is another great hike that won't take much time but you will still be rewarded with seeing a unique sandstone feature.  I think there is lots to see in this area too such as sandstone fins, arches, desert landscapes and more.