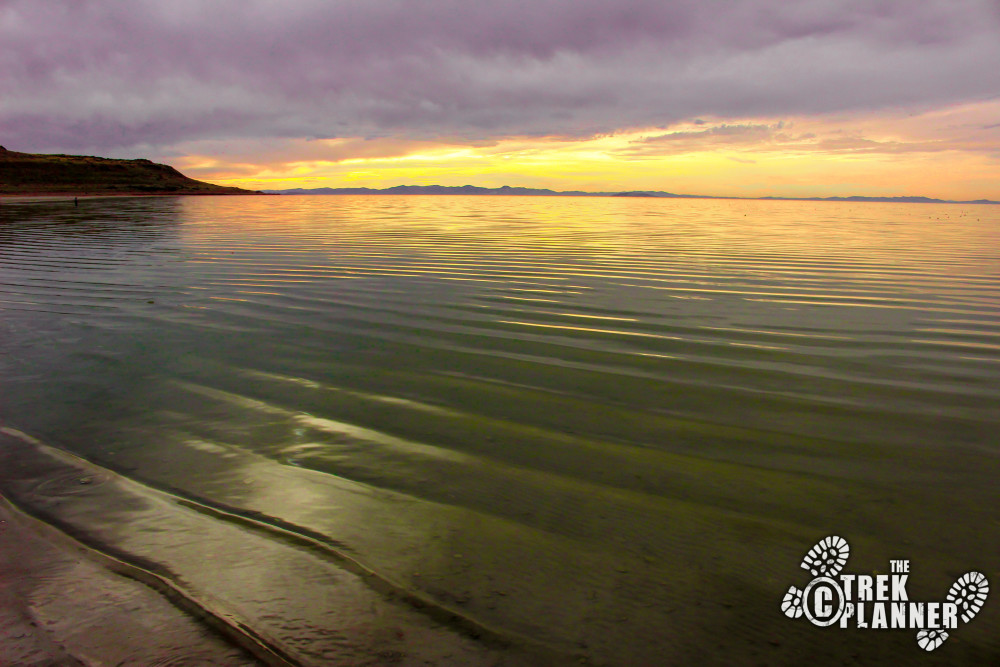 Overview
Antelope Island State Park – Davis County, Northern Utah
Beach, Great Salt Lake, Picnic Area
Yes. There are entrance fees to Antelope Island
Drinking fountains near restrooms. Showers are available but they are quarter operated. Great Salt Lake changes in size but the shore is about several hundred yards from the parking lot depending on water levels.
Lots of sun. Virtually no shade except for under the picnic areas.
Yes. Flushing style restrooms.
Yes. In multiple campgrounds nearby. There are camping fees
Bring food and snacks. There is also a restaurant called the Island Buffalo Grill that actually has decently priced cuisine.
Swim suit, sun block, sunglasses, hat, towel, beach games, picnic gear, flip-flops, kayak or canoe (optional), bug spray
GPS Coordinates
Bridger Bay Beach: 41° 2.852'N, 112° 15.051'W
Trail Map
Driving Directions:
From I-15, take the Antelope Dr exit 332 in Layton Utah.
Travel all the way west on Antelope Dr until you come to the guard station at the Antelope Island State Park.
Travel 7 more miles (still going west) on the causeway until you arrive at the actual island.
Stay right and follow the road for another 1.8 miles until you arrive at the beach area.
Note: there are multiple parking lots in the area but this map will get you to the parking lot near the restaurant.
The Trail:
Whenever I visit Antelope Island I usually make a stop at Bridger Bay Beach.  I recently visited here again and waited until the sun was setting before I started taking photos.
The Great Salt Lake is a very shallow lake which is currently shrinking.  The lake is also incredibly salty and often smells like the ocean except it usually is on the stinking side (sometimes it isn't that bad though!).  Because the lake is shrinking it is about a 500 yard walk to the actual shoreline before you are even able to touch the water.
The bay area, which is named after the famous Jim Bridger, is set up as a place where you can wander around on the white sand beach and swim in the Great Salt Lake as you please.
The parking lot area has many amenities available for your use such as coin operated showers, the Island Buffalo Grill, picnic areas (5 total), vending machines, flushing toilets and a huge sand area where you can relax or play beach games.
This is the perfect place for families especially with children.  Children love playing in the water and skipping rocks in the water –  there are TONS of skipping rocks on the beach.
You are free to swim, canoe or kayak in the Great Salt Lake.  As a reminder, the water is extremely salty so when you are finished swimming or otherwise spending time in the water, please rinse yourself and your gear off.  You don't want to return home having your dark brown shoes turn a weird looking light brown!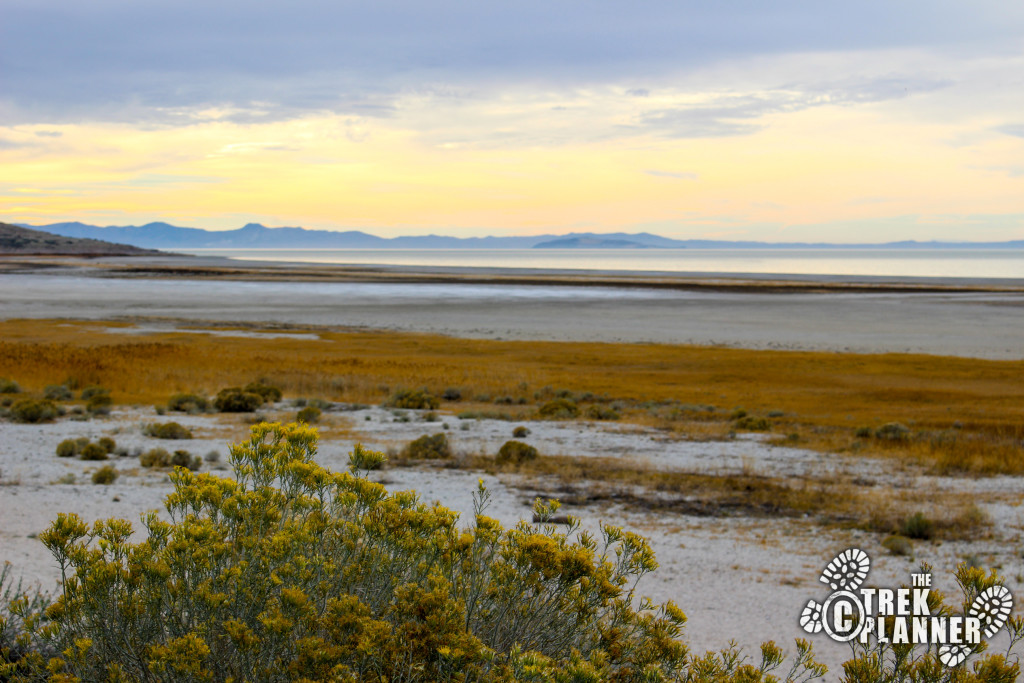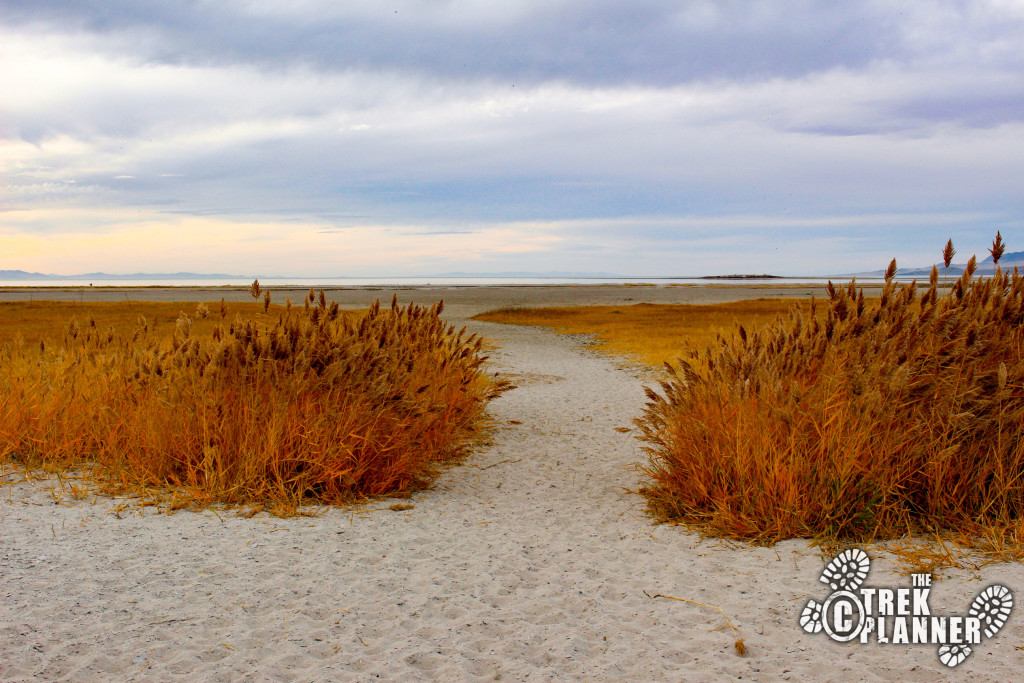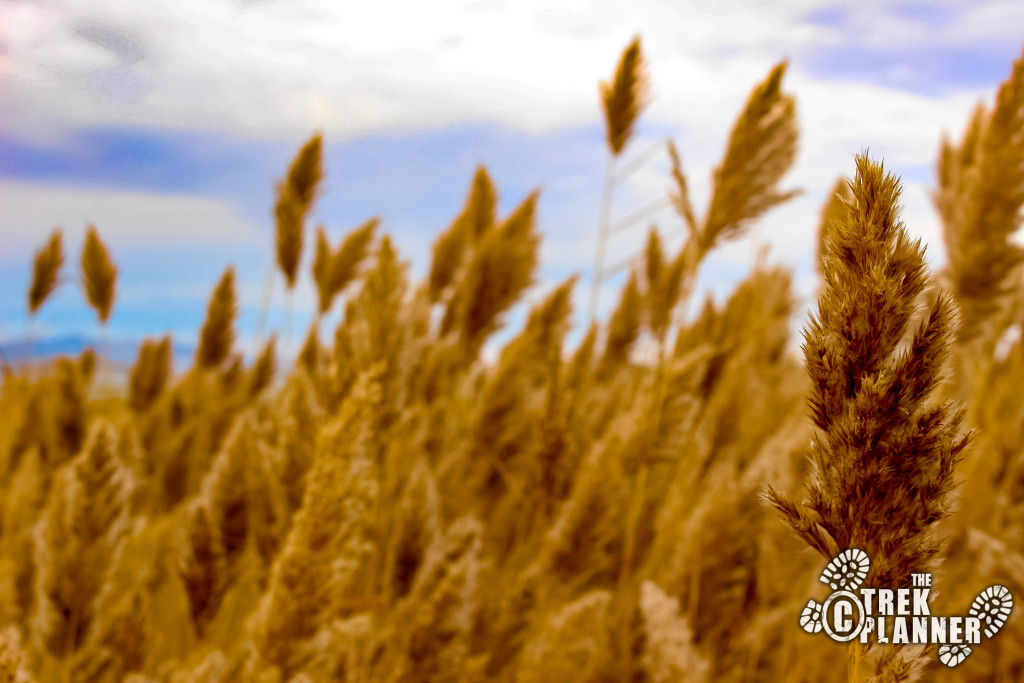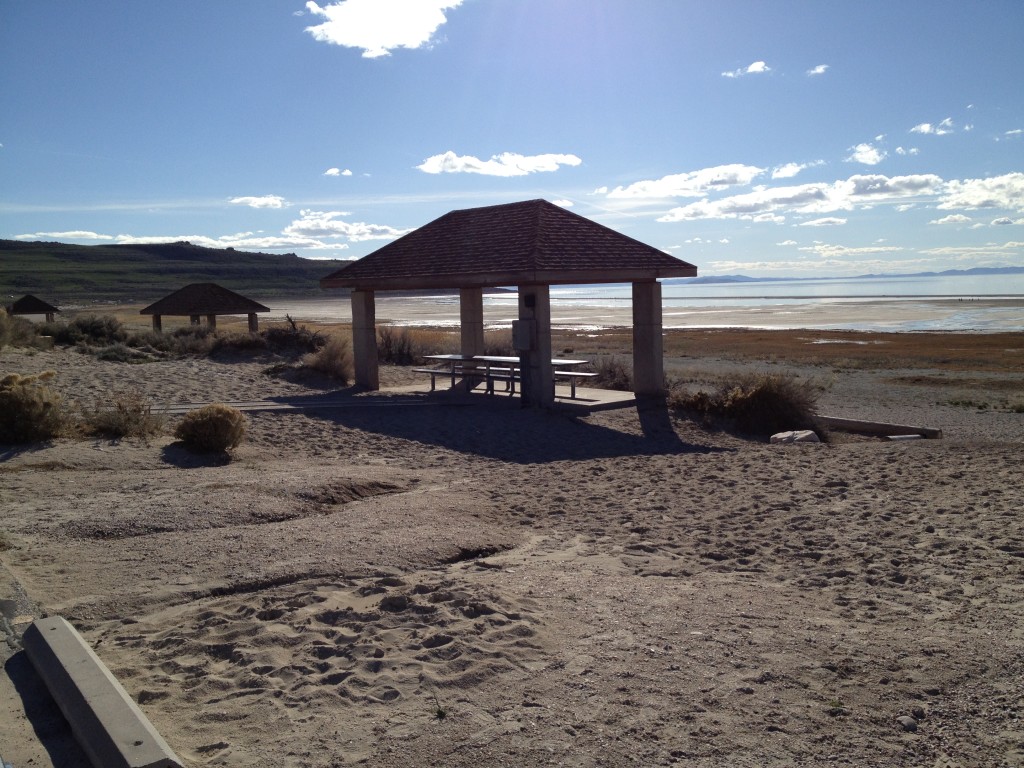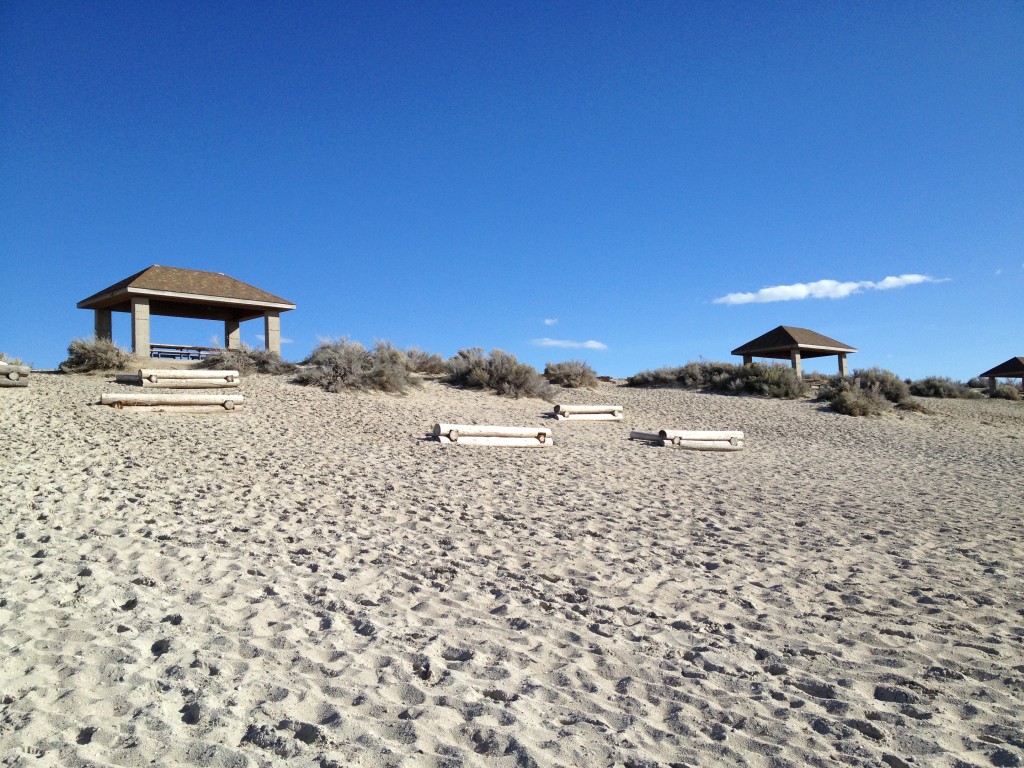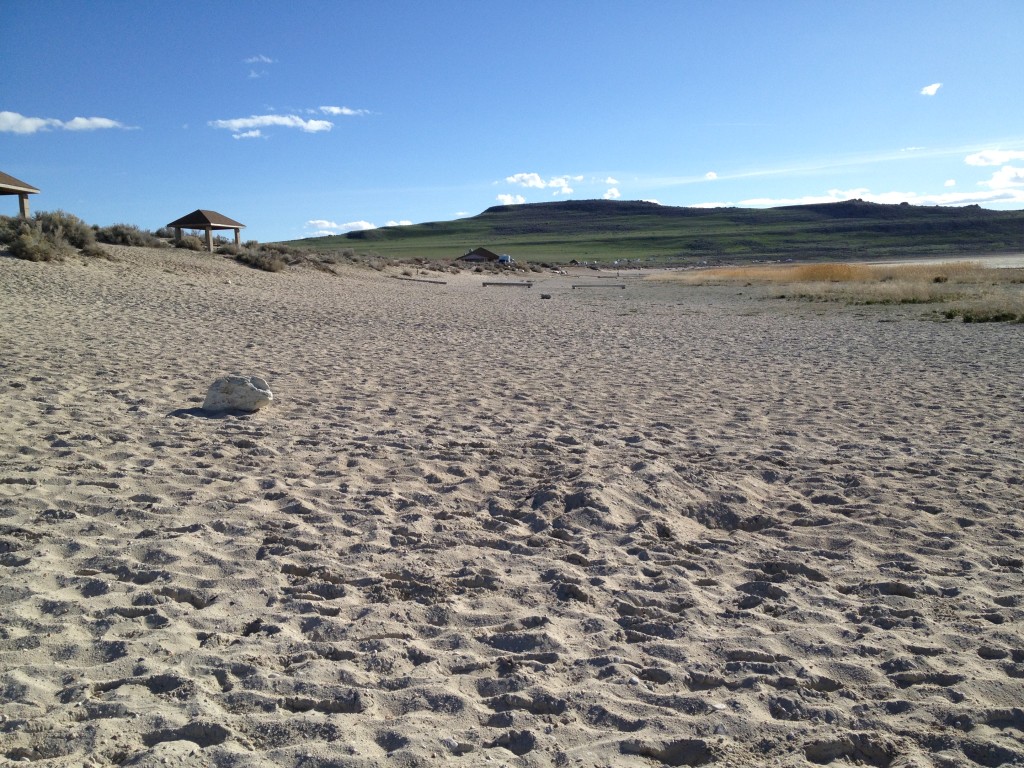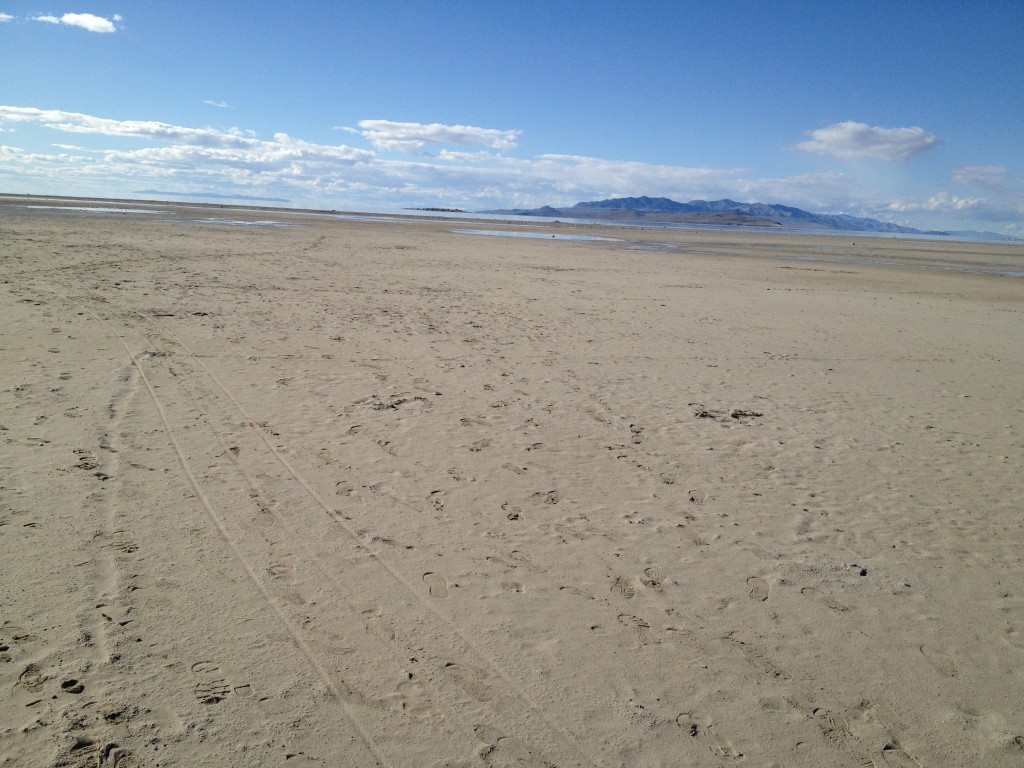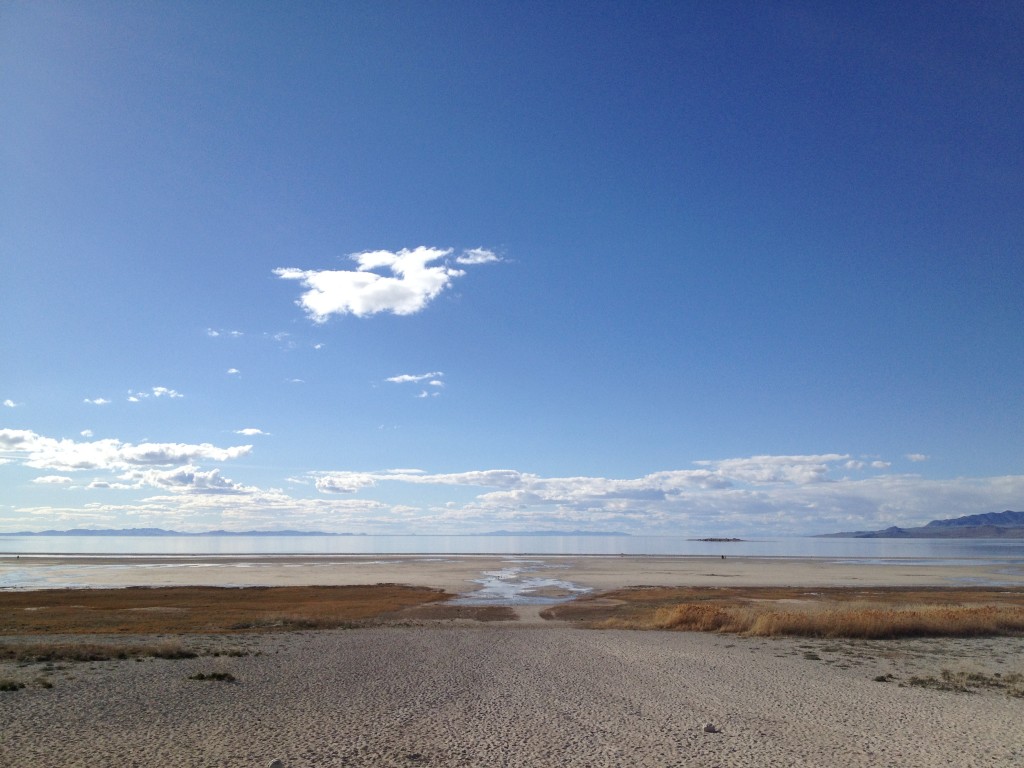 There is no life guard on duty so please always watch children as they run around on the beach or swim in the lake.
Once you are at the water's edge take a close look at the reddish material in the water.  Sometimes you can see brine shrimp swimming around.  Other times, there are piles of dead brine shrimp just at the shoreline.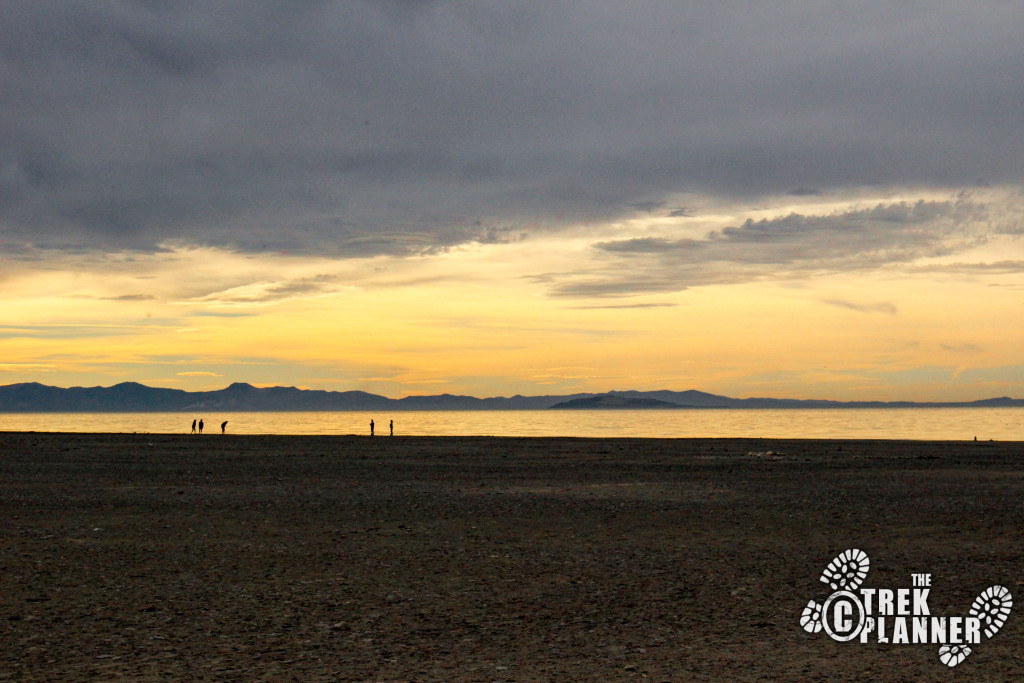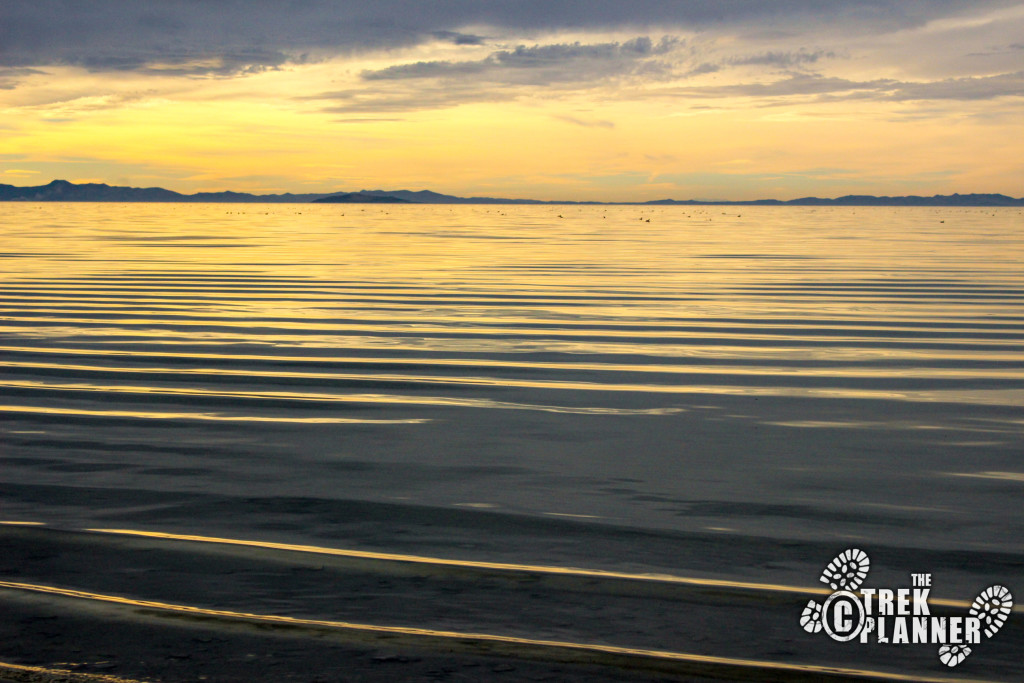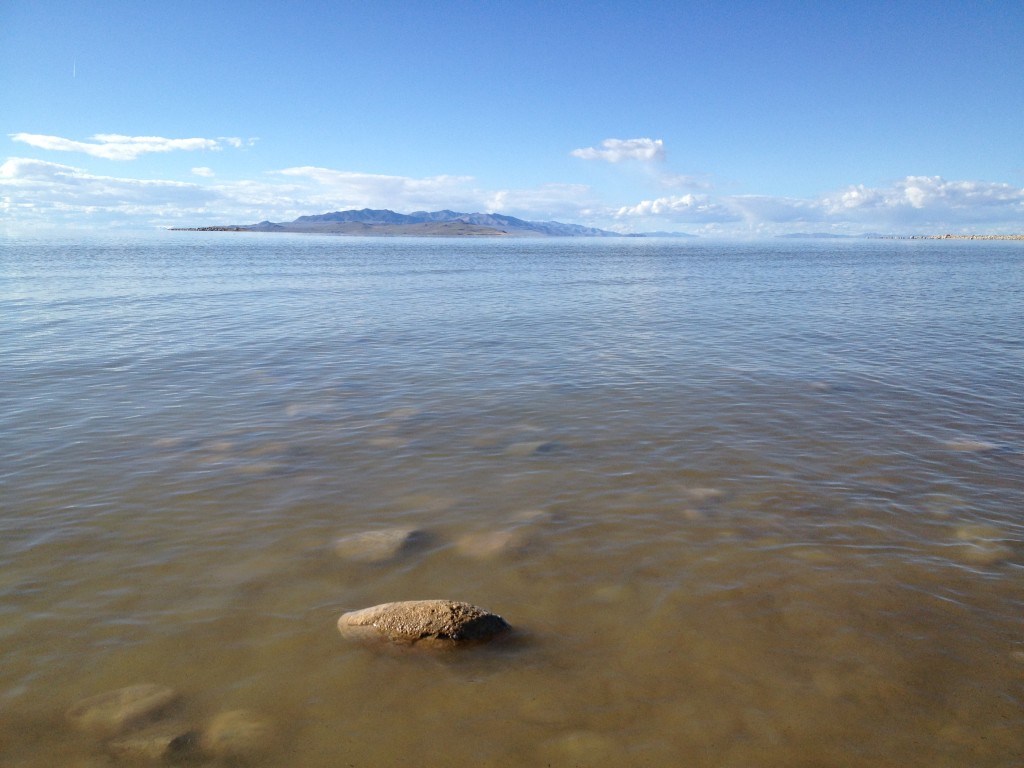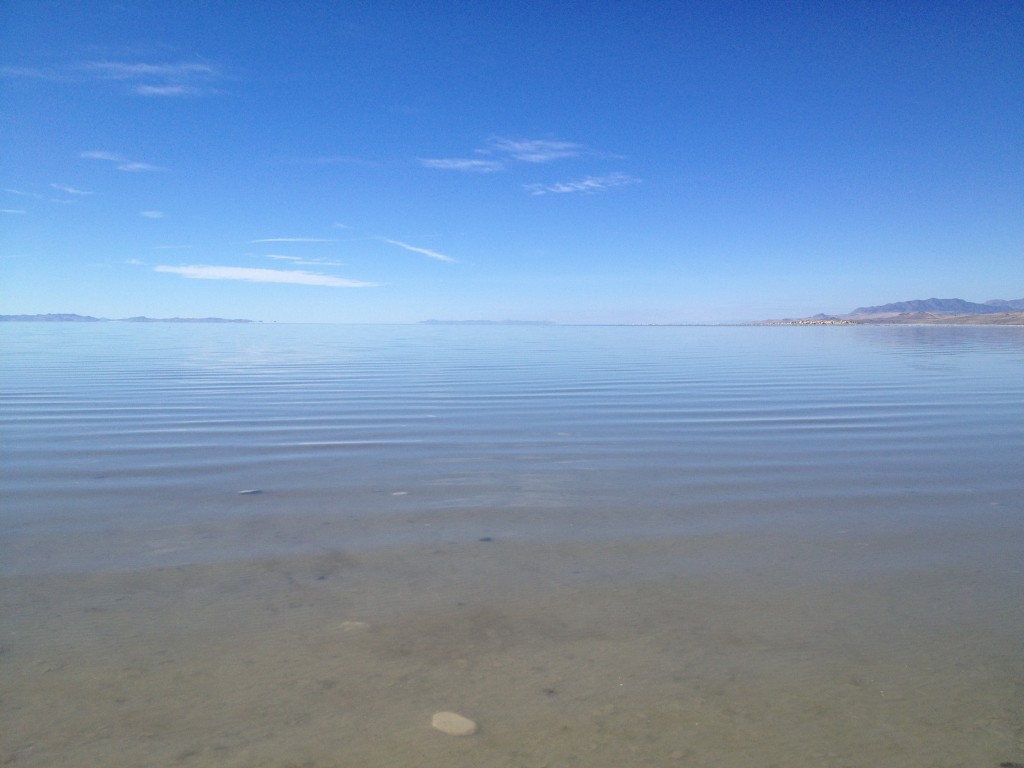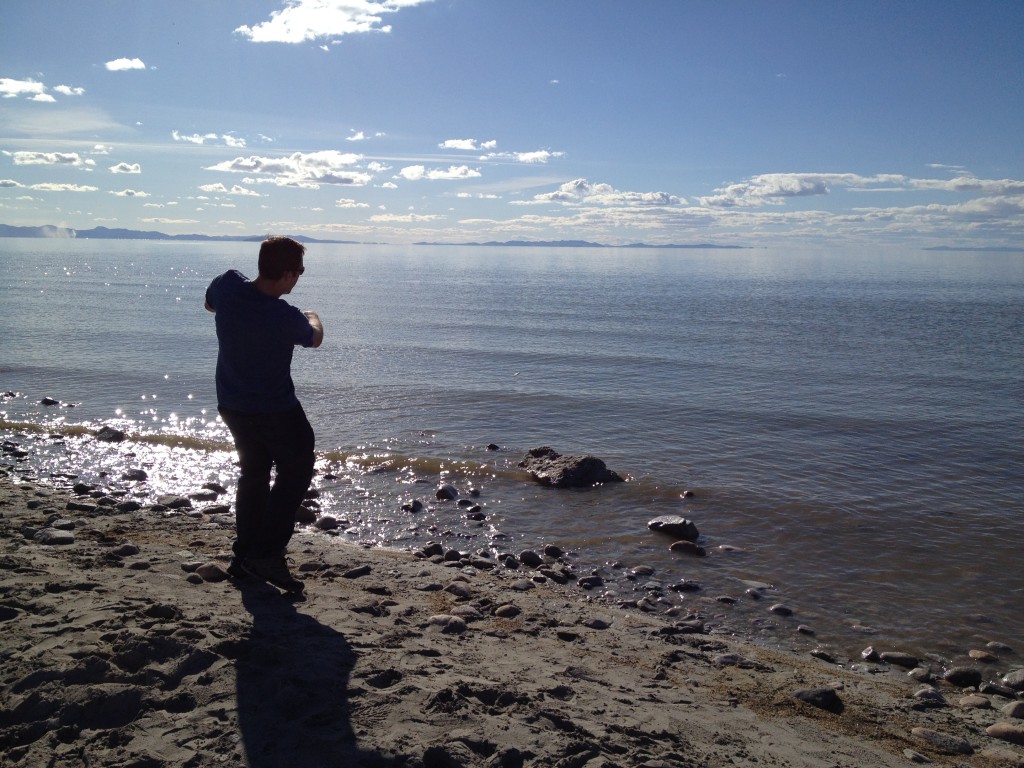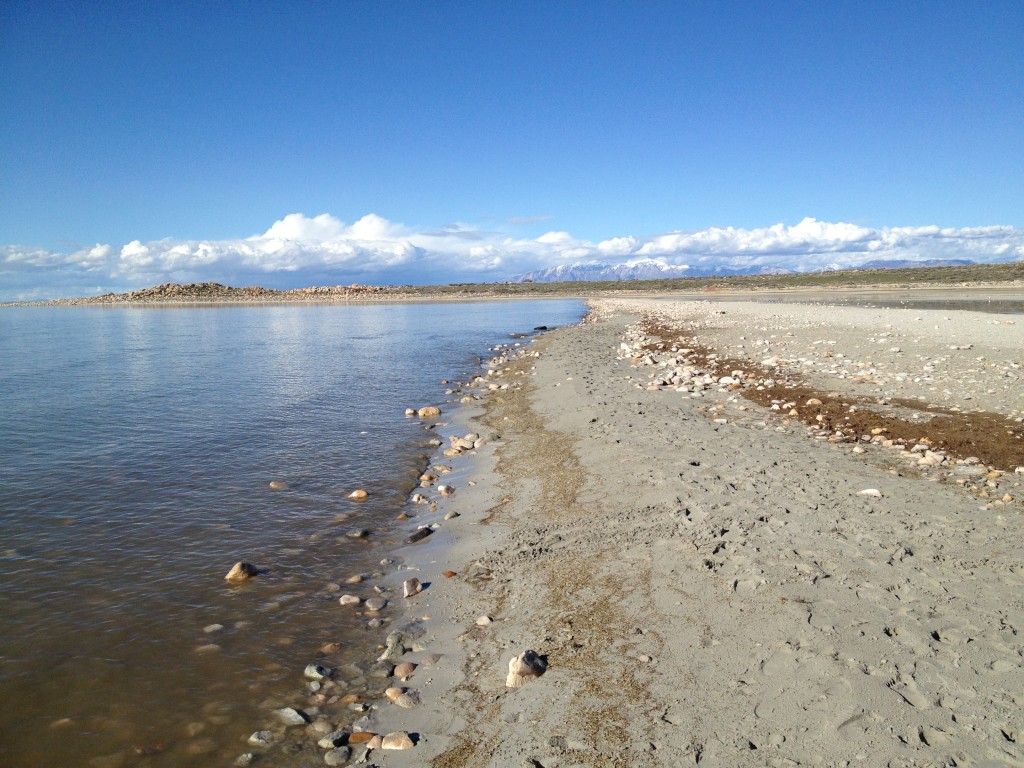 Also, just above from the beach there are multiple campground and RV sites that are available for rent.  I haven't yet had an opportunity to camp here but I have heard that it is nice place to spend the night.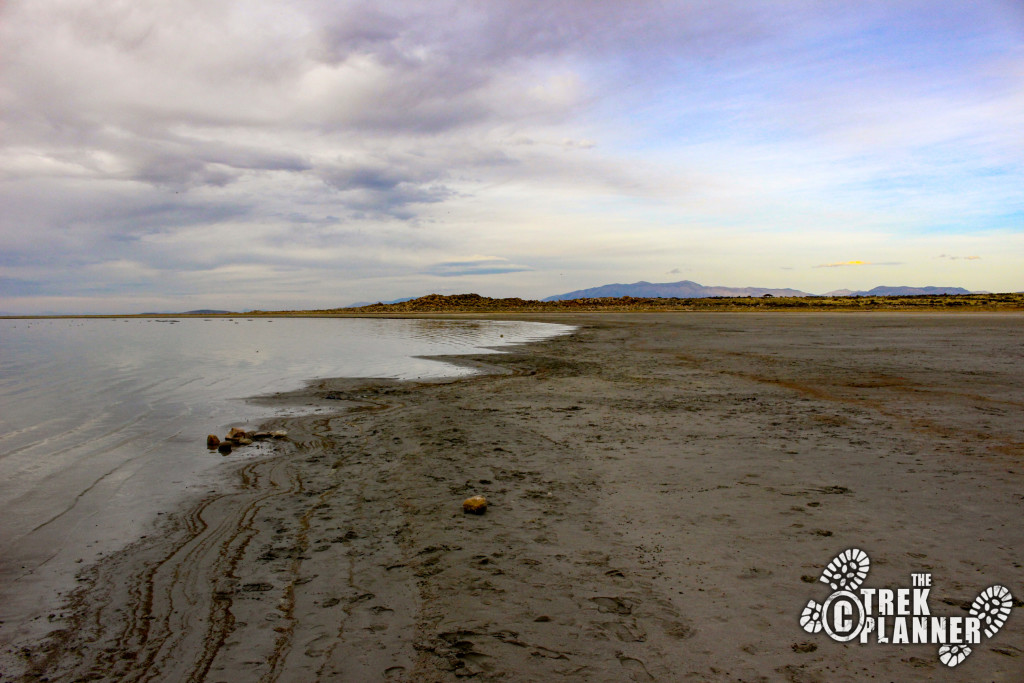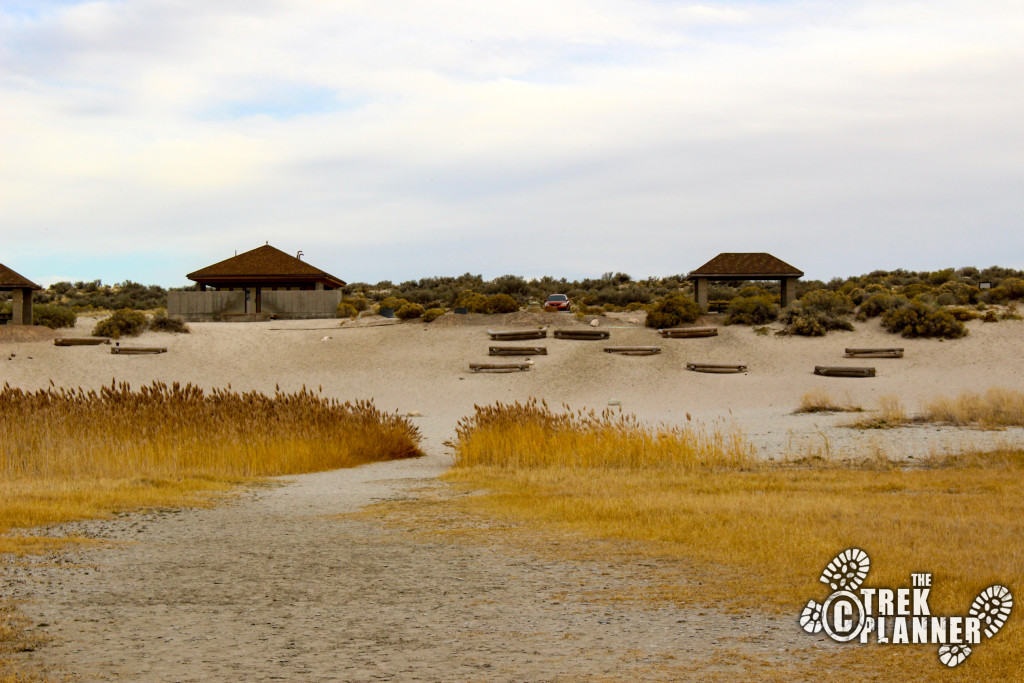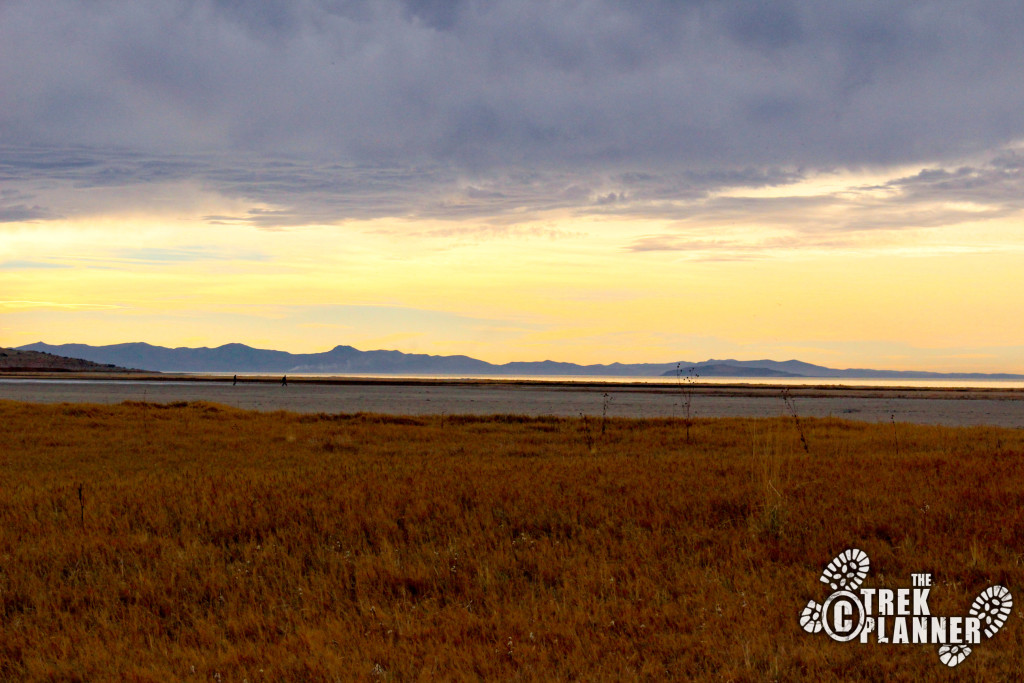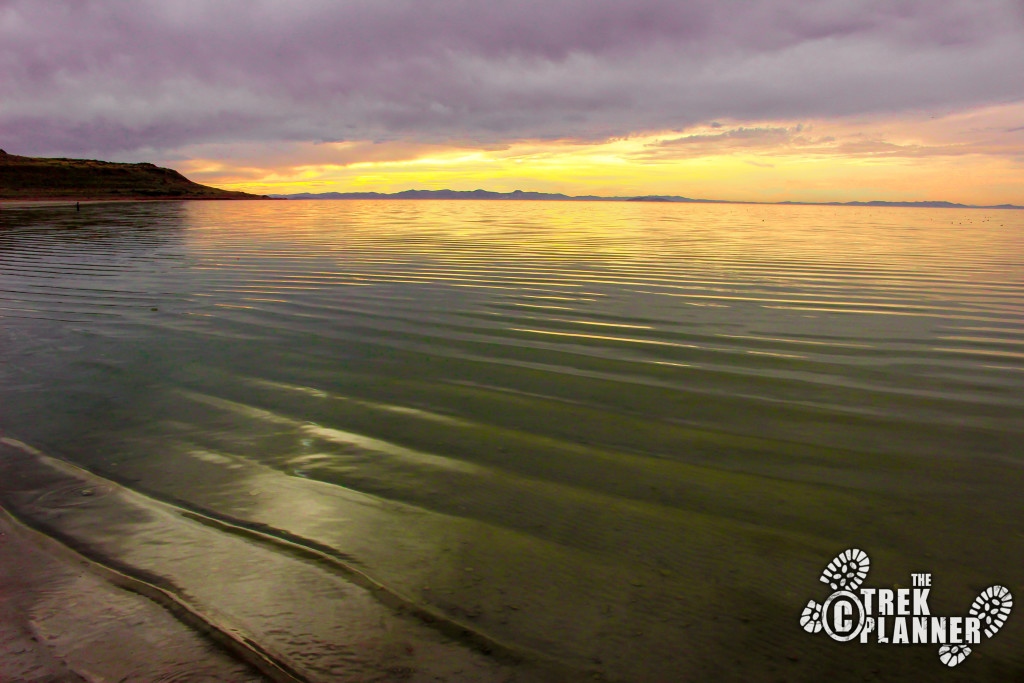 The Return:
Head up to the parking lot.
Personal Thoughts:
If you are coming in the warmer months it is important to know that there will be lots of bugs: flies, mosquitoes and gnats,  Bring some bug spray!
This is a fun area to bring friends and family and hang out at the beach.  Once you are here you will probably start to believe you are actually near an ocean.  Bring some food and some beach games and have a fun time on Antelope Island.  I really like this area because it is not crowded and it is a peaceful place to relax and enjoy your surroundings.
My favorite time to come is just before the sun is setting!
Bridger Bay Beach – Antelope Island