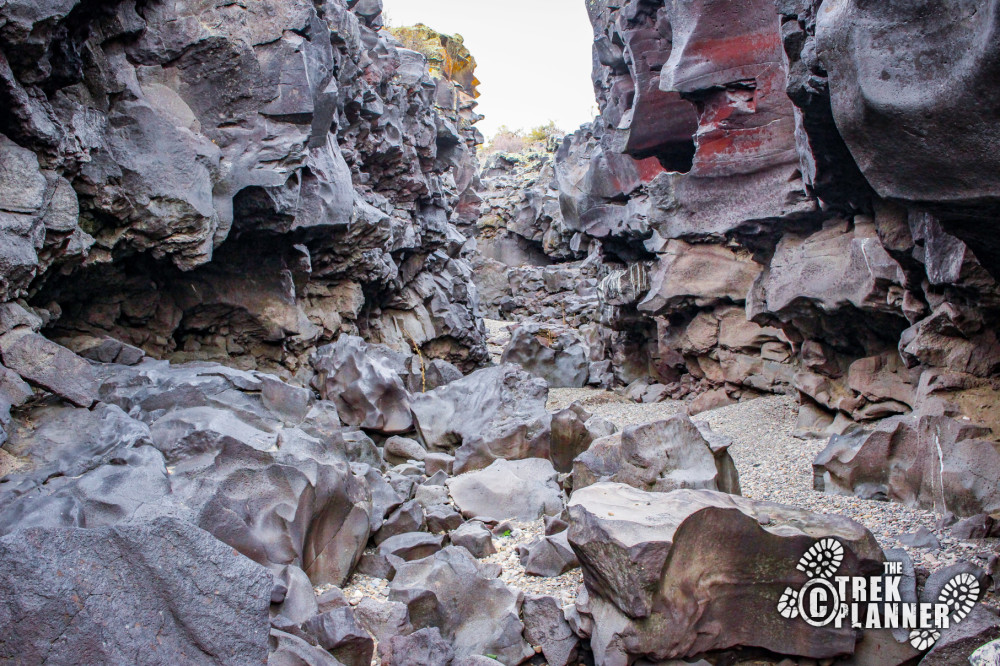 Overview
It is about .75 miles from top to bottom. But you will need to hike back to your car if you don't have a shuttle system.
Bring 1-2 liters of water
Fall or Winter. If you plan to hike this in warmer months make sure you call the Big Wood Canal Company first!
You will be hiking on sand, creek rocks and carved basalt rock.
Bring meals and snacks as needed
Bring good sturdy shoes
Camera
GPS Coordinates:
Trail Map
Driving Directions
A high clearance vehicle would do wonders here!  I brought my low clearance car and high centered about 6 times and got it muddy!  If there is mud then you might get stuck so it is probably a good idea to bring a vehicle with 4 wheel drive.
If you have two cars then you could park one car at the bottom of the canyon and the other at the top.  If not, just park at the top and when you are done, hike back on the road to your car.
The Trail:
NOTE: It is VERY important that you call the Big Wood Canal Company BEFORE you attempt to hike Black Magic Canyon.  The canyon is used sometimes as a canal to bring water down.  If you make the mistake of not calling beforehand it could be potentially deadly for you and those you are with.  I don't mean to sound grim but it is important that you know if the canal company will be using the canyon to bring water through.
Call the Big Wood Canal Company first at: 208-886-2331
The entire canyon is on BLM (Bureau of Land Management) land so if you have any questions please call them at 208-732-7200
You will need to use your down climbing skills and hand-eye-foot coordination so you don't step in a hole or hold onto a thin piece of basalt making it break.  I was happy I remembered to bring my harder soled shoes because I was stepping on a lot of sharp rocks.  You won't need any technical equipment such as ropes or harnesses but you will need to at times, plan your steps.
Before I hiked this canyon I called the Big Wood Canal Company before I even drove up to Shoshone Idaho.  (Black Magic Canyon is the canal where the Big Wood River is sometimes diverted).  A woman answered at the other end and I told her my intentions to hike through Black Magic Canyon later in the day.  She said "Thank you for calling! You must call us before you go through it!"  I asked if they planned to release any water through the canyon and she said that they were done for the season but usually the canyon is used from March to September.  She also said that they can release water at any given point throughout the year.  But for that particular day they were not planning on releasing water through the canyon.
This canyon is best hiked in the Fall and even Winter months. Don't plan on hiking this in the summer because it may be submerged in water making Black Magic Canyon hike-able for only 5-6 months out of the year.
After high-centering my low clearance car a half a dozen times, I finally made it to the trailhead.  From the trailhead, there aren't any signs or cairns or anything. I simply had to find the canyon and start hiking down.  I went down to the creek, which was now very dry, and instantly realized I was in the correct place.  I couldn't believe all the crazy and odd looking rock formations that have been cut by the river.  The dark jagged basalt rock is so bizarre looking that I couldn't stop taking pictures the entire time.
I read on the Idaho BLM office stating that you should hike from the top of the canyon going down.  You could technically hike from the bottom up but after hiking it through, I think it is best hiking from the top to the bottom.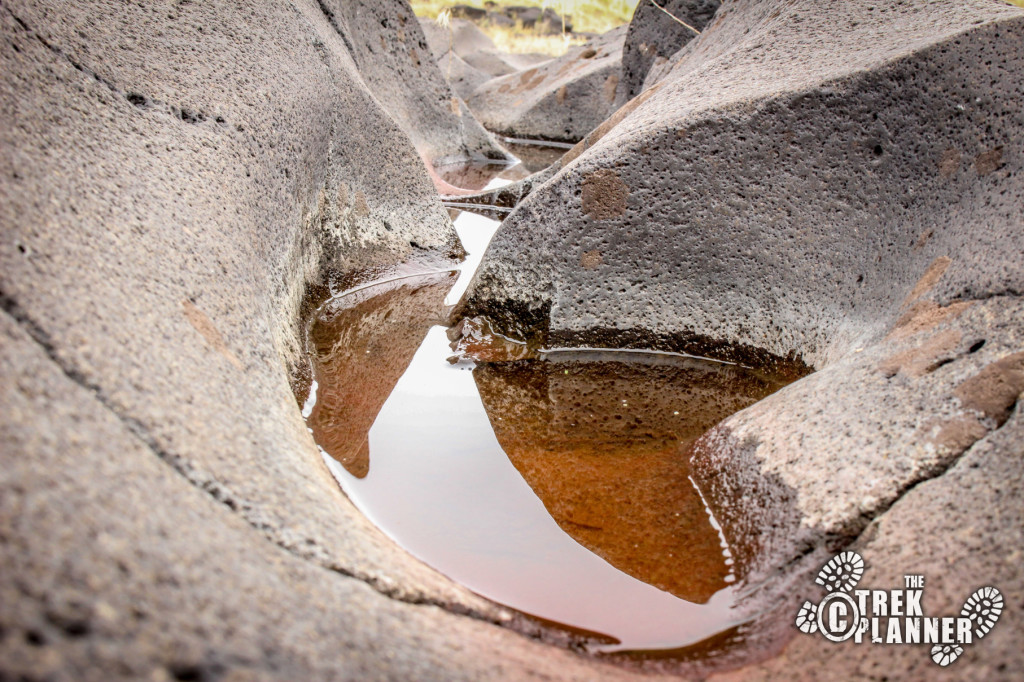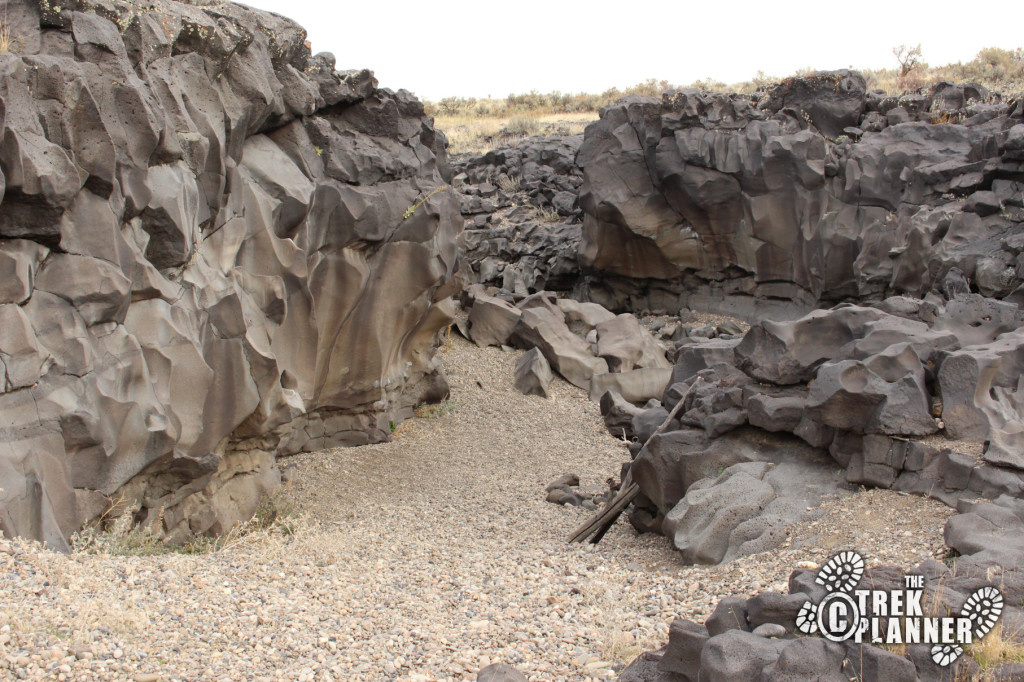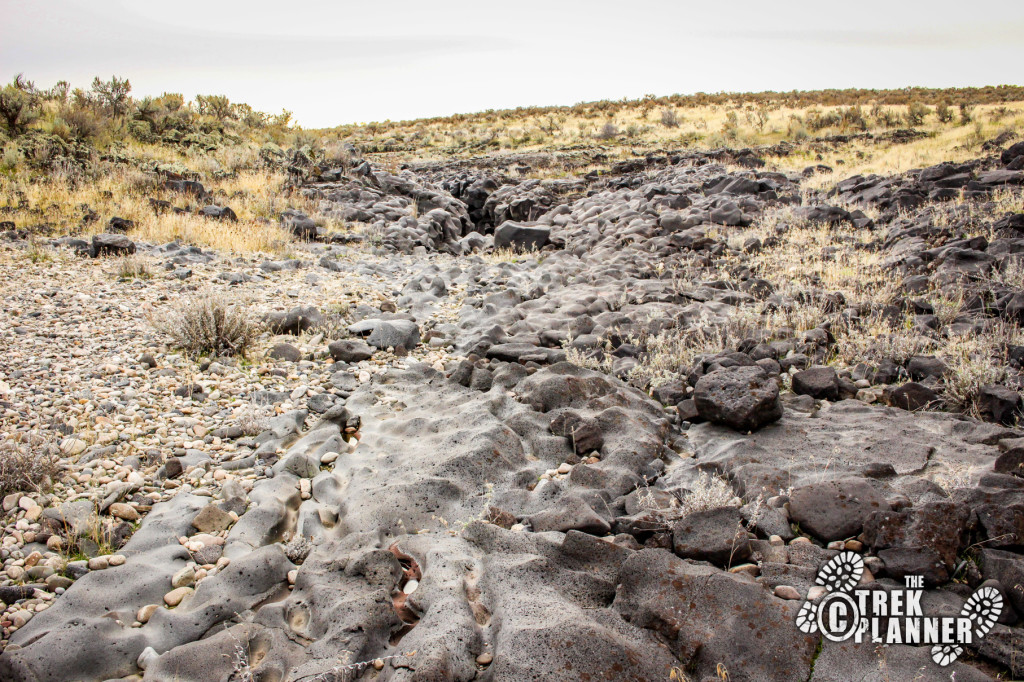 This is essentially a basalt slot canyon very similar to places in Zion or Capitol Reef National Parks.  I almost want to classify this as a canyoneering route but it is probably more of a hiking classification anyway.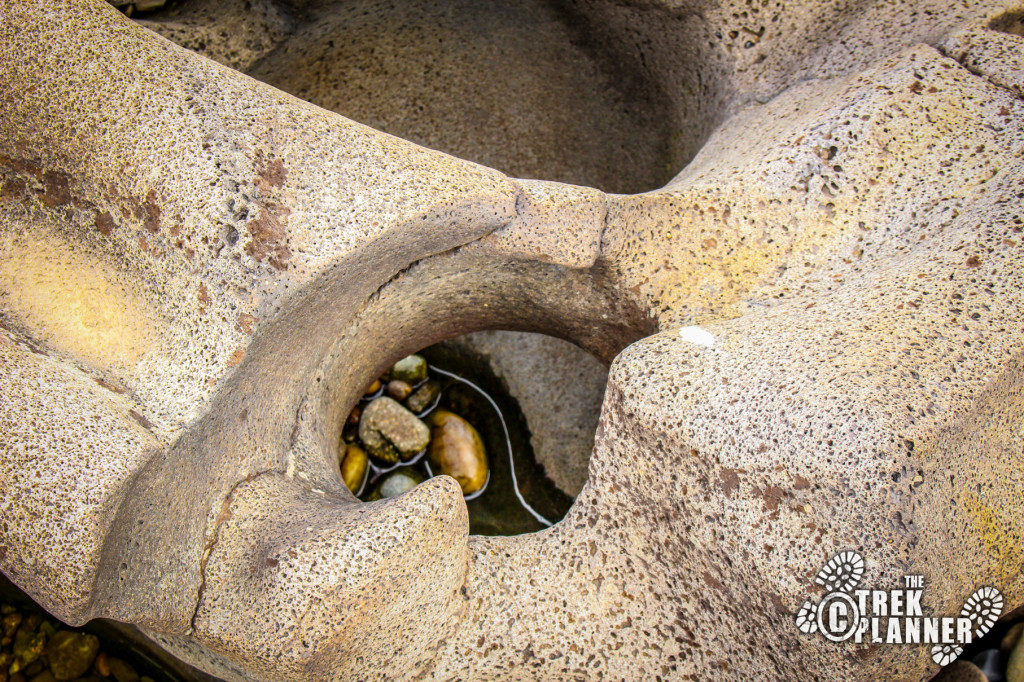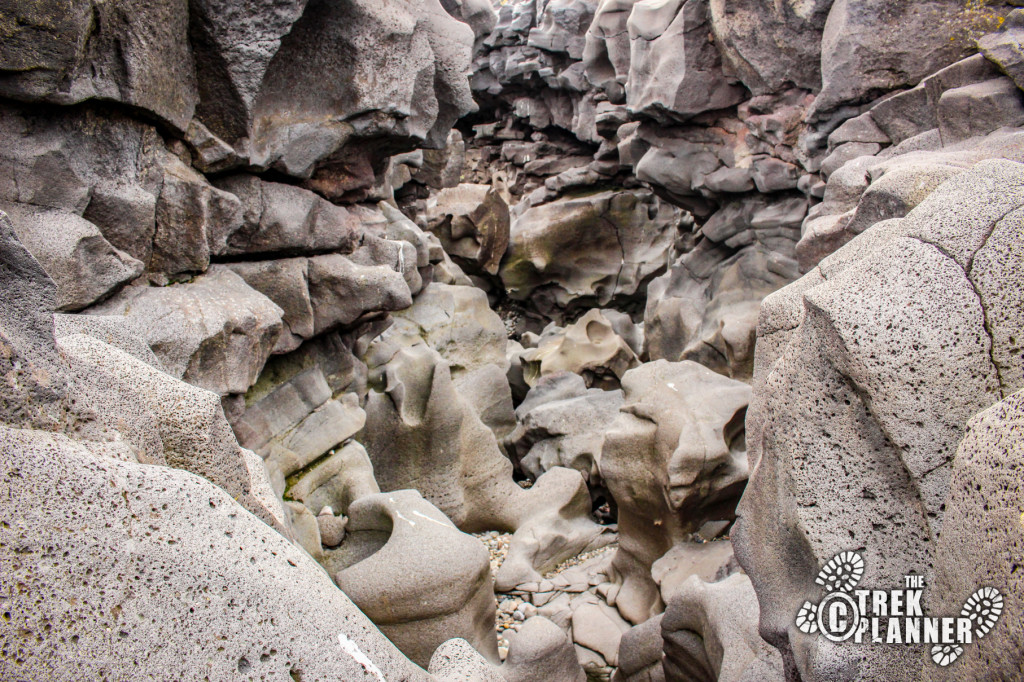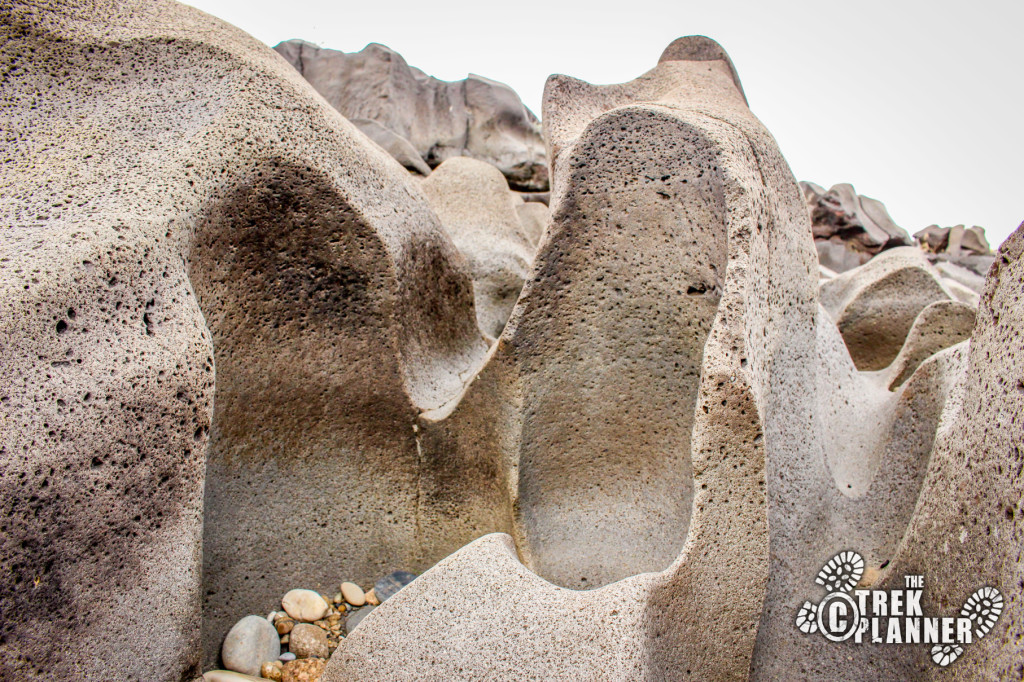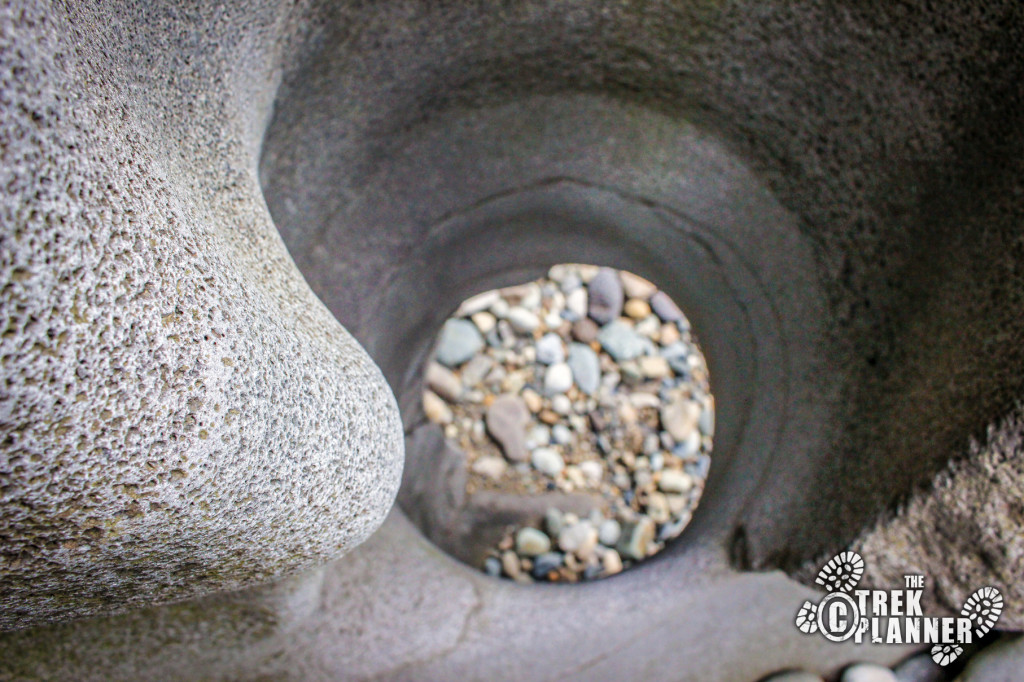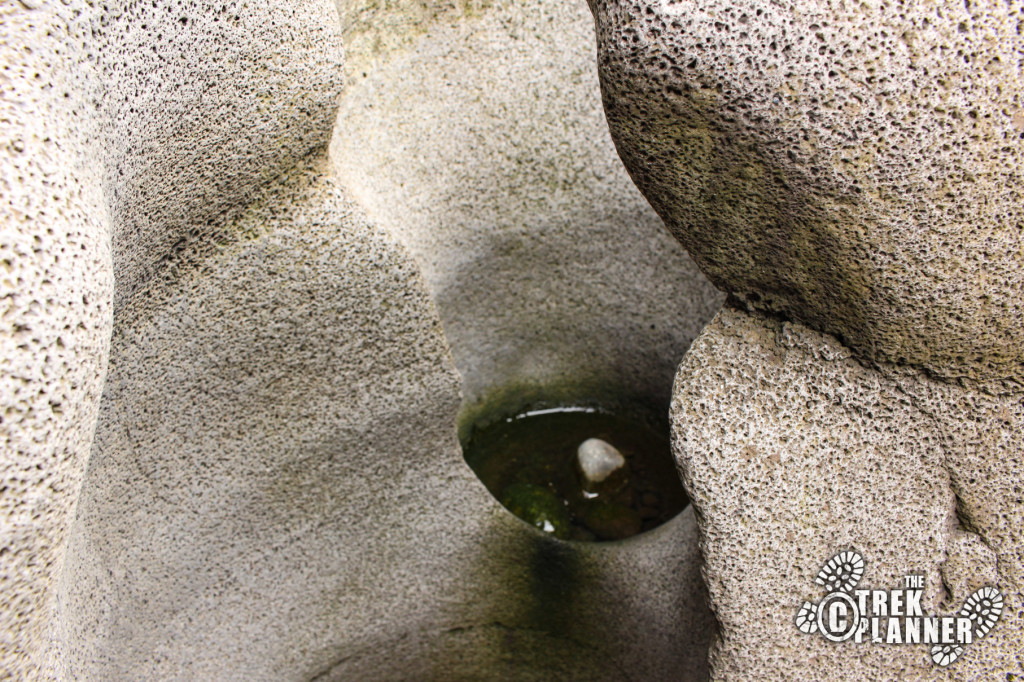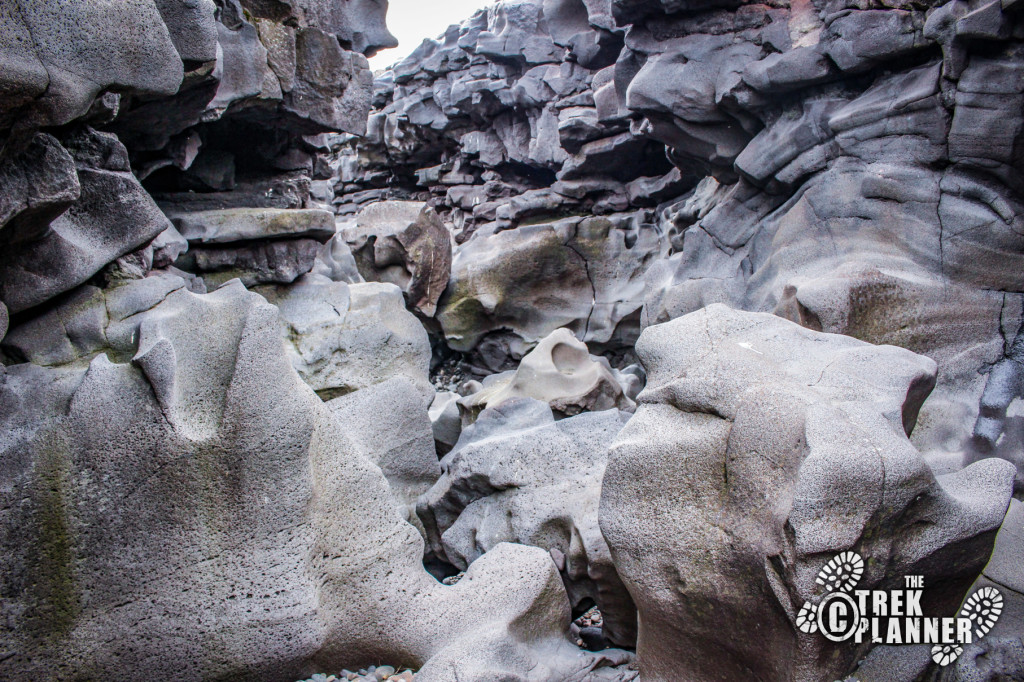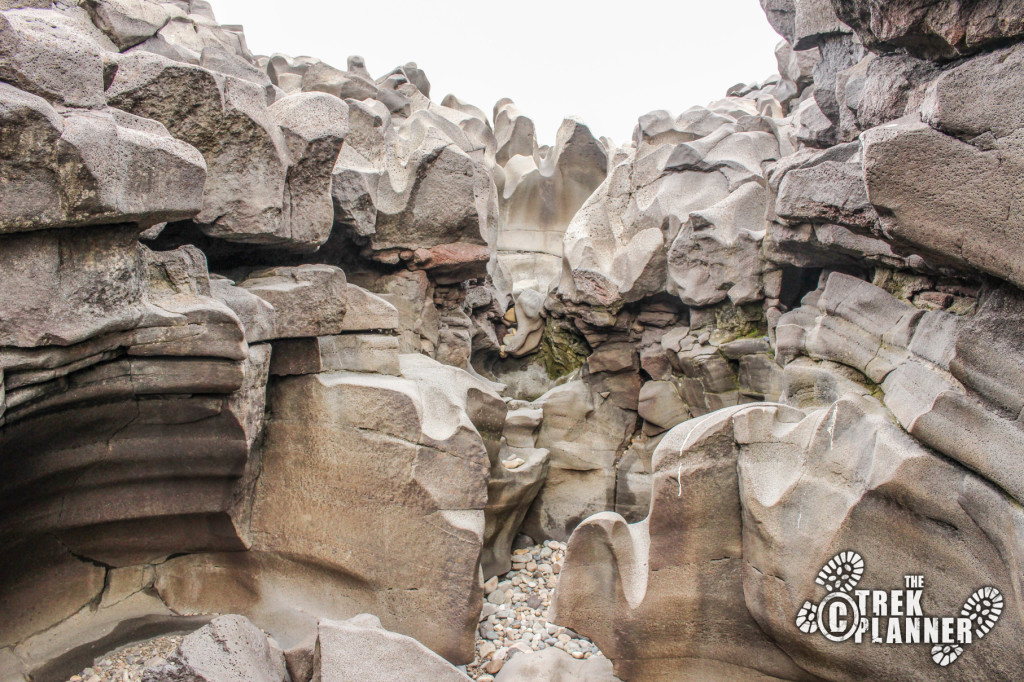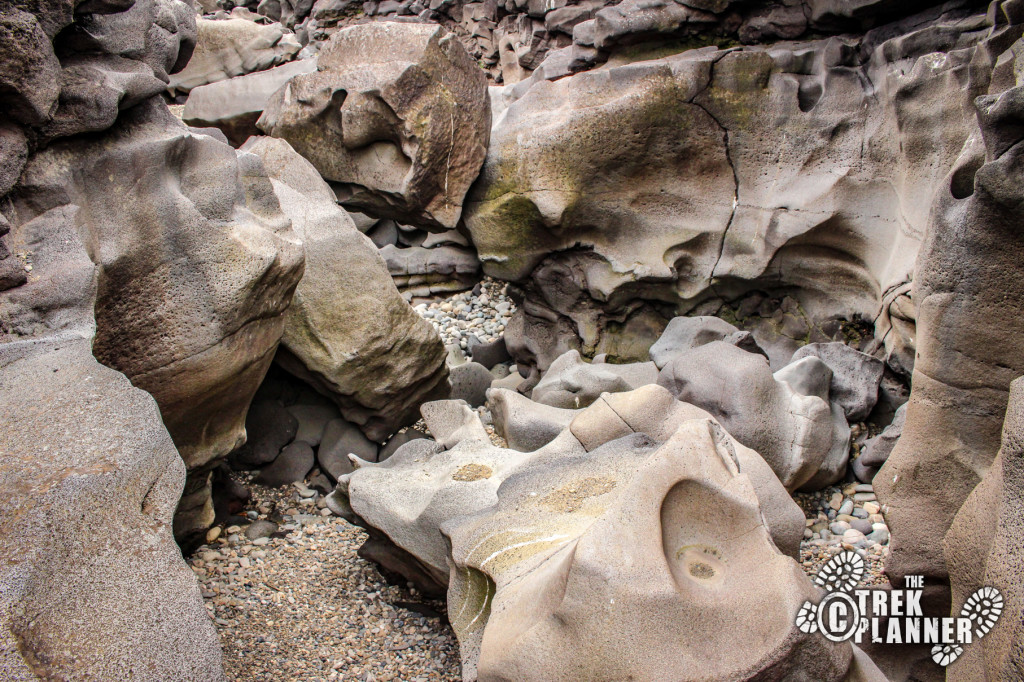 From here, you just hike in the "canyon" all the way down until you come to the dam which is roughly .75 miles away from here.  I say "canyon" because it isn't a canyon in the traditional sense, it is more of a large trench with varying depths that range from 10 feet to about 50 feet deep.
Also, I felt like I had to think of a back up plan just in case I heard a rush of water coming down at me.  But the crazy looking basalt rock provided plenty of hand and foot holds so I could escape out of virtually any point in the canyon if it came down to it.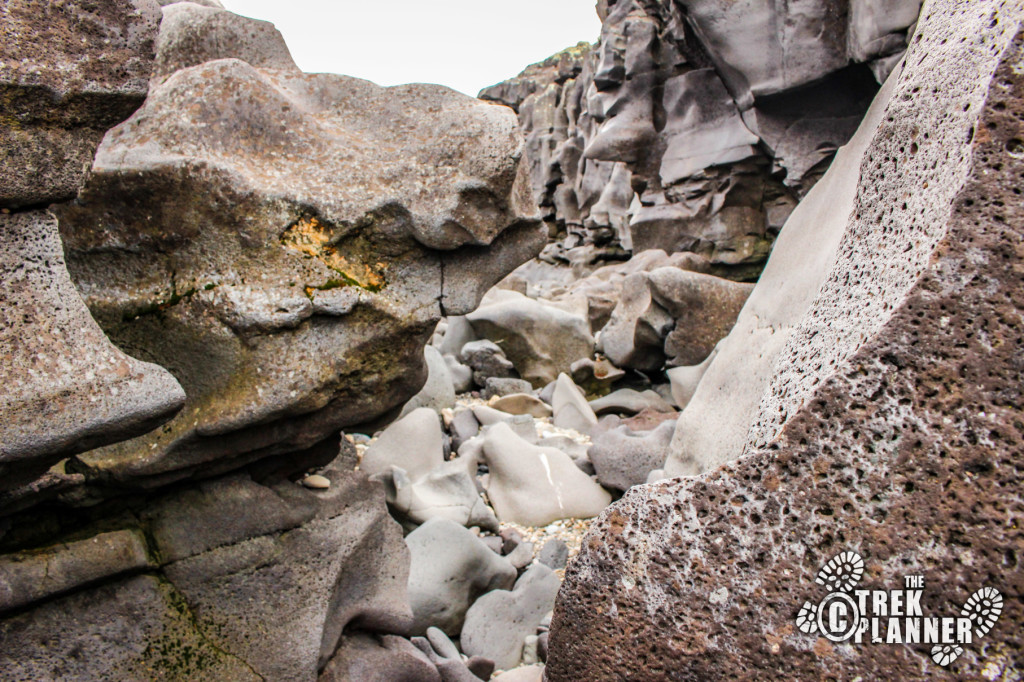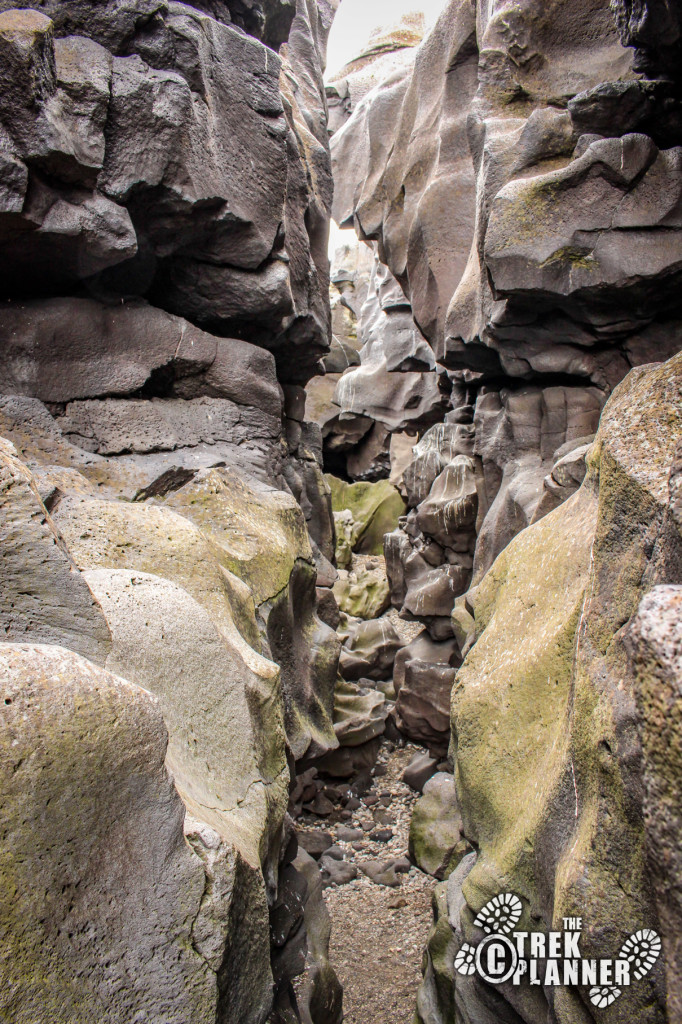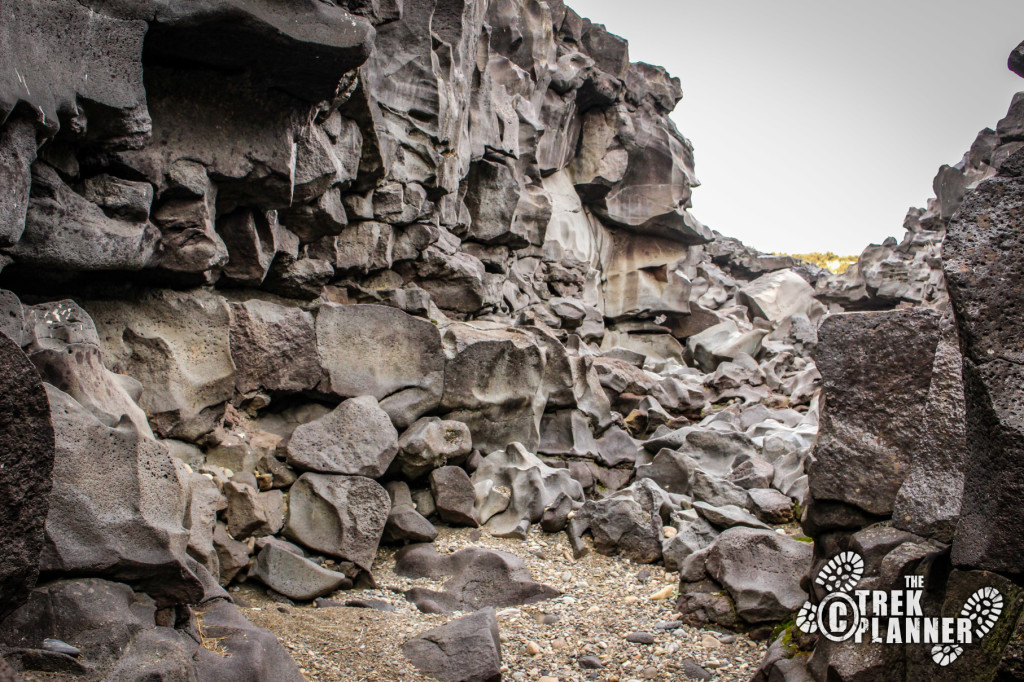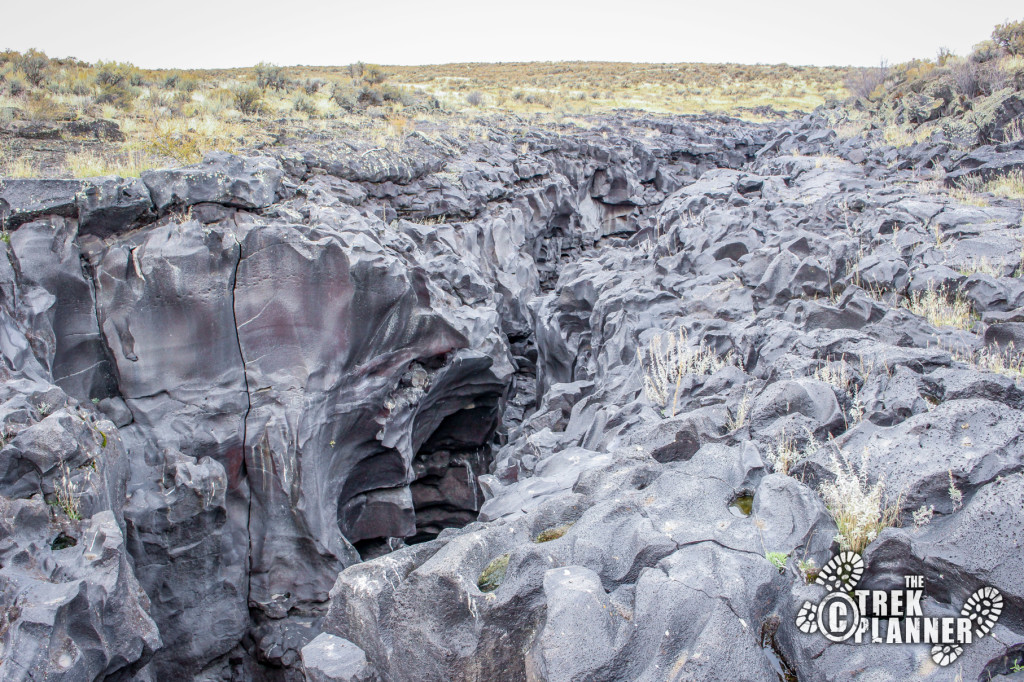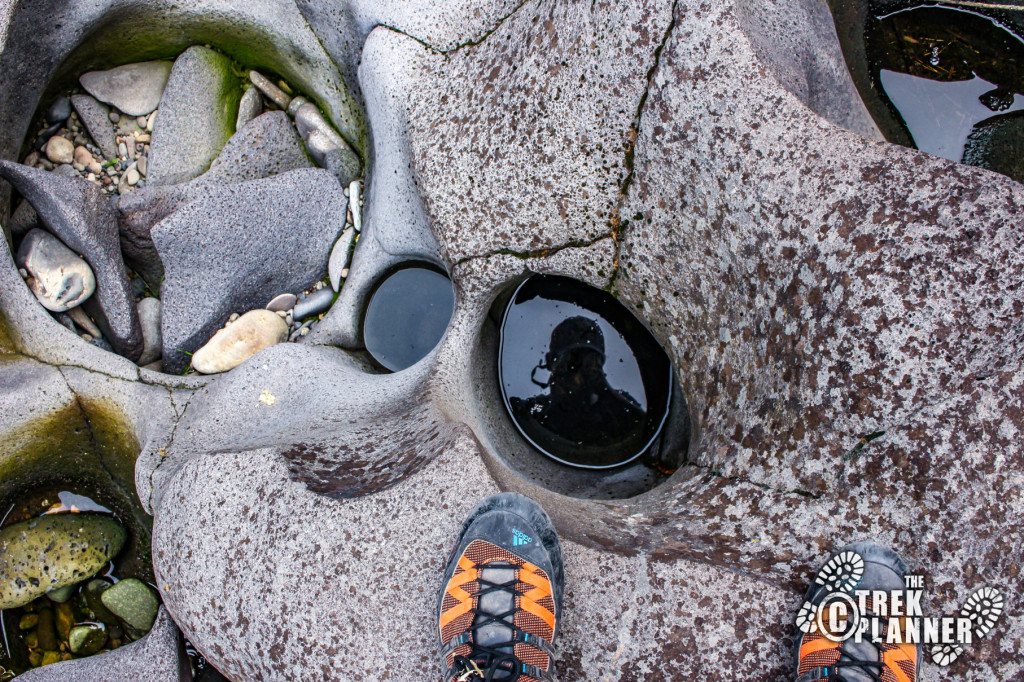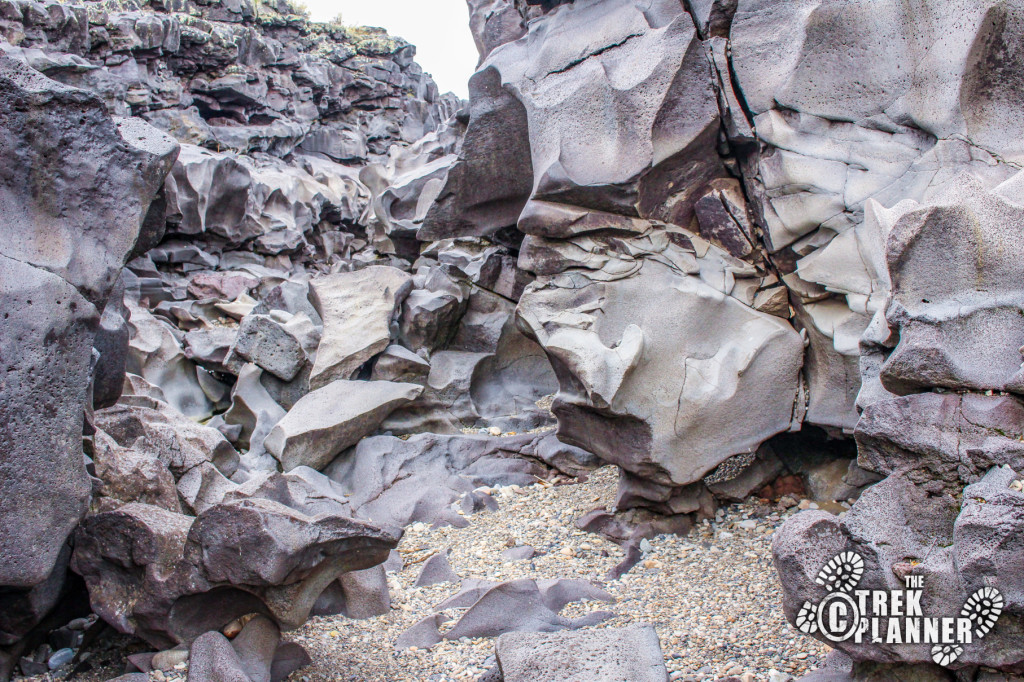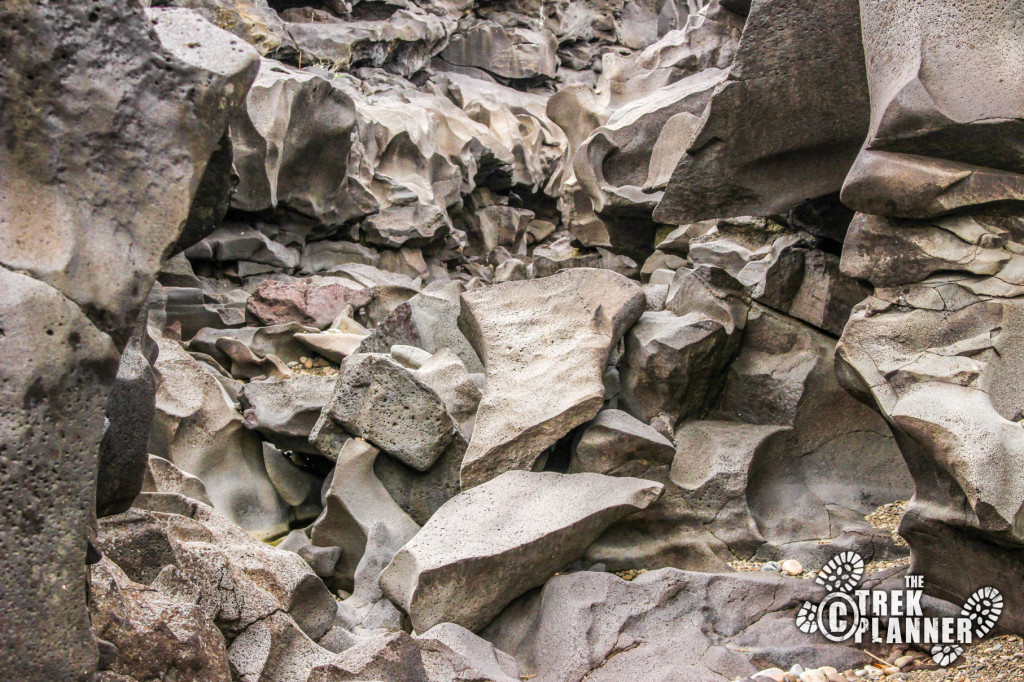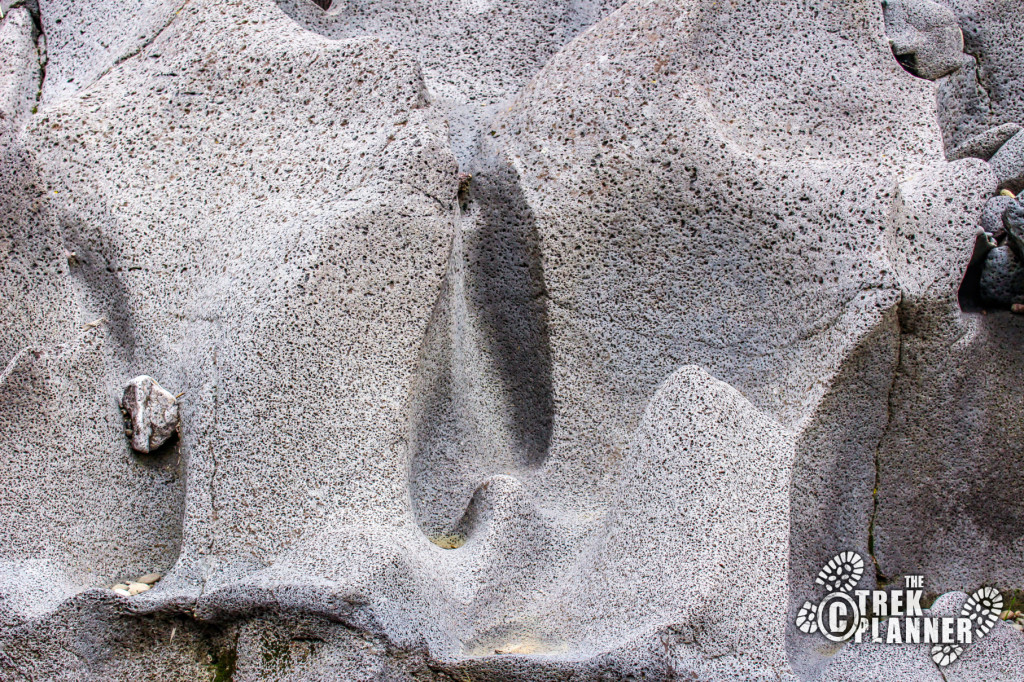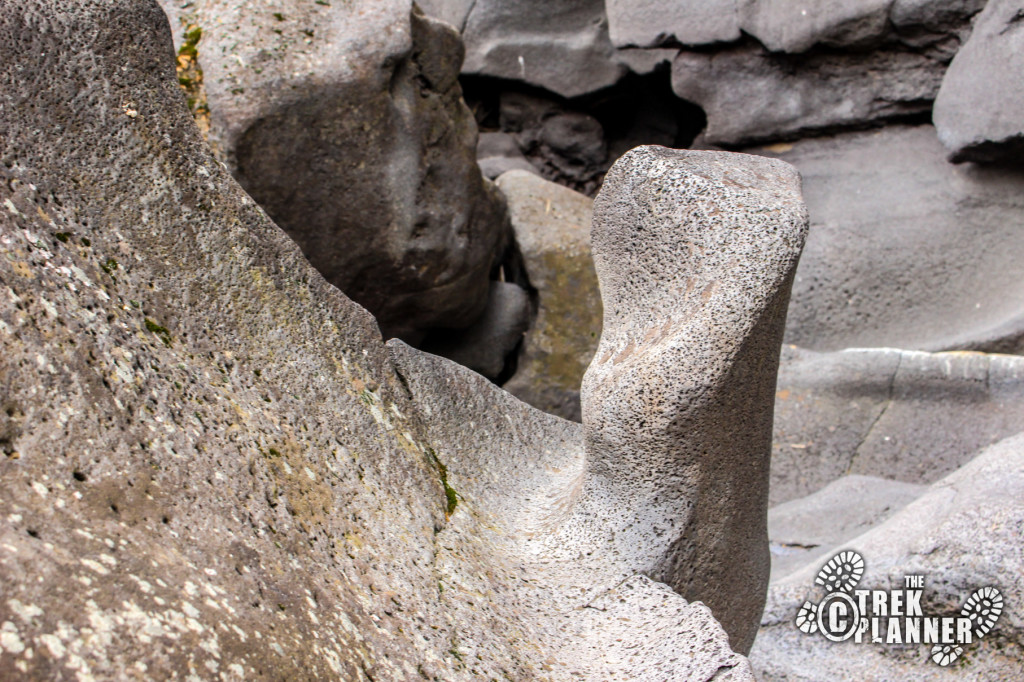 It is important to note that Black Magic Canyon seemed to be home to pigeons and perhaps a few owls.  As I was hiking I found several dead birds and a few parts even smelt horrible with bird droppings and dead rotting birds.   But other than the few times that it smelt like death it wasn't too bad.  Also, I spooked several birds out of their roosts.  I would turn a corner and jump down from a ledge and all of a sudden a few pigeons would fly frantically above me which in turn would make me freak out and run for cover!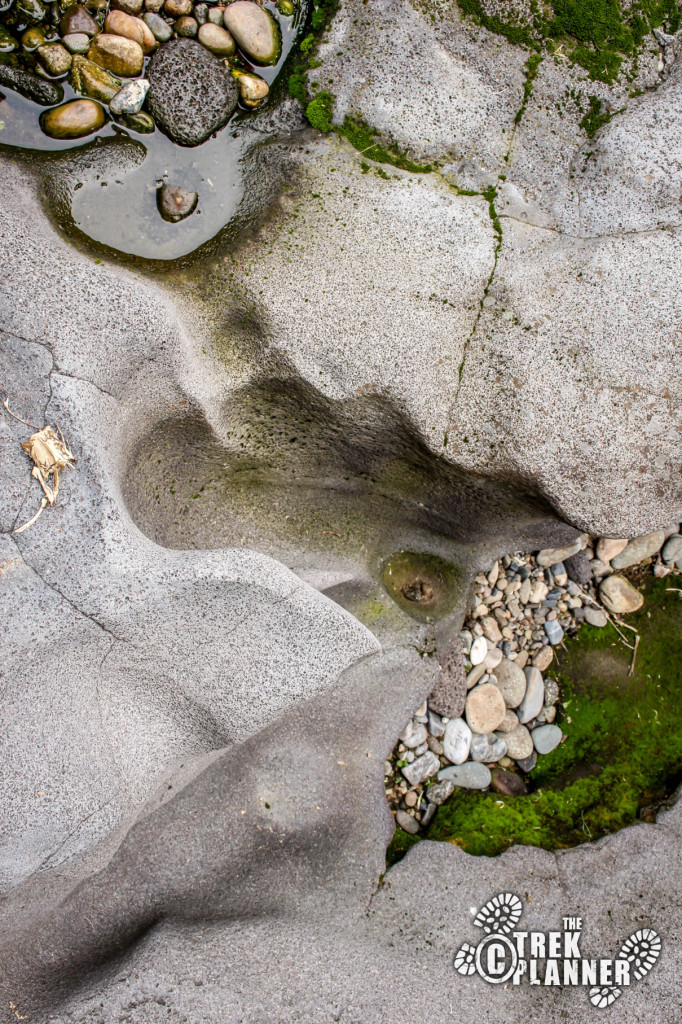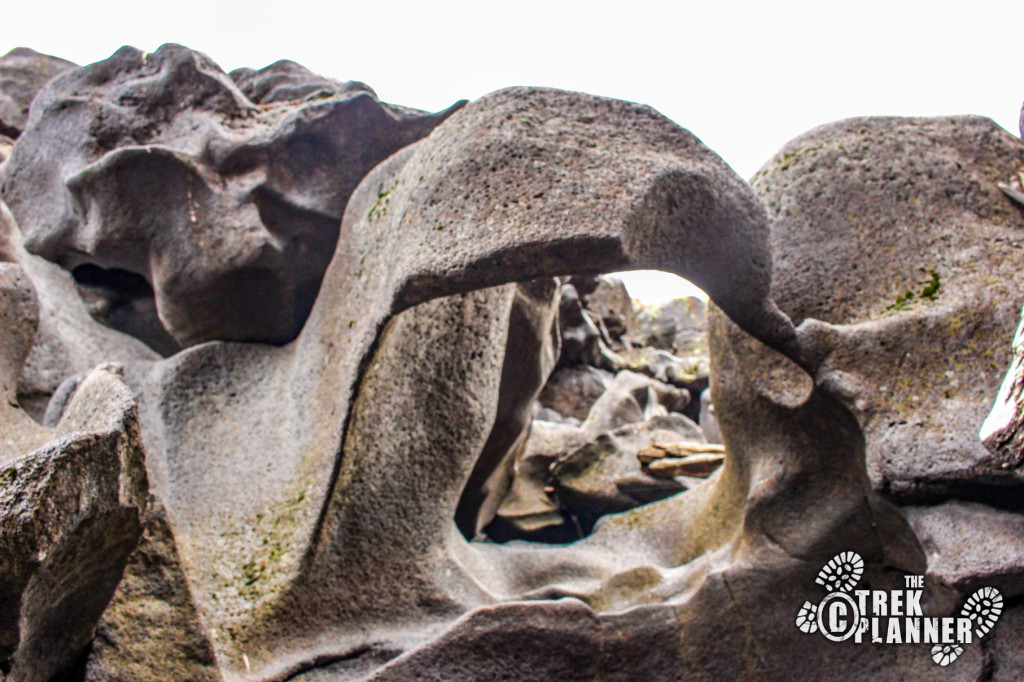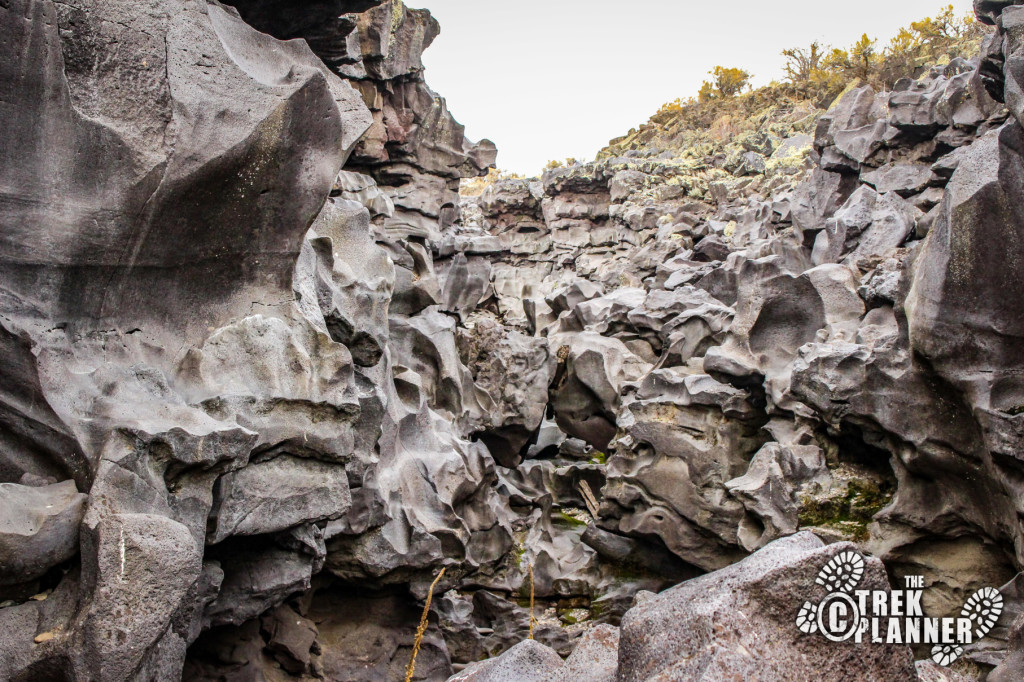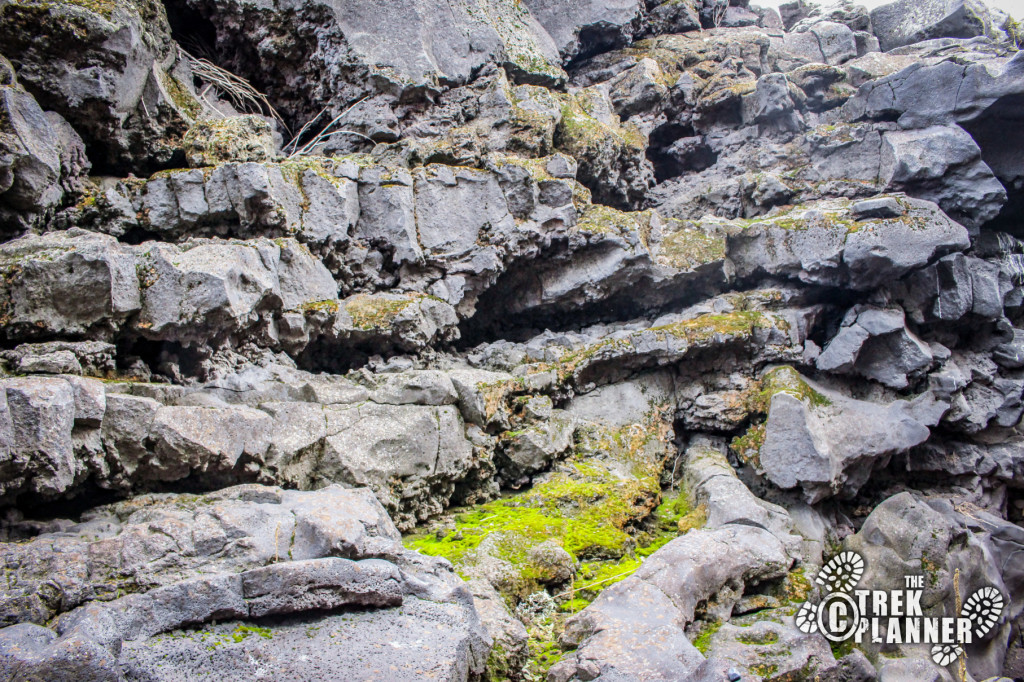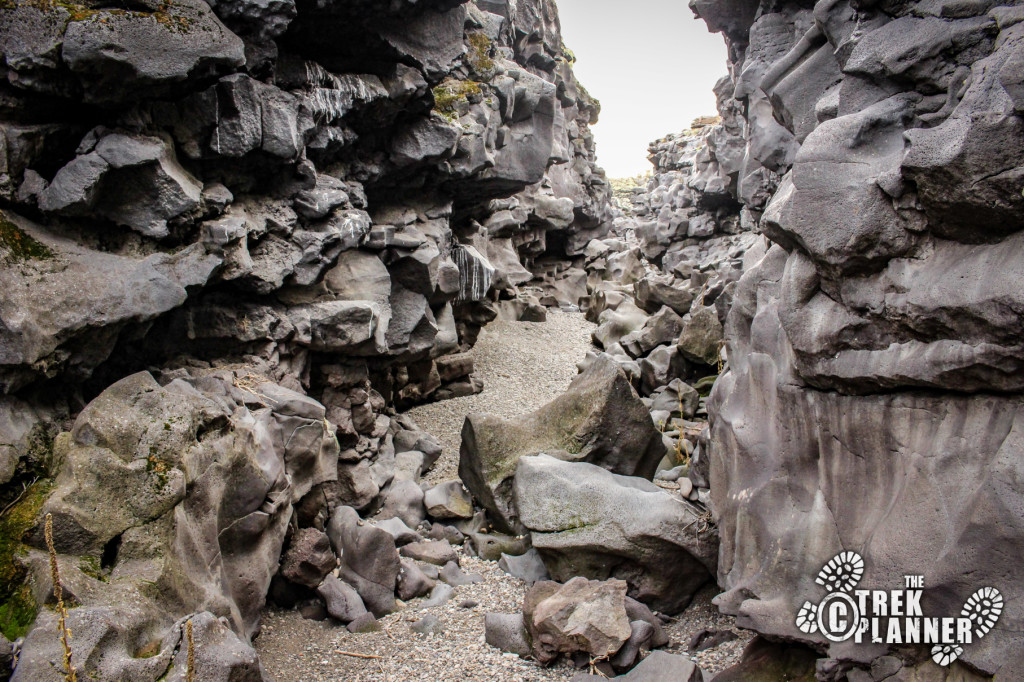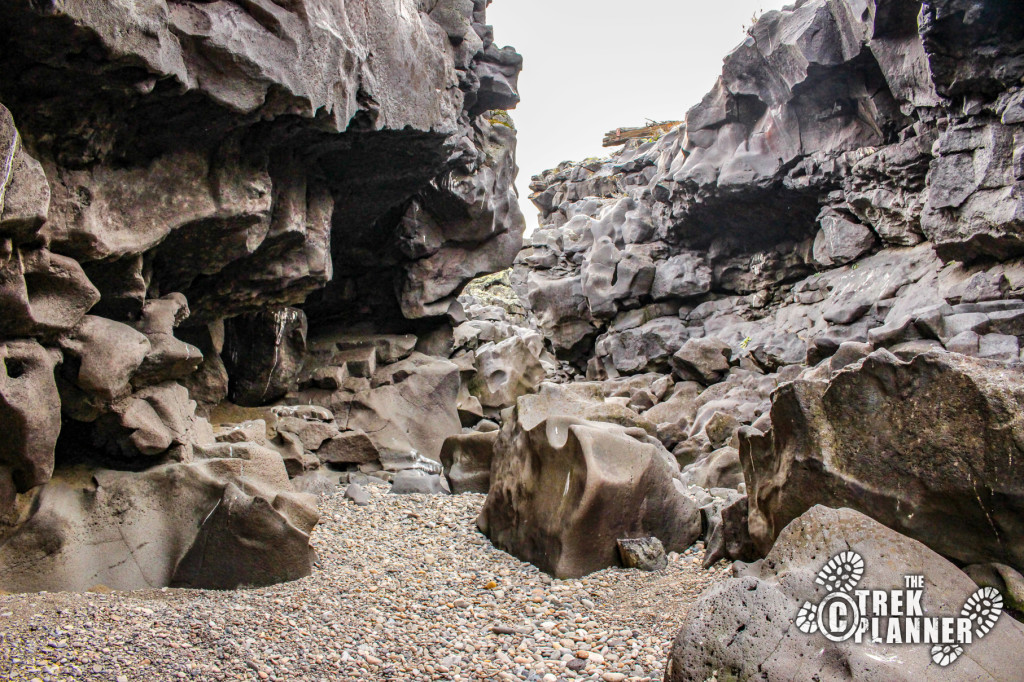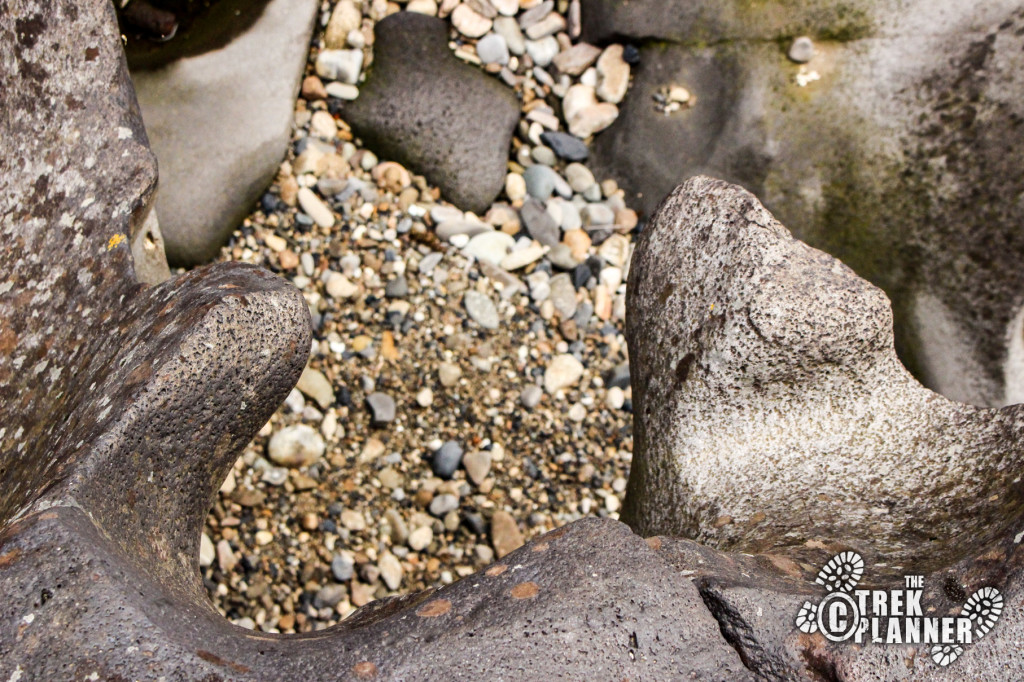 I discovered that at every turn I would see something even more amazing and interesting than the last, I even had the entire canyon to myself!  I can't imagine this place would get too many visitors which is fine by me.
At one point I stopped for a minute to look closely at the carved basalt rock when I heard some loud fluttering.  I quickly popped back up to see a barn owl flying right towards me!  It didn't see me at first until I reached for my camera and then it instantly changed direction to fly straight up.   I was blindly trying to take pictures and I didn't really get a clear shot  but it was still an amazing thing to see!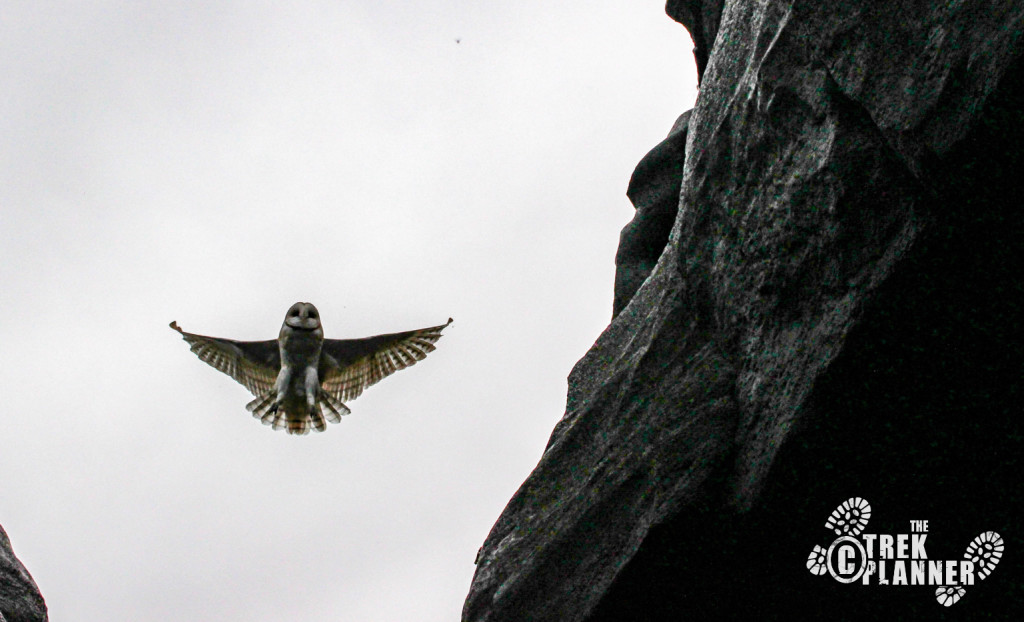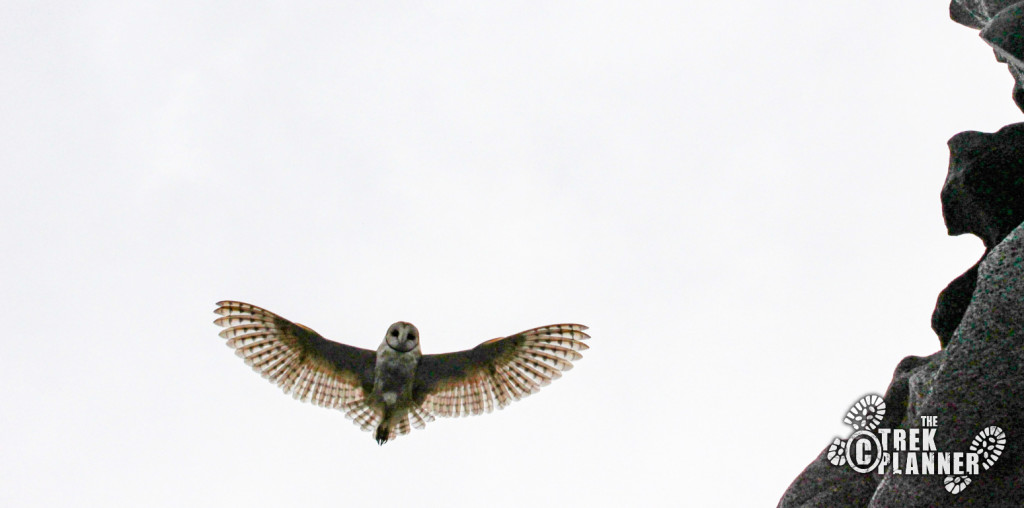 This canyon features many small arches, windows, holes, potholes and slides that the water carved over thousands of years.  Everywhere you look something new awaits you!  I would love to come back and discover some new carvings and formations.
I took lots of photos and I'll just post the rest of them below.  The trail was easy to follow as you just hike down to the bottom of the canyon until you come to where the trail climbs back up to a grassy part and opens up to the valley.  You will also see the dam at the end too.  If you didn't bring two cars then you will need to hike back to where you parked…It's not too far though!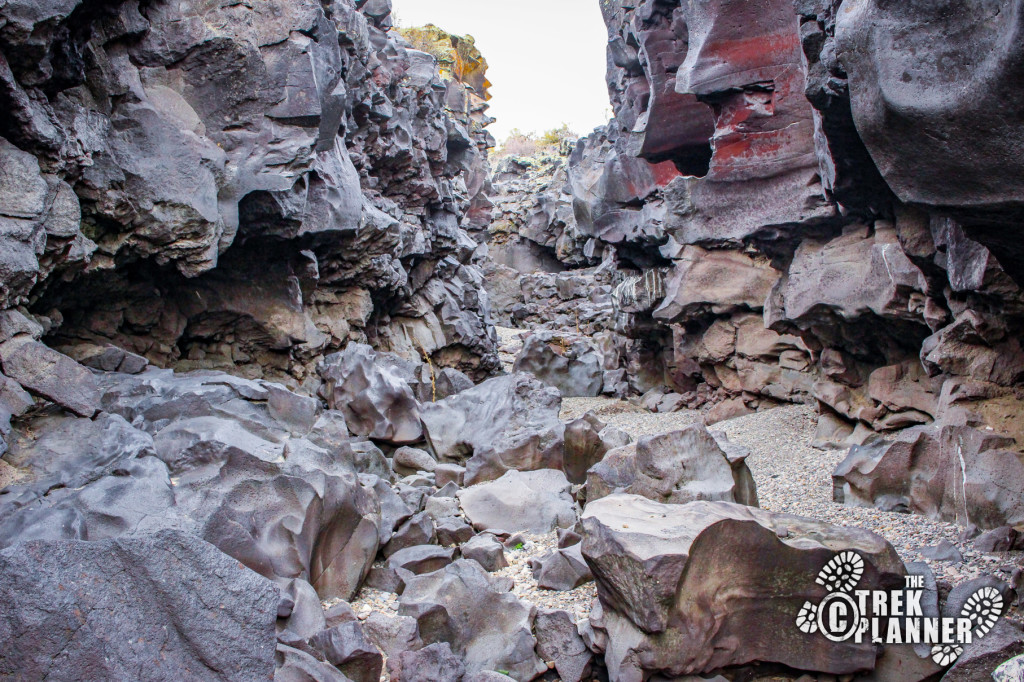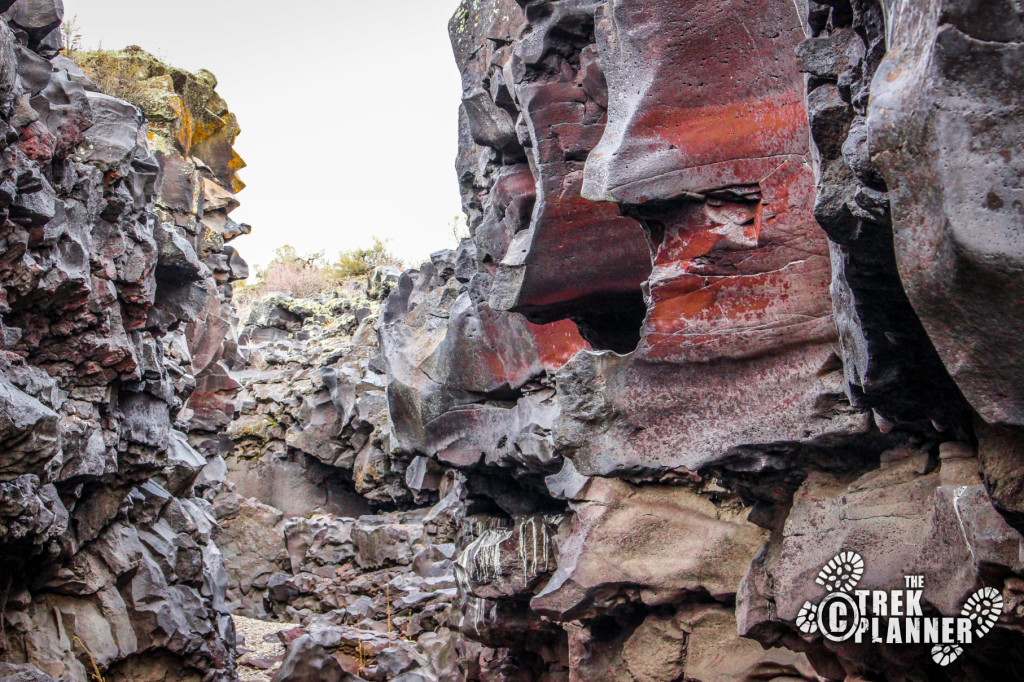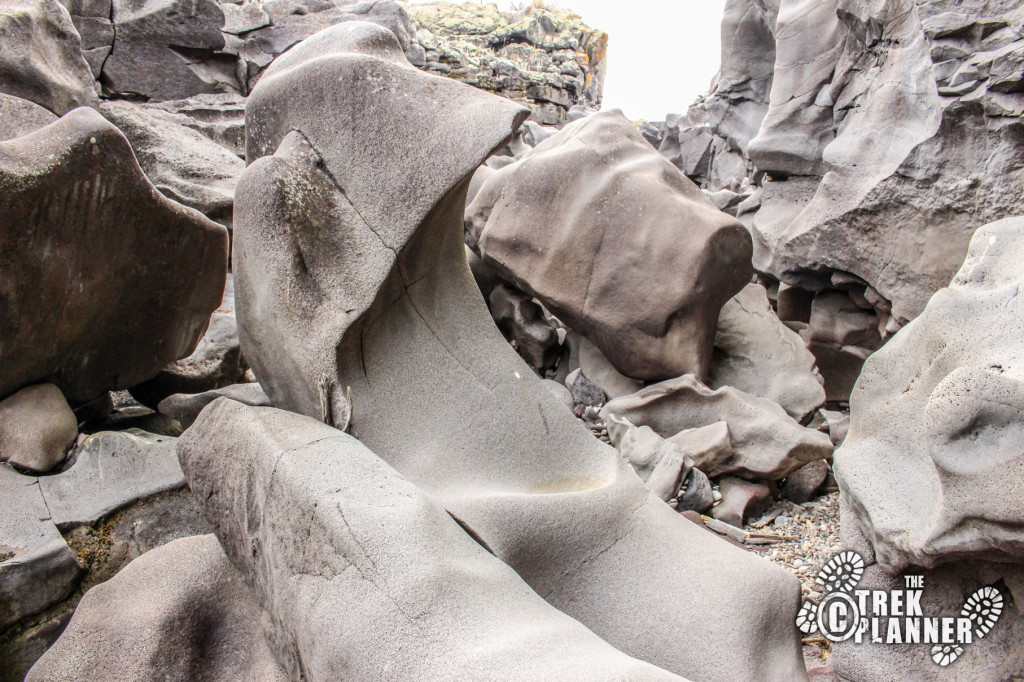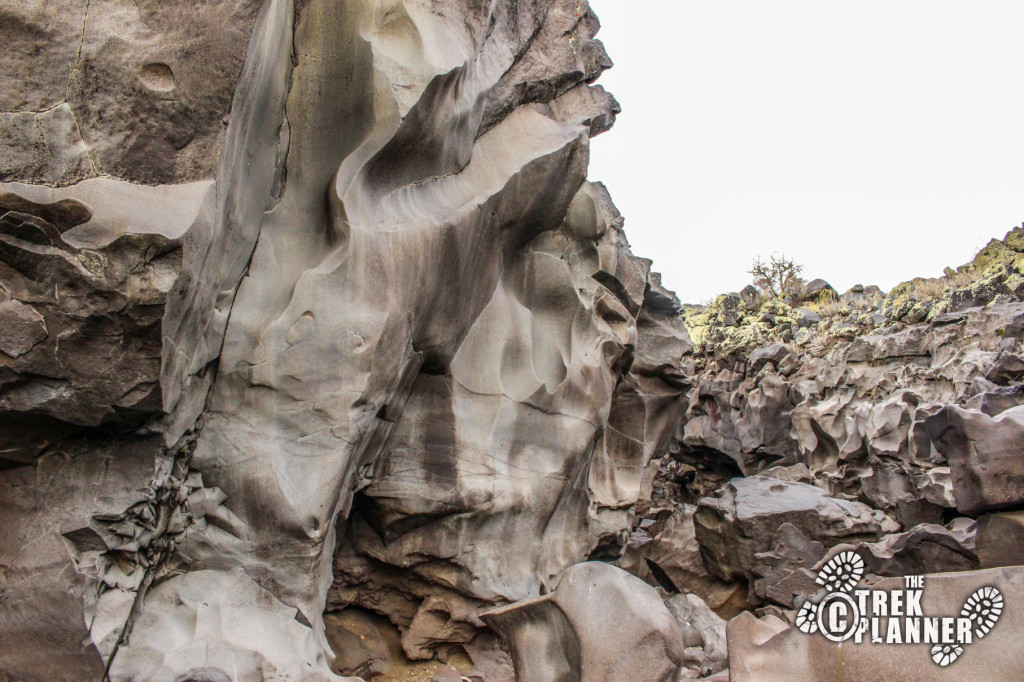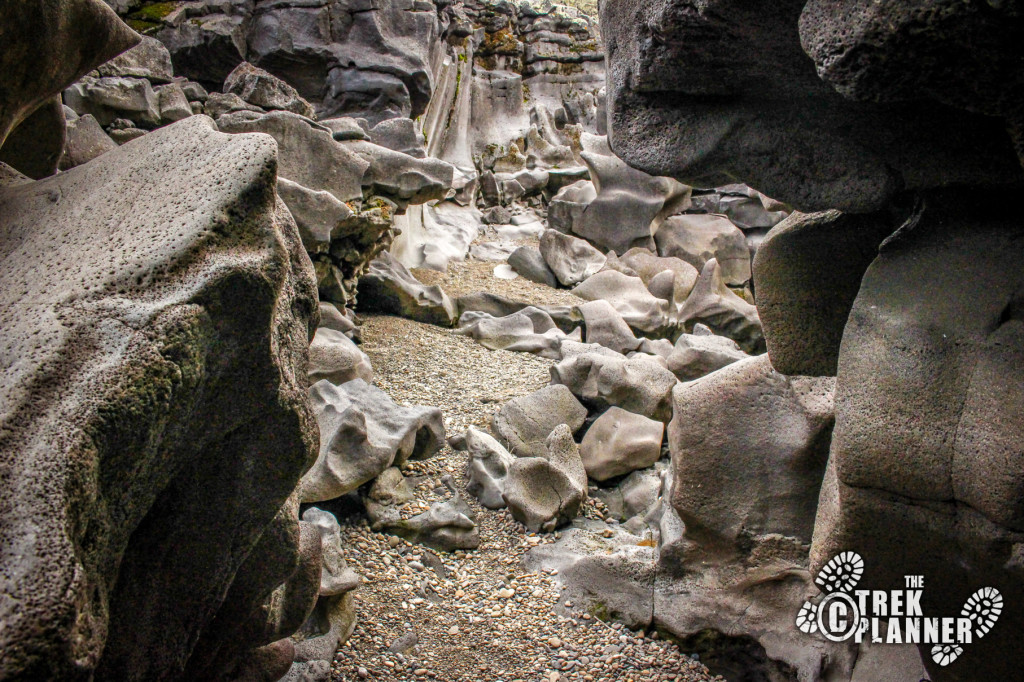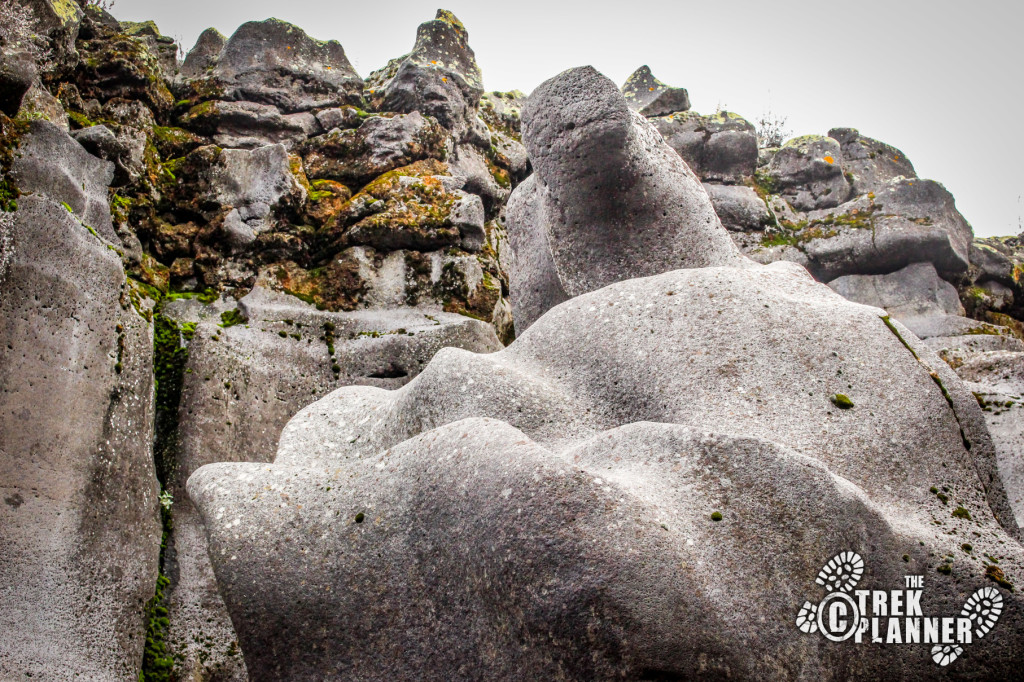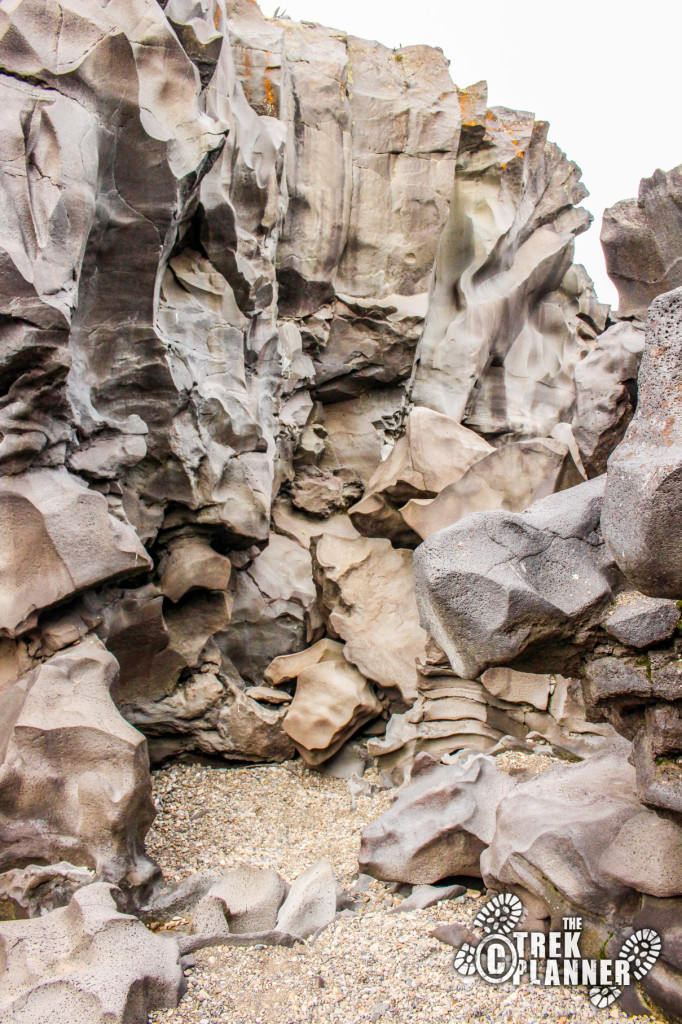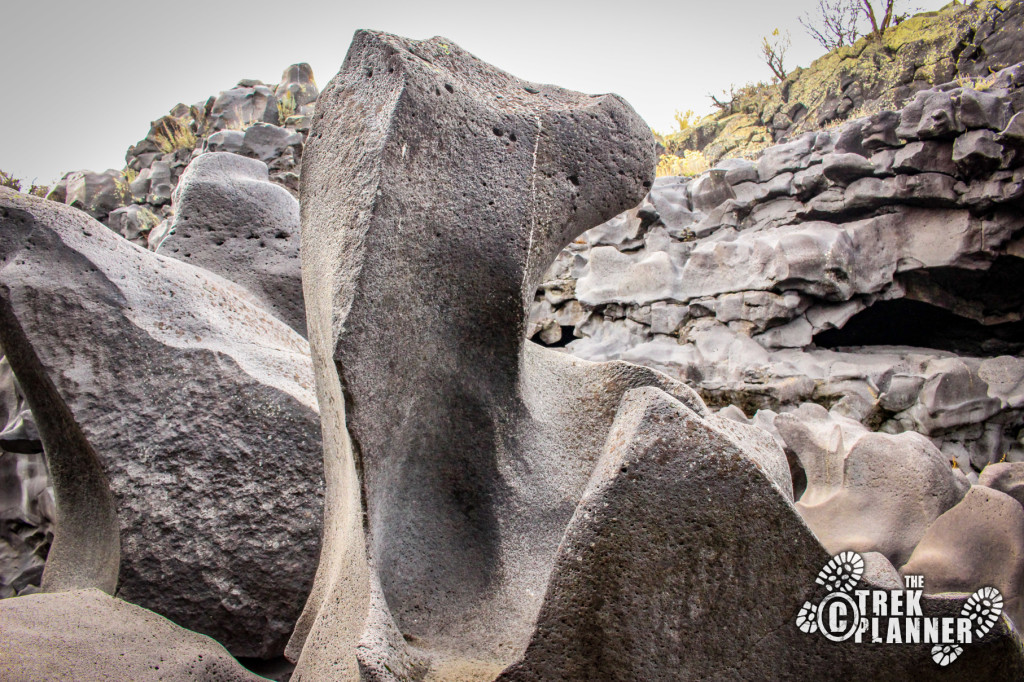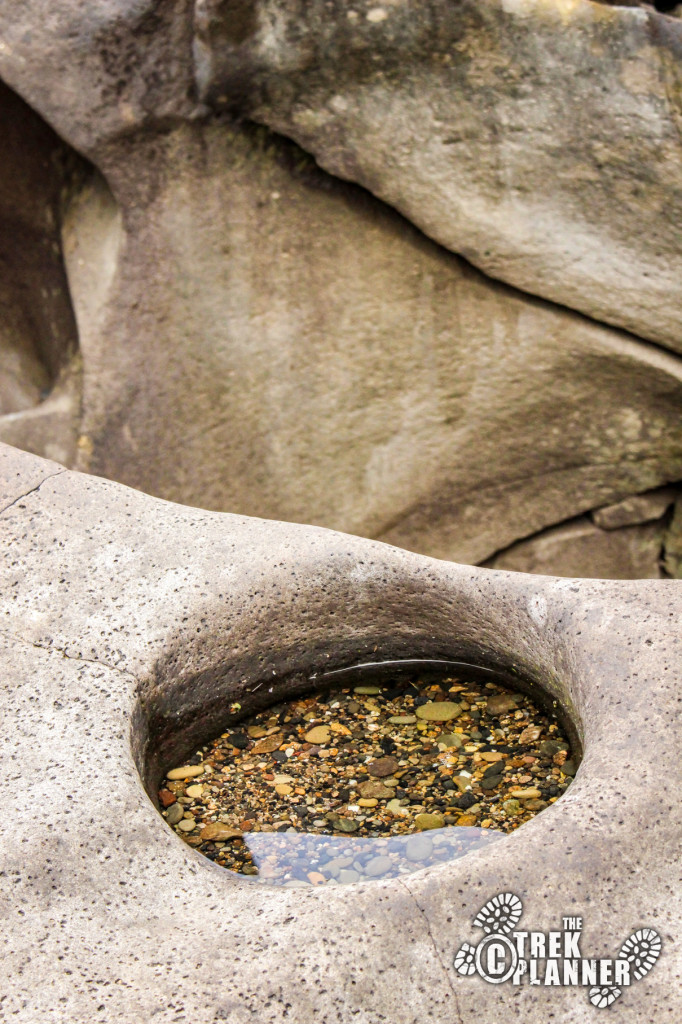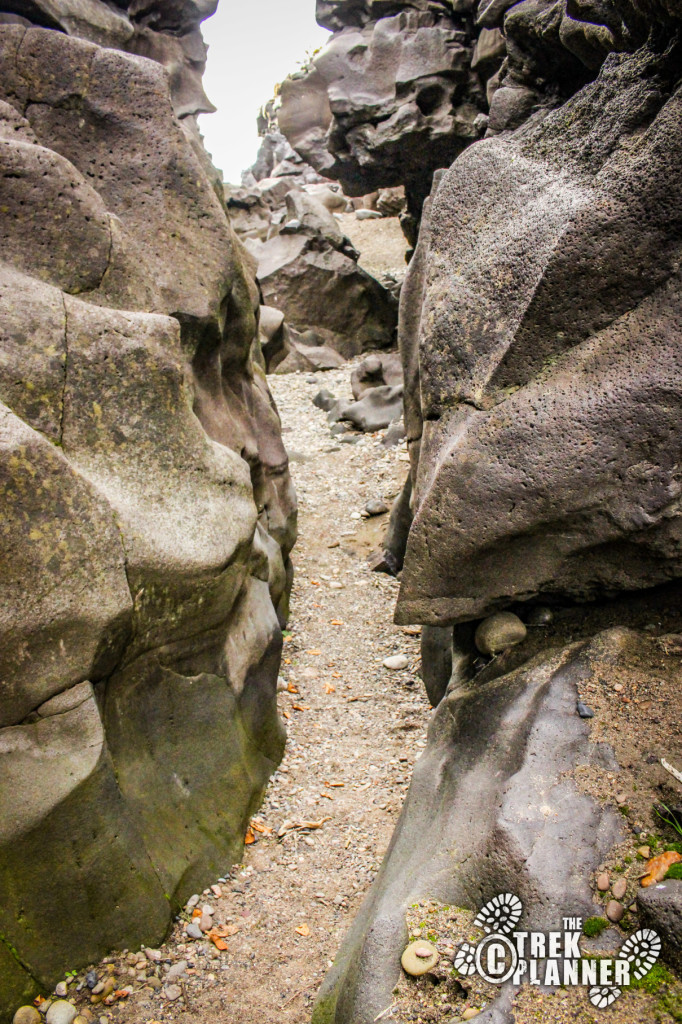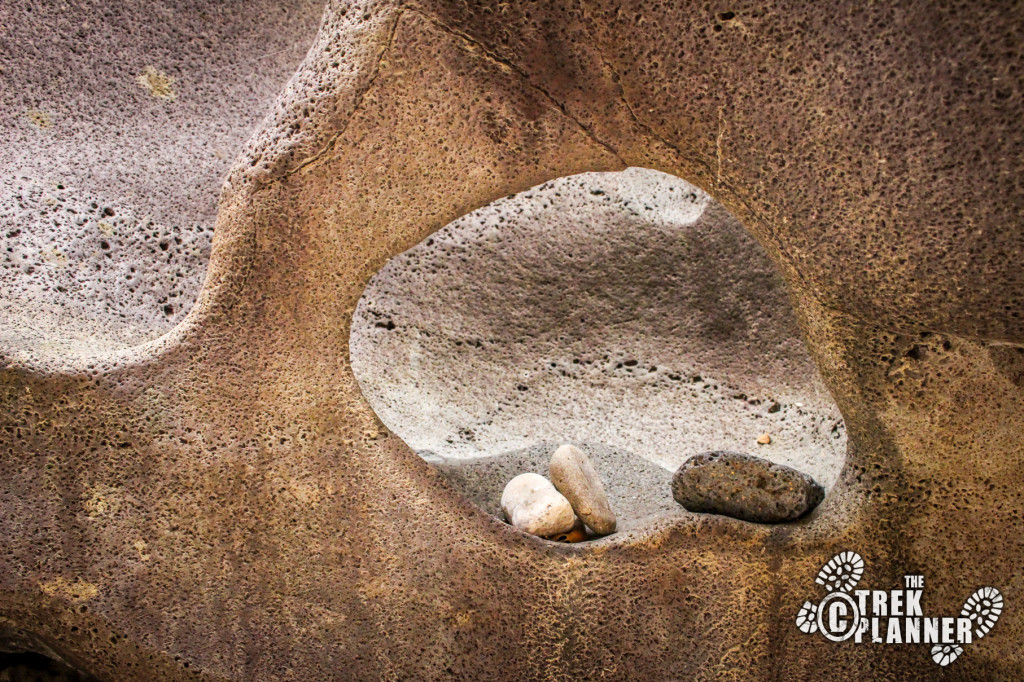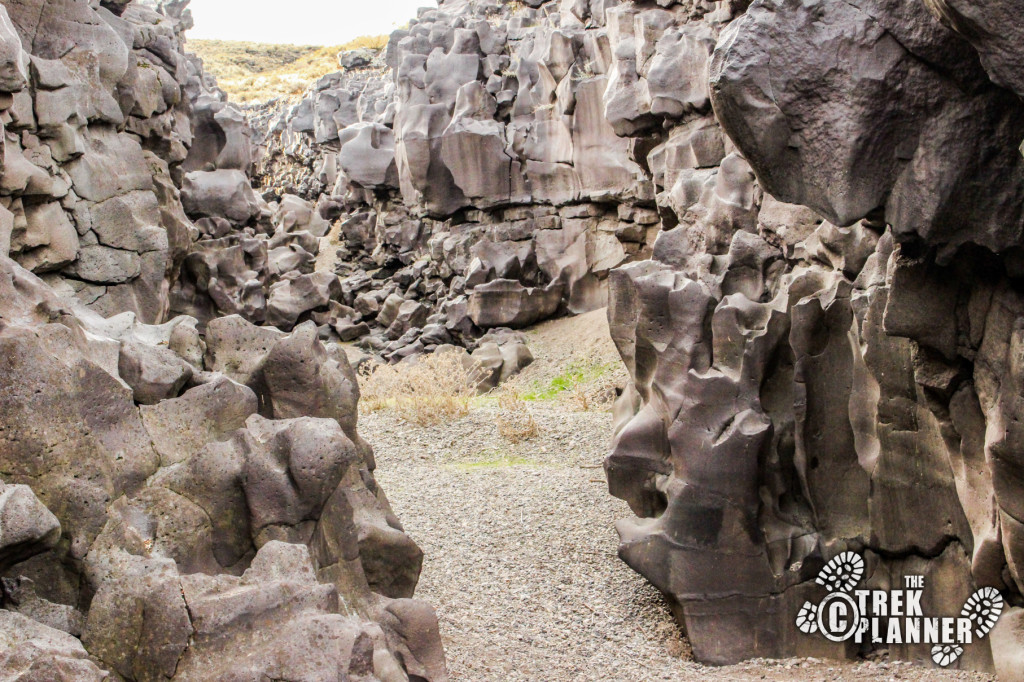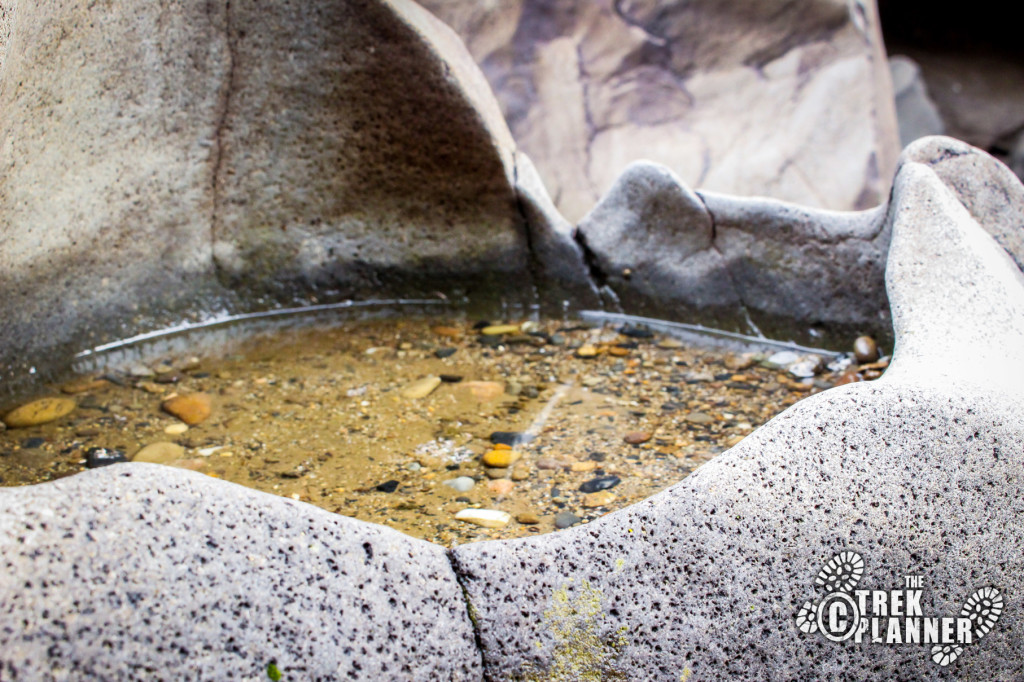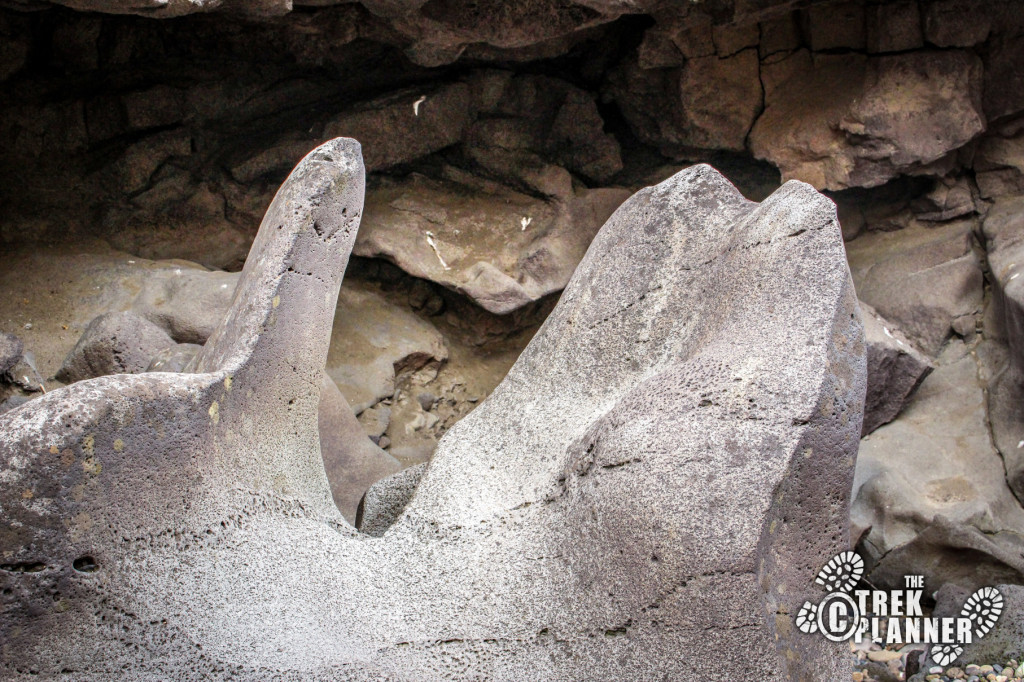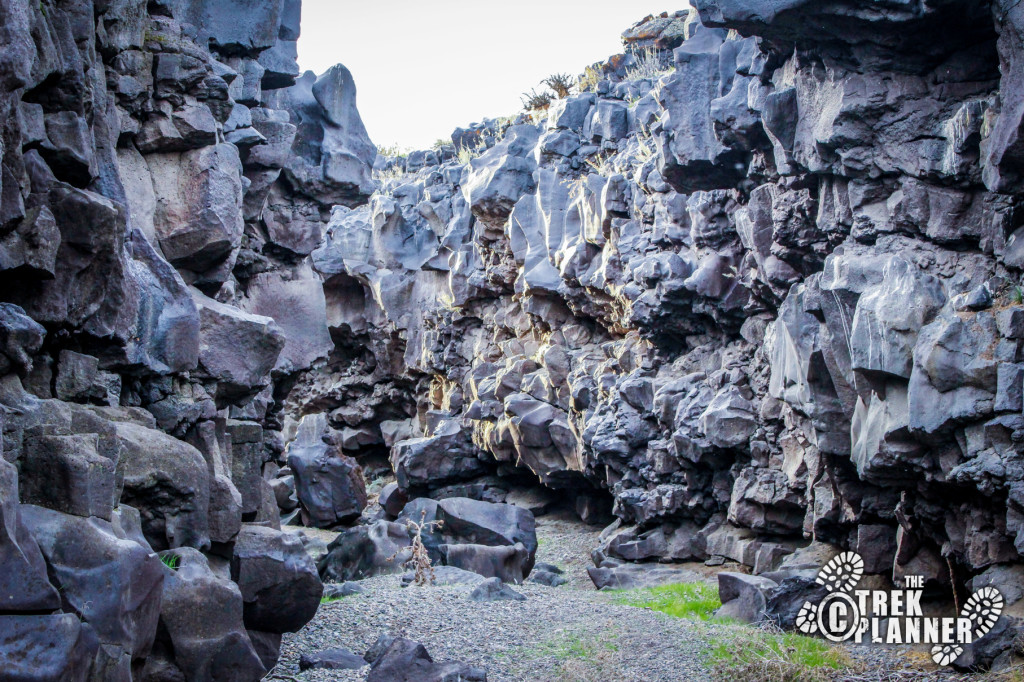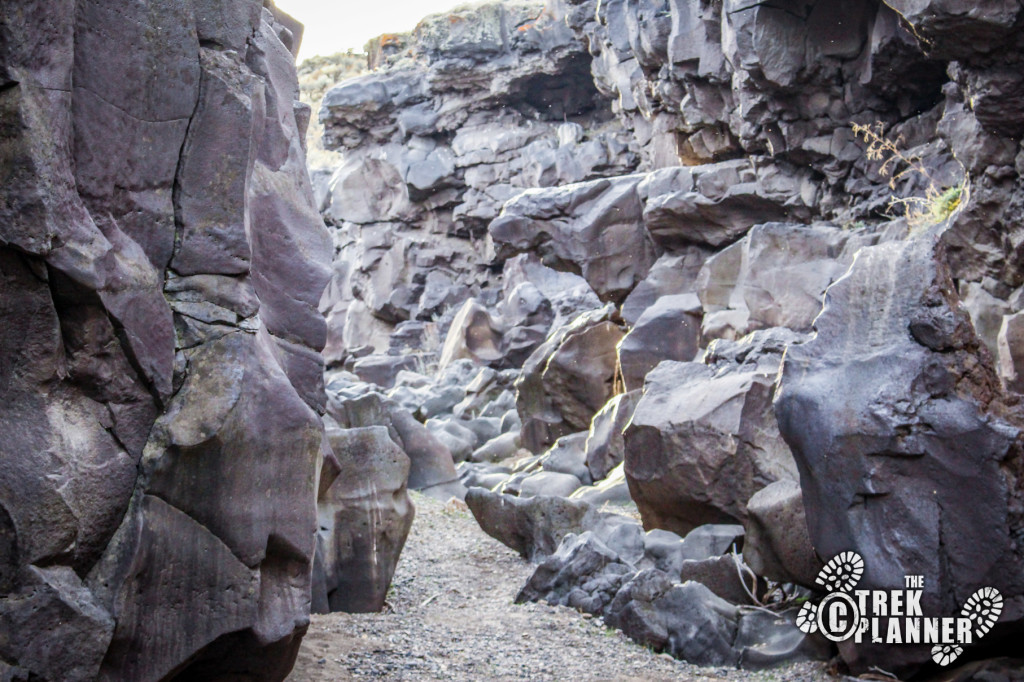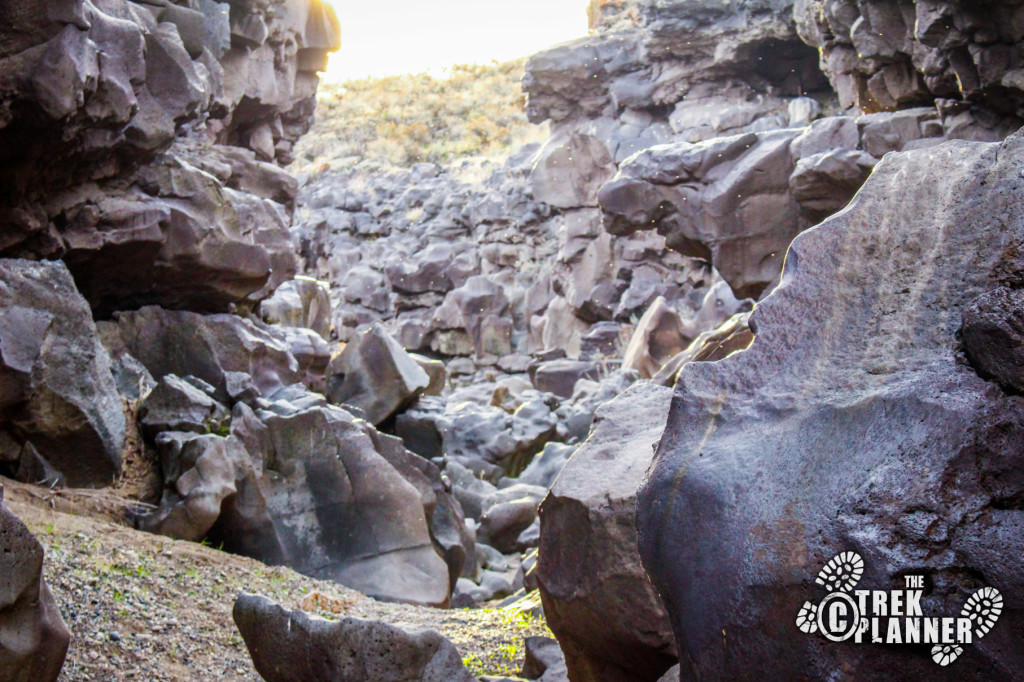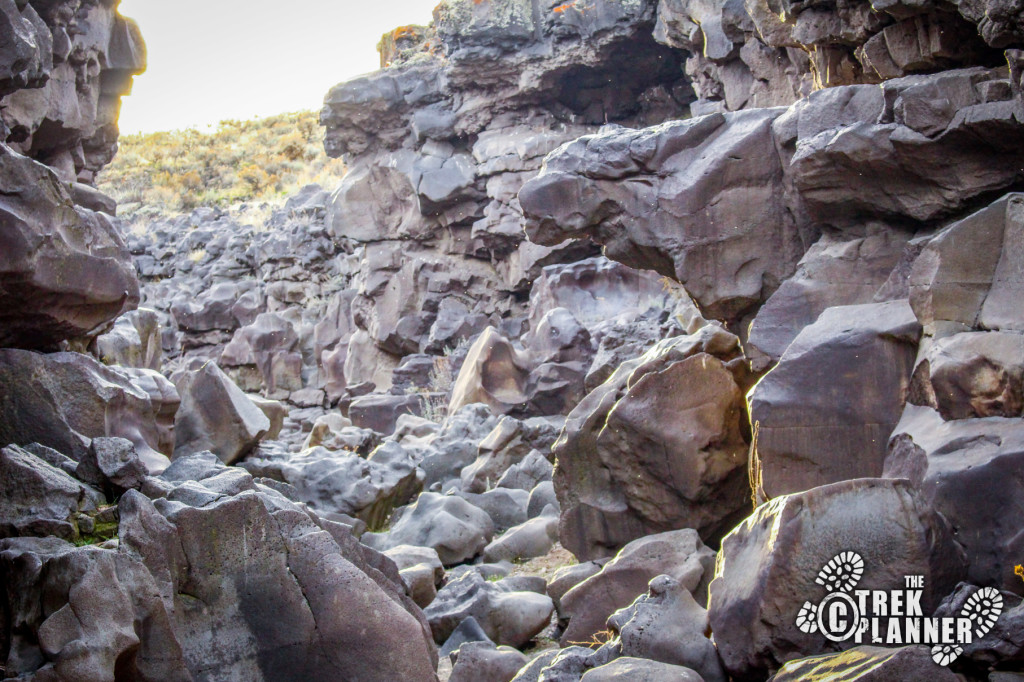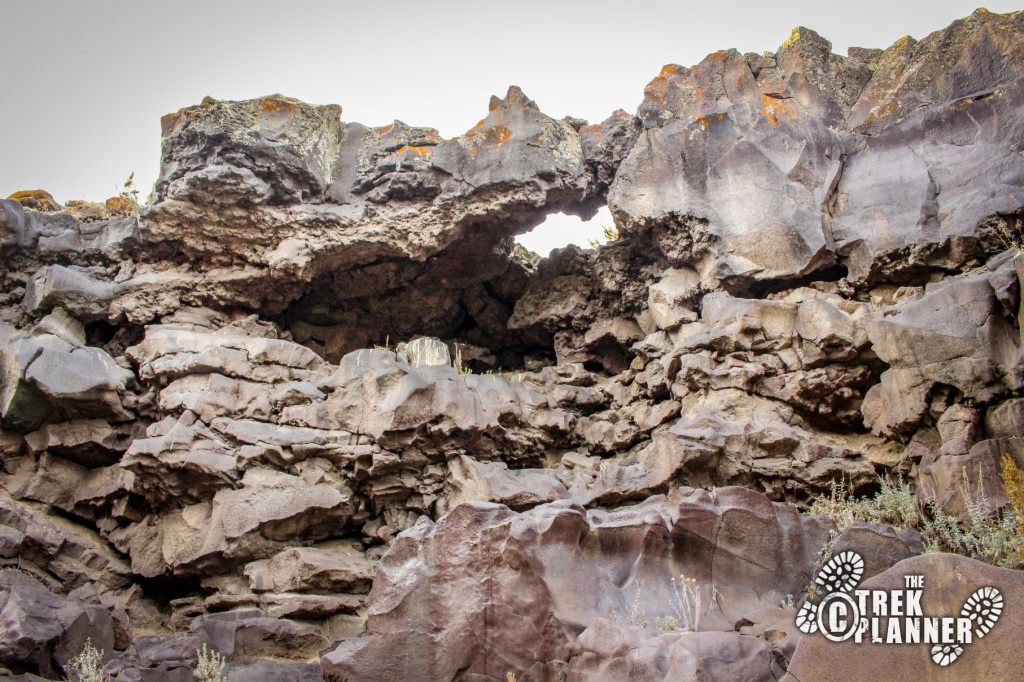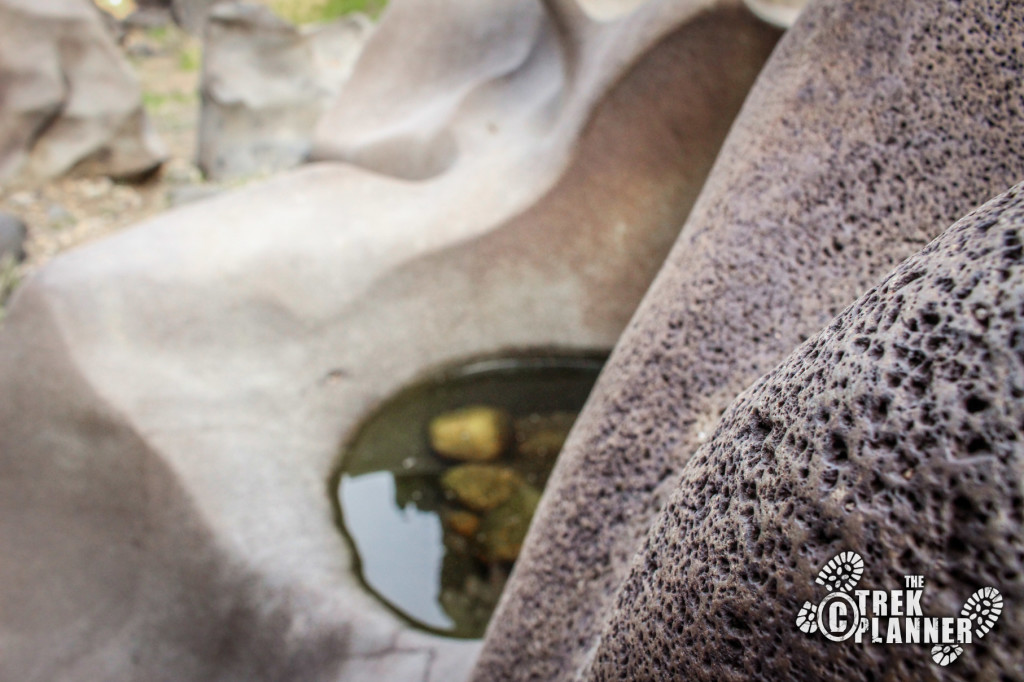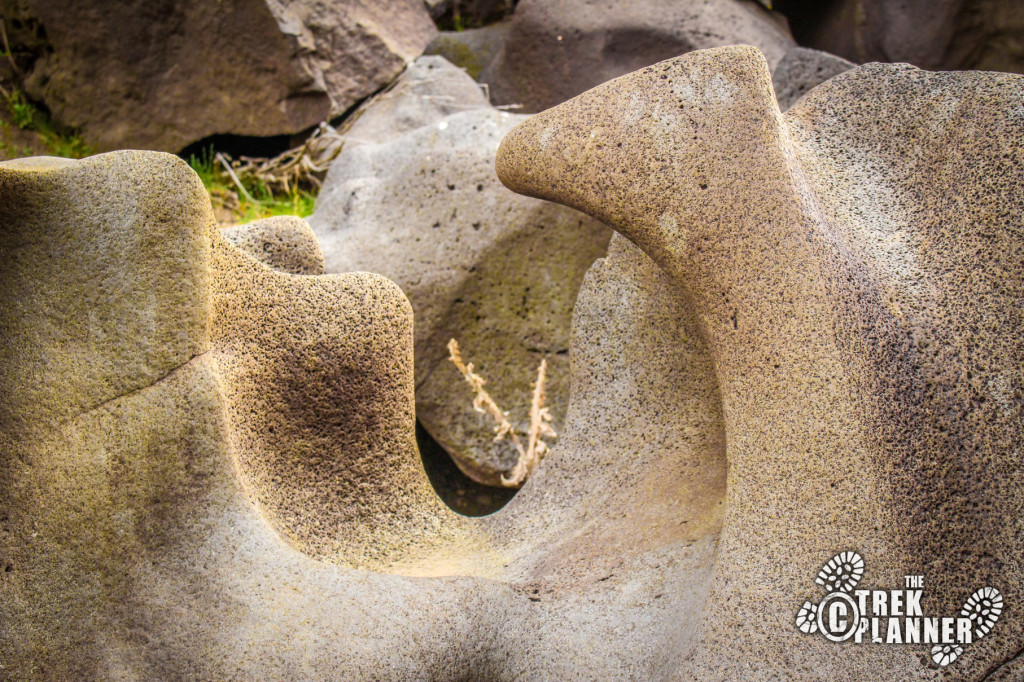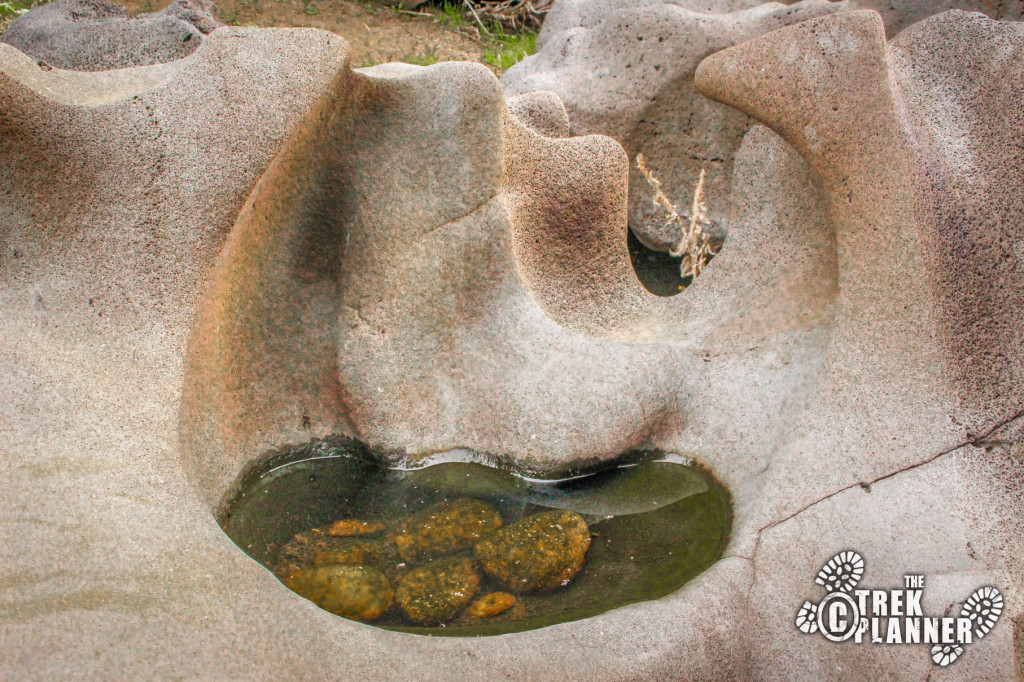 You will eventually see more grass in the bottom of the canyon as the trail begins to open up.  You will be sad to leave this magical land!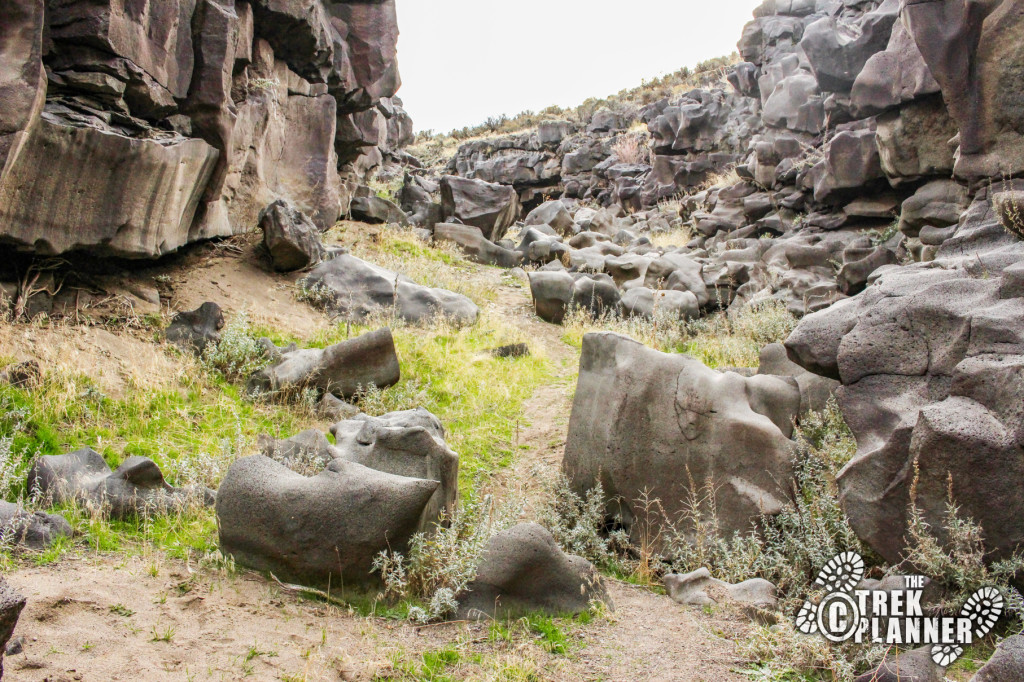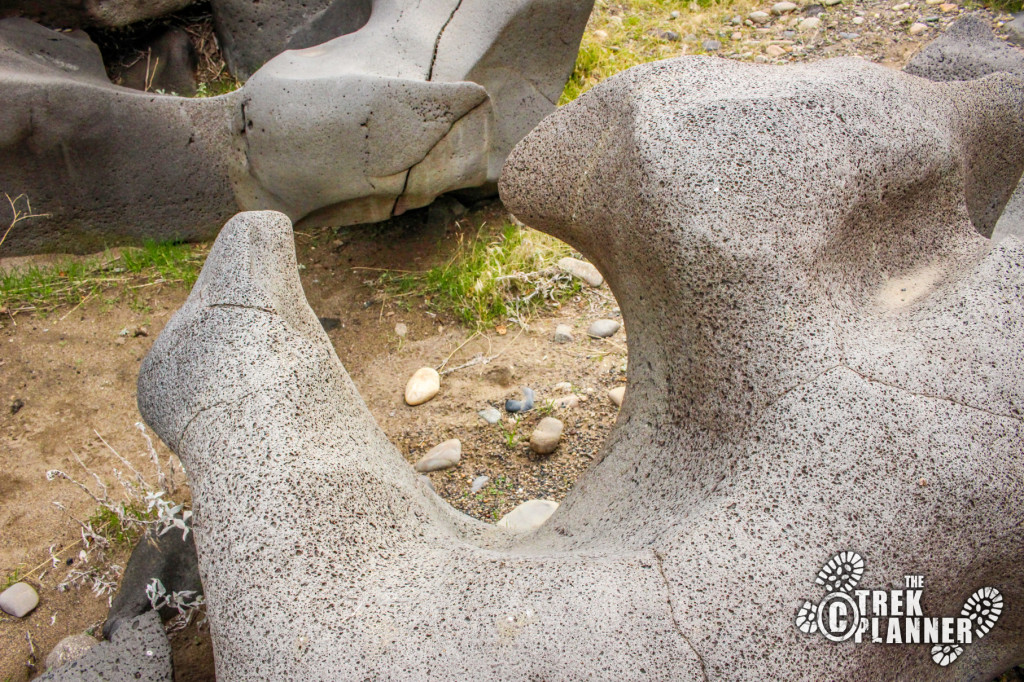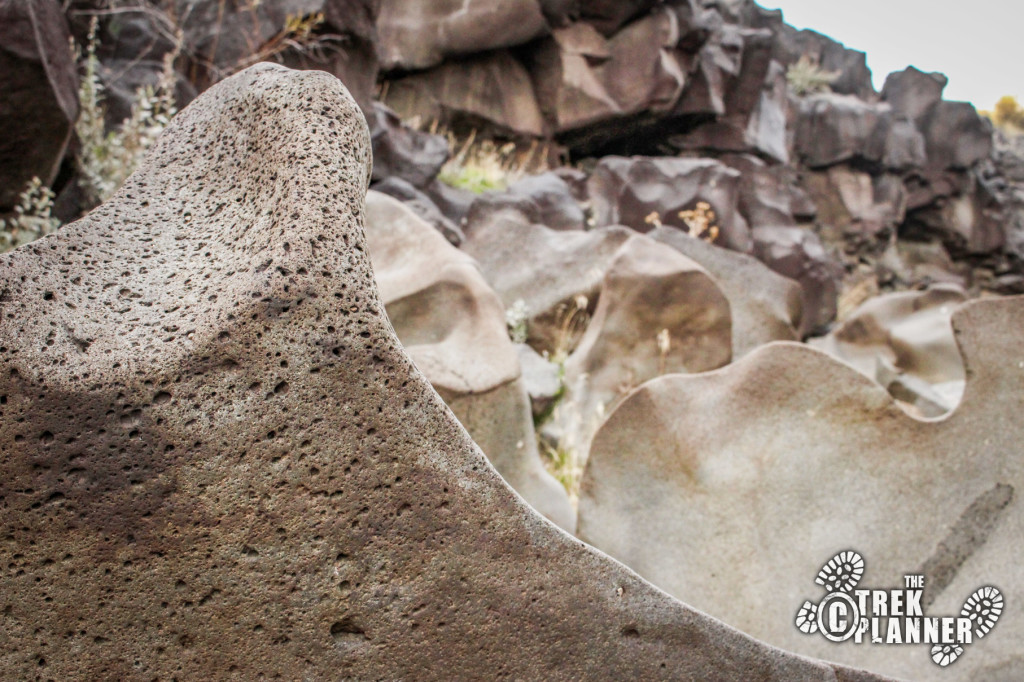 Here is the end of the canyon.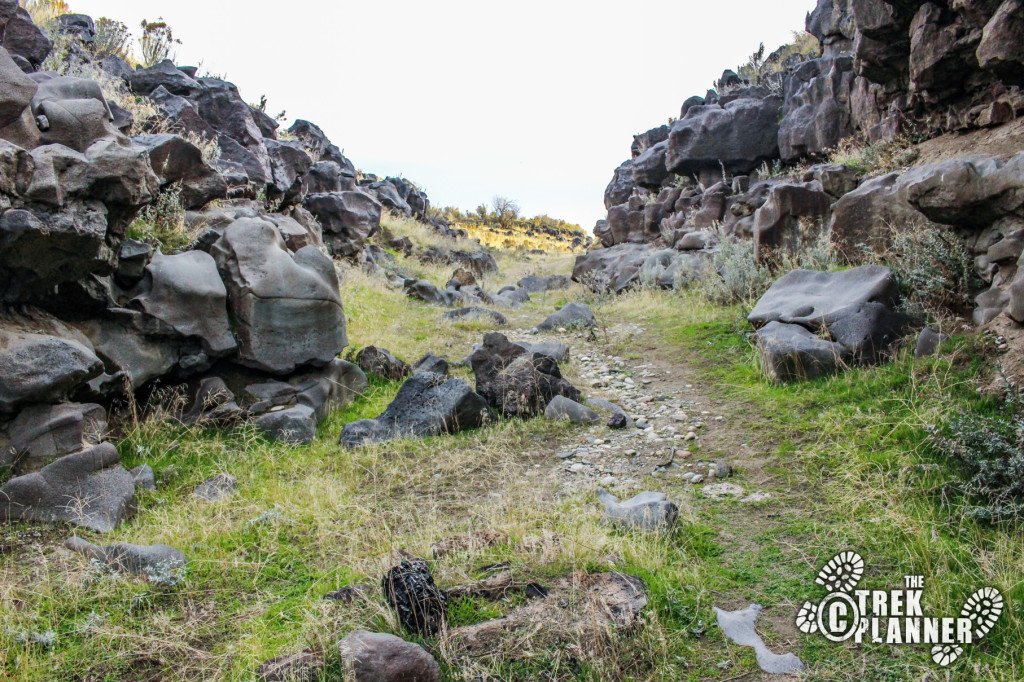 Once you are out, take a look back at the canyon.  It is crazy to think that this place exists and you can't even see hints of it once you are out.
I went just a little bit farther to see the dam before I headed back to my car.
The Return:
I hiked back on the road that I came in on.  You could try following the canyon back to where you parked but I didn't really see any good trails.
Personal Thoughts:
This was probably one of the most unique and odd hikes I have ever done.  I was indeed expecting this to be a different kind of adventure but I was completely floored by how amazing it was.  You NEED to see this place!