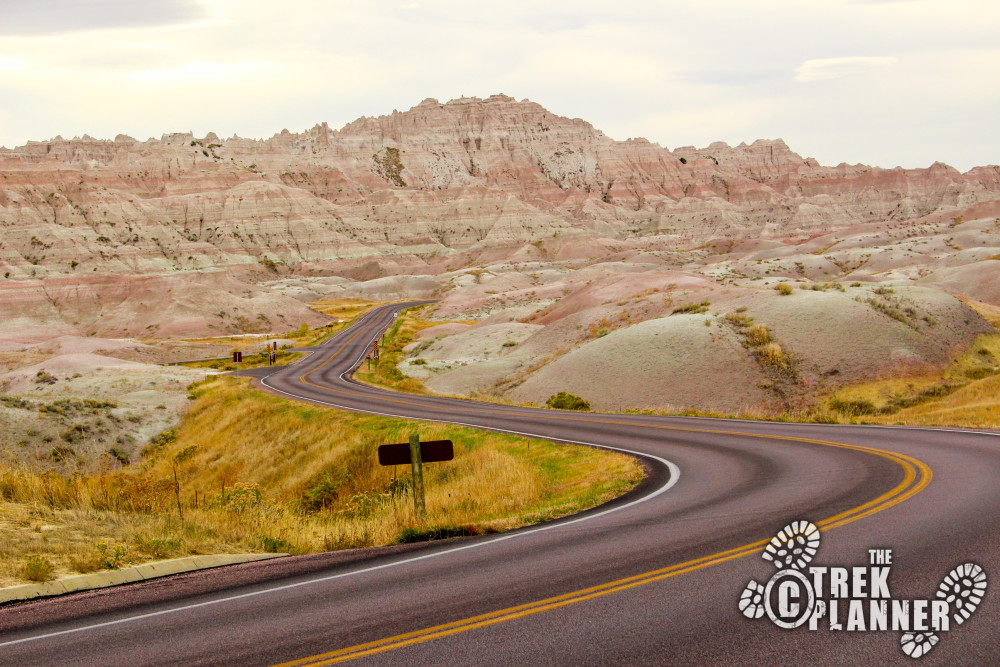 Overview
Badlands National Park, South Dakota
Interesting rock formations, wildlife
Depends on how many stops you make along the way. It took me about 1.5 hours with all my stops and picture taking.
There are entrance fees to get into Badlands National Park
Yes. Pit-Style. There are a few stops along the way with restrooms. Flushing toilets are found at the Visitor Center.
Yes. Ben Reifel Visitor Center
Driving Directions
The Trail:
After spending a full day at Badlands National Park I wanted to exit the park a different way so I drove the long way out to Wall, South Dakota.  This was a very scenic route which takes you near lots of little pull-outs and overlooks you can see along the way.  In fact, I stopped at just about every one to get out and take pictures.
I started before the Ben Reifel Visitor Center and then followed the Badlands Loop Road to the city of Wall.  There are some really neat areas just before the Visitor Center where you can even see a natural window carved by rain, snow and wind.
The whole trip was about 23 miles and there were a few rest areas with pit-style restrooms too.  I  have to also mention that I was either stopped or pulled over while I was taking these pictures. Safety first!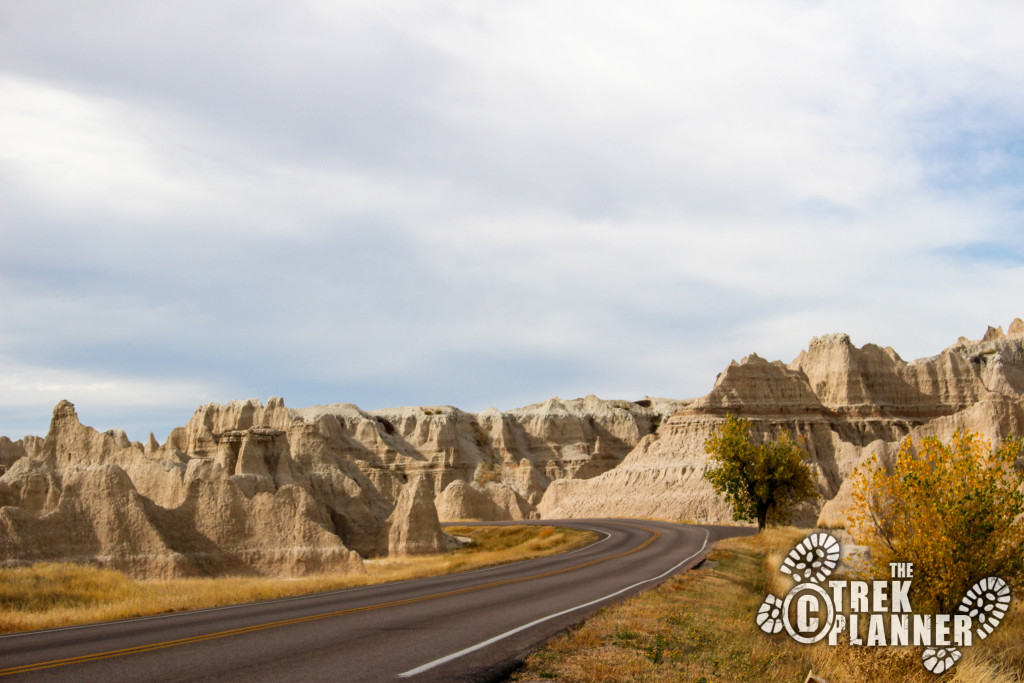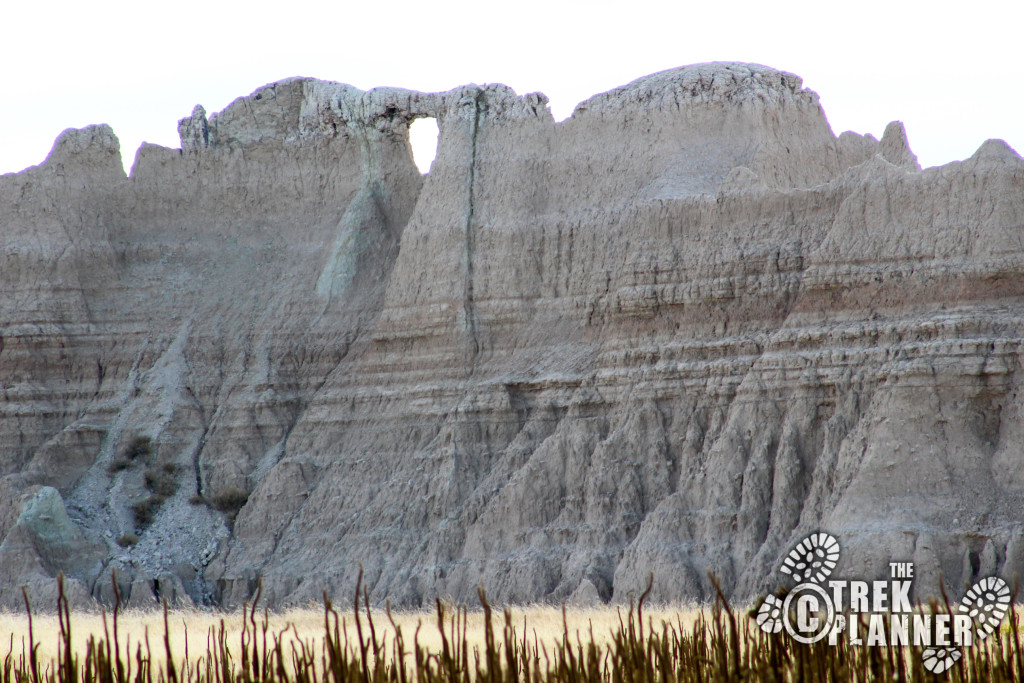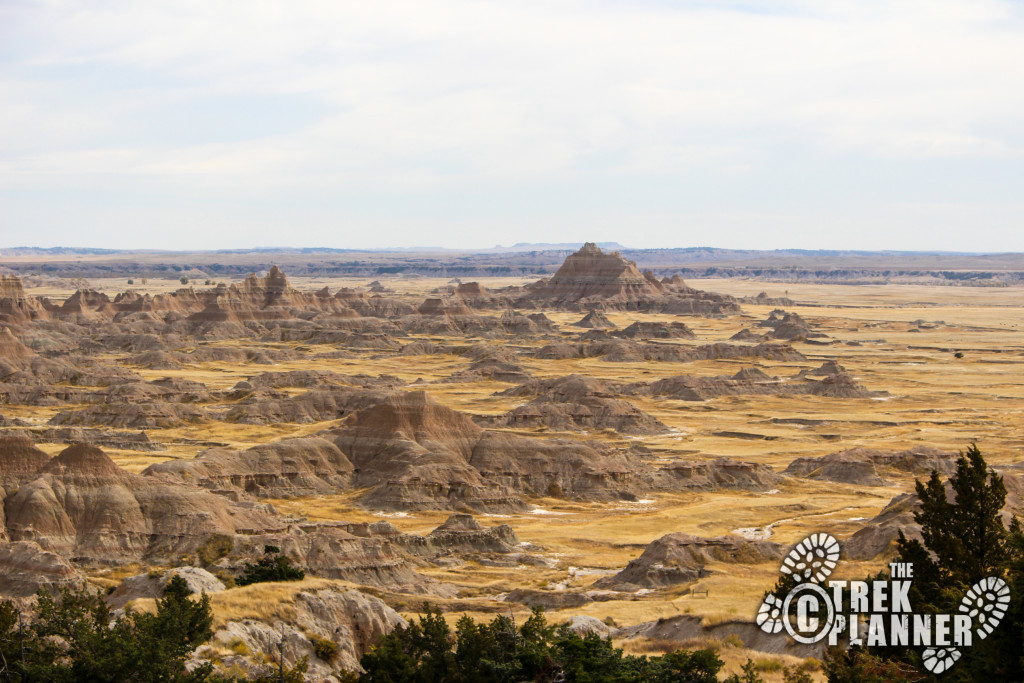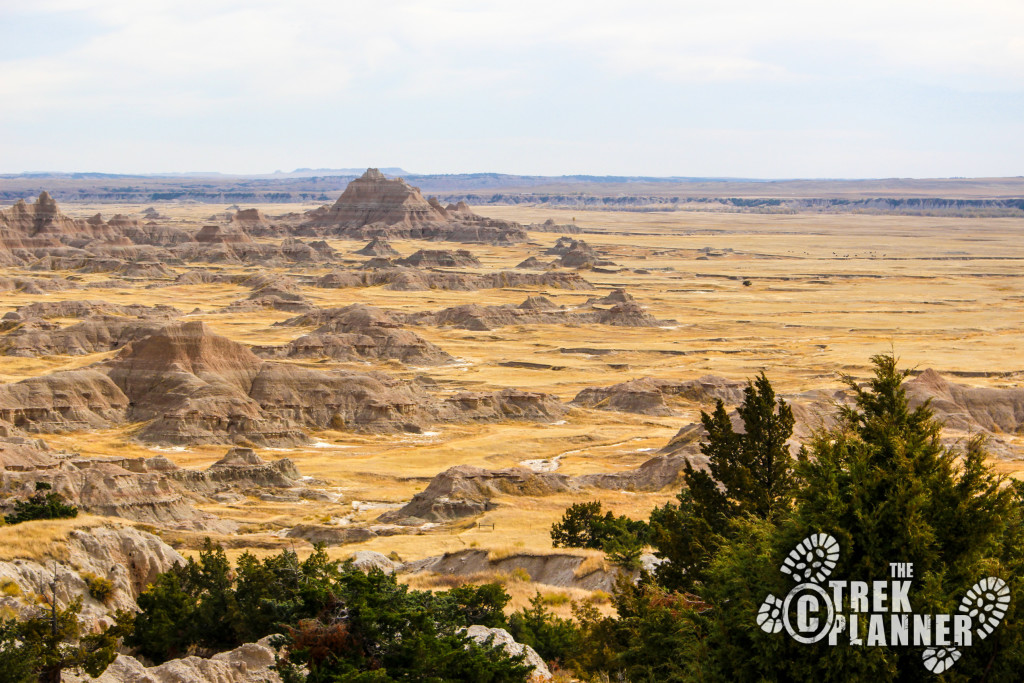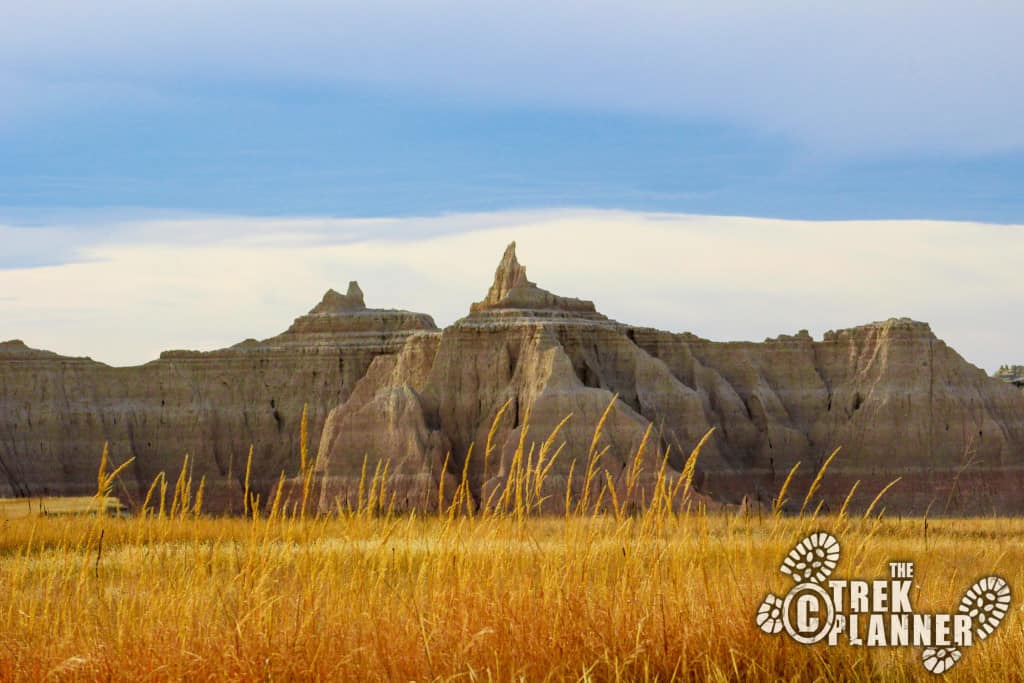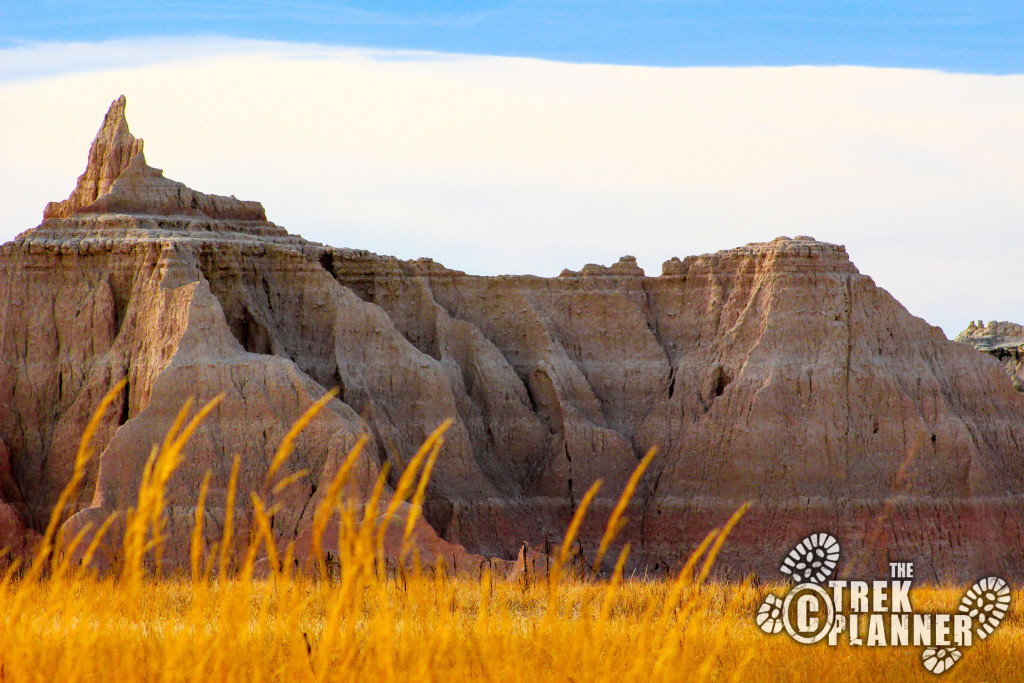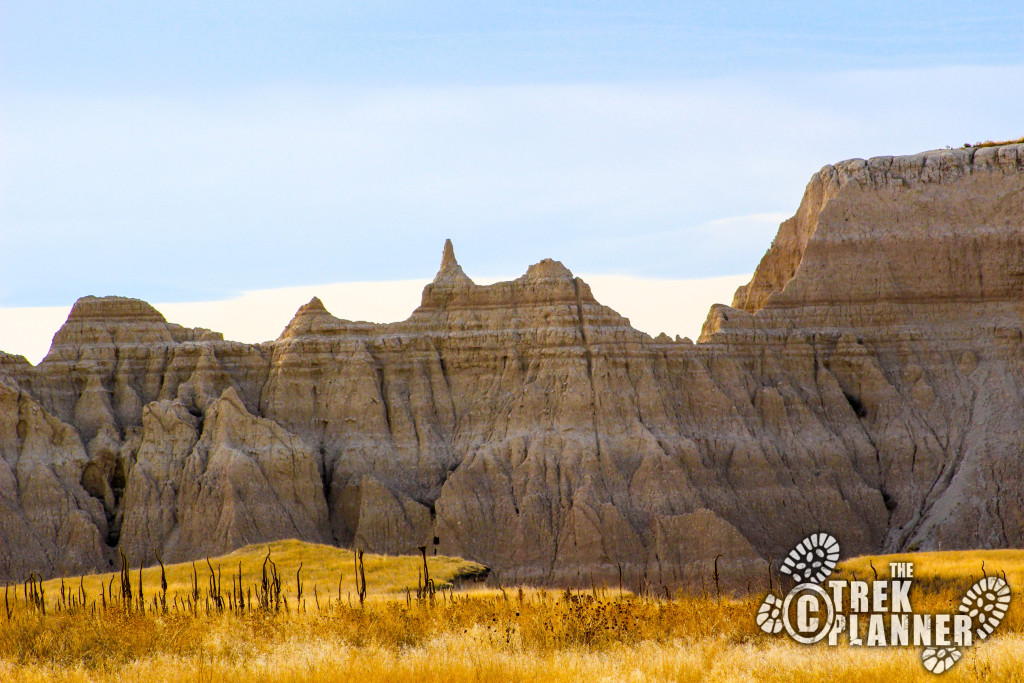 The Ben Reifel Visitor Center, named after a Lakota-Sioux politician, is a great place to stop.  There is a gift shop, display pieces, maps, a theater showing a great Badlands presentation and rangers there to answer your questions.  There is also a campground here too.
Just a little south and west of the Visitor Center you will see this sign (see below) which points you to the city of Wall and I-90.  Take this road to begin your scenic drive through the national park!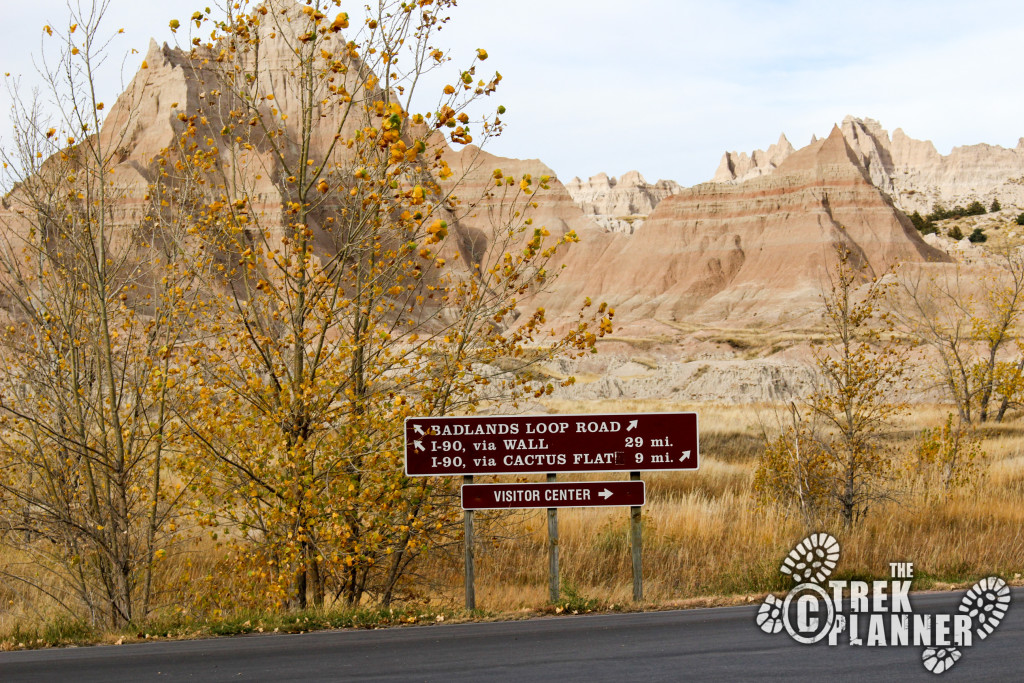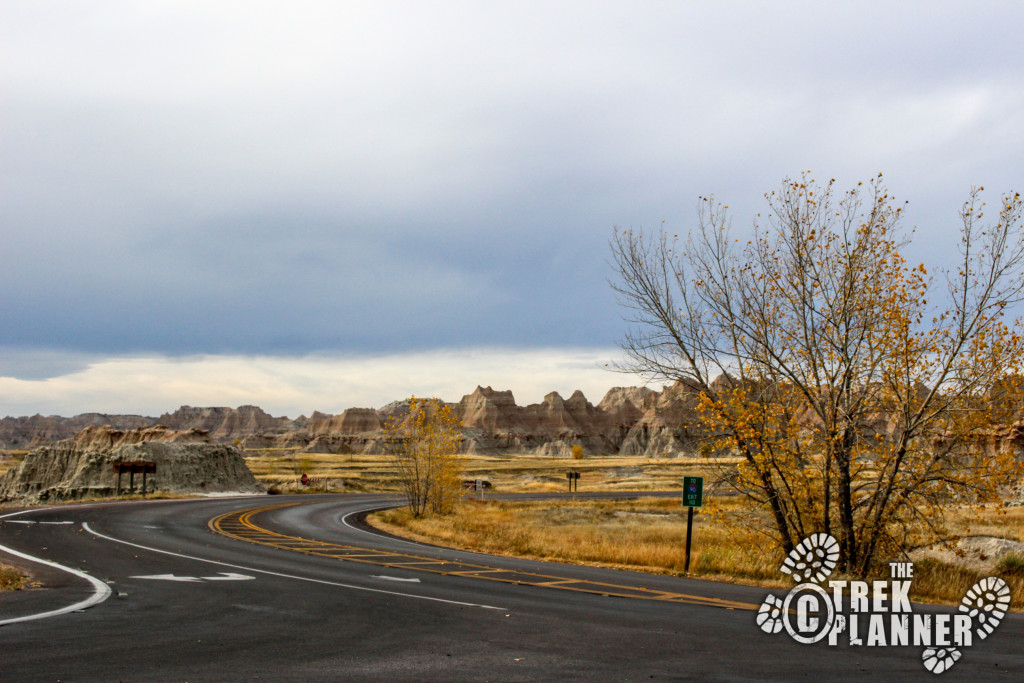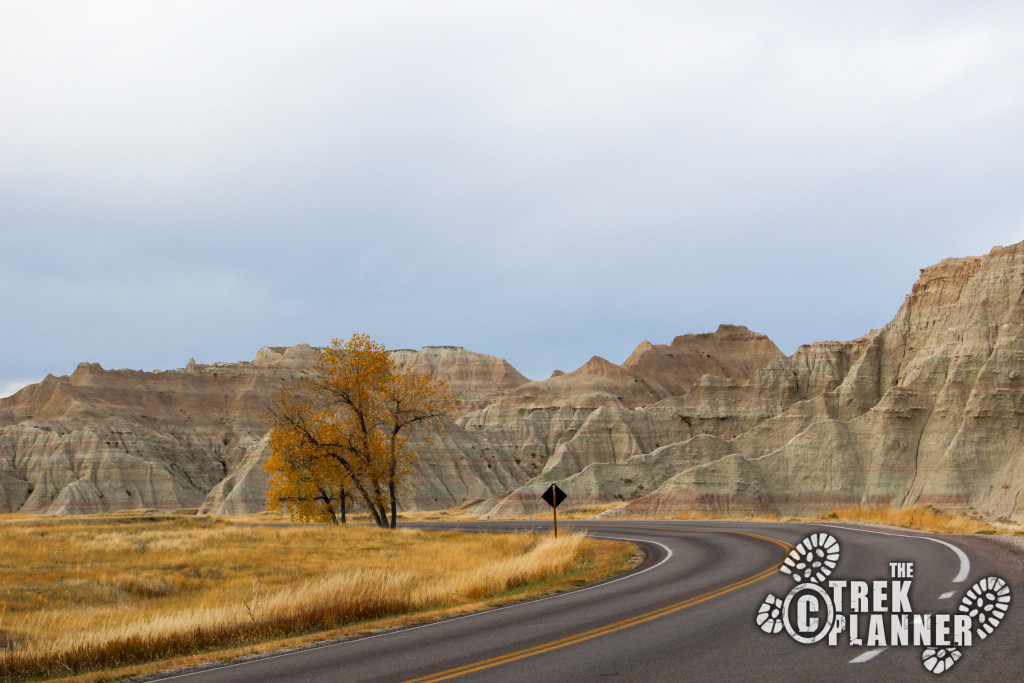 Right off the bat, I wanted to stop every place I could to take pictures and enjoy the landscape.  The road winds around all these cool formations and I even saw a little group of desert big horn sheep near the road.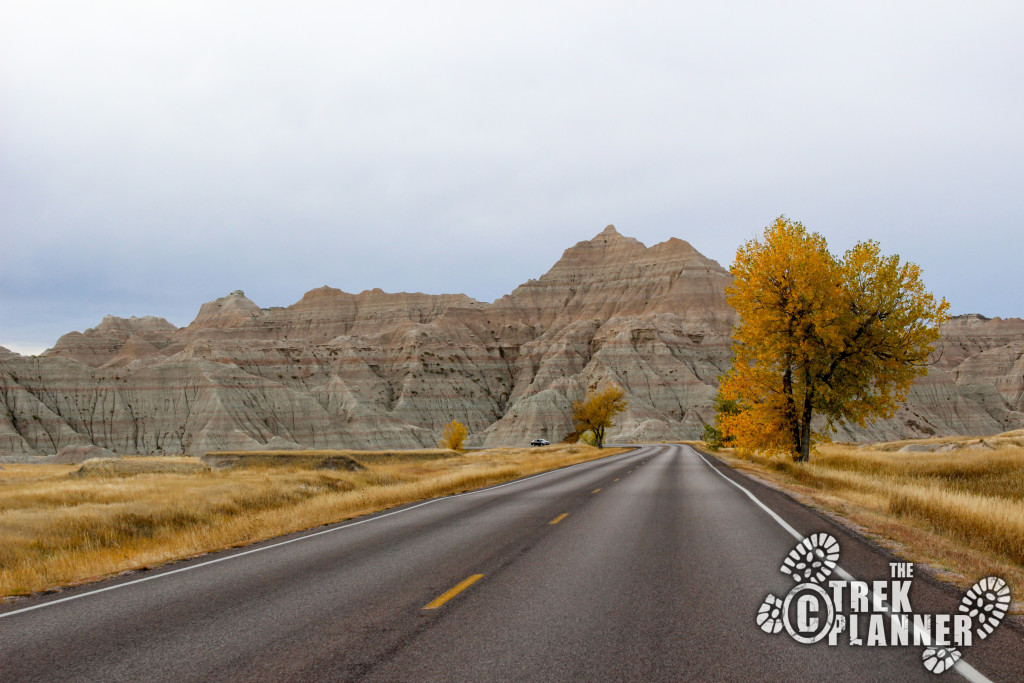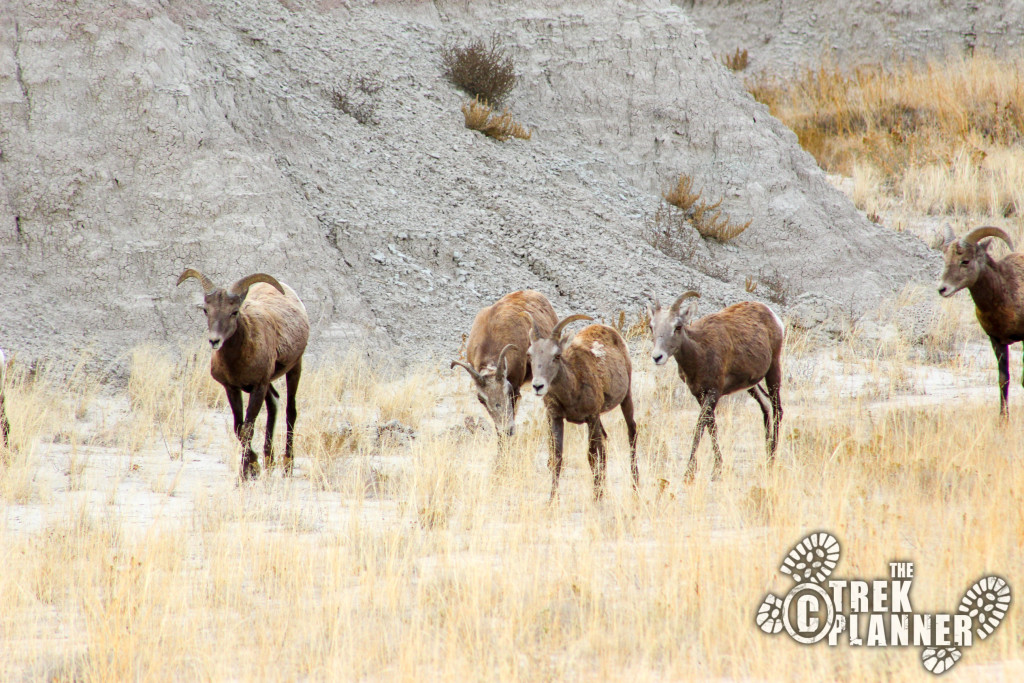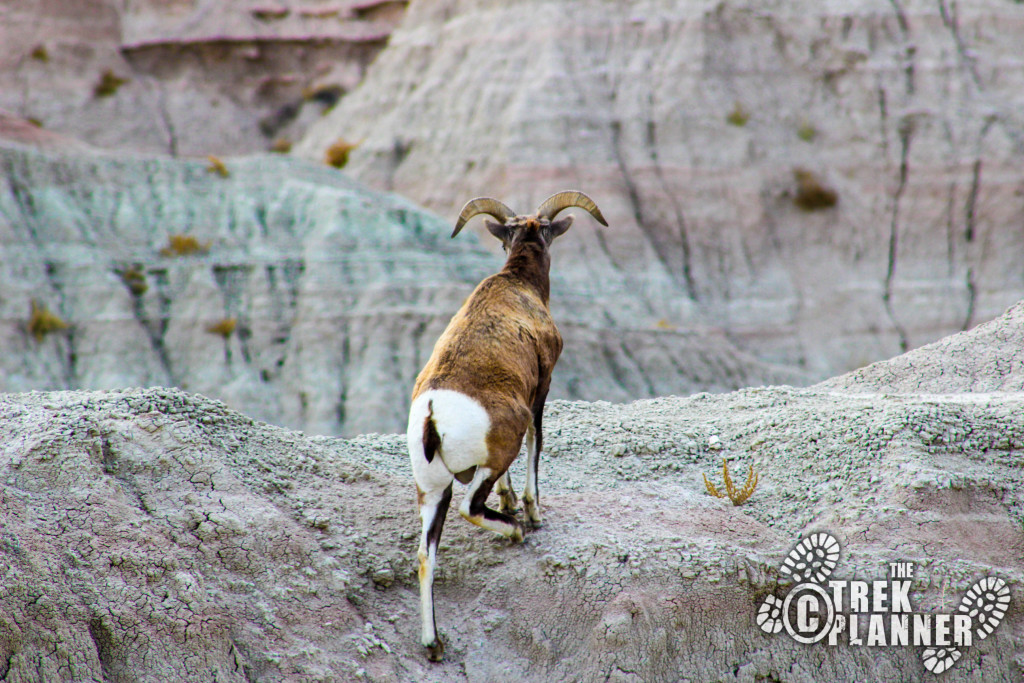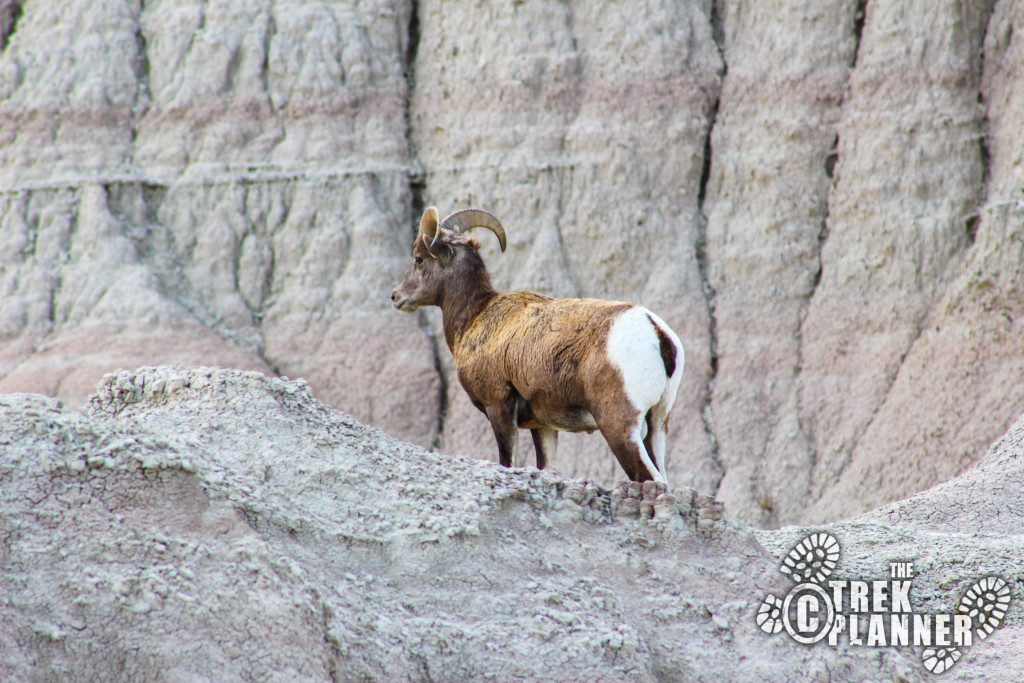 The first major stop you will arrive at is the Fossil Loop trail at Norbeck Pass.  You could stop here and take the very short trail around or you could keep going on.  I stopped to check out the trail which I will post about later.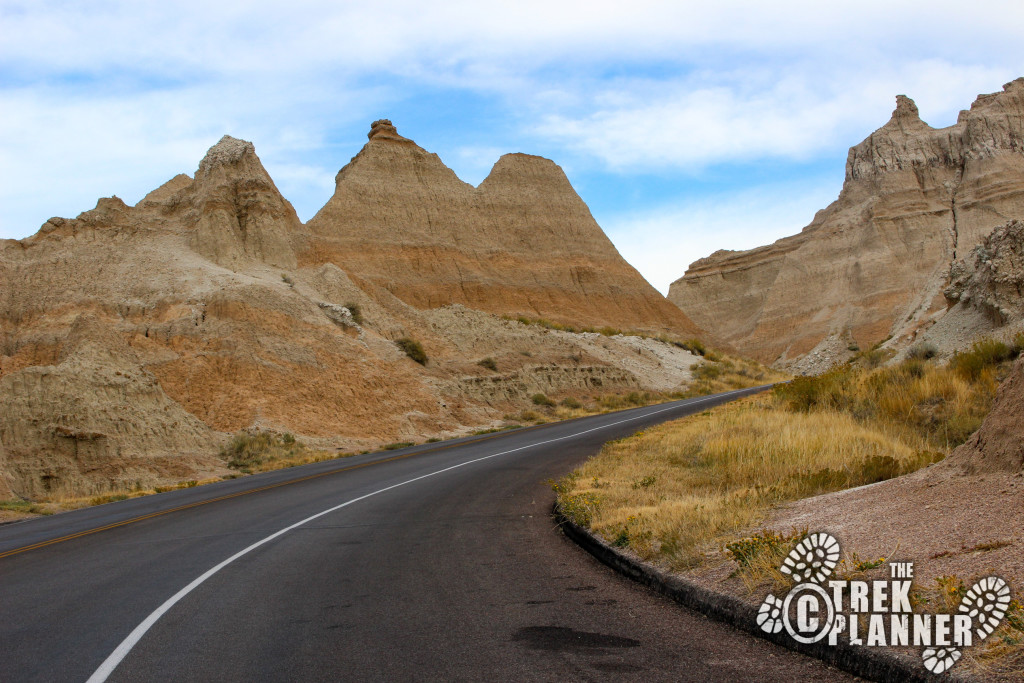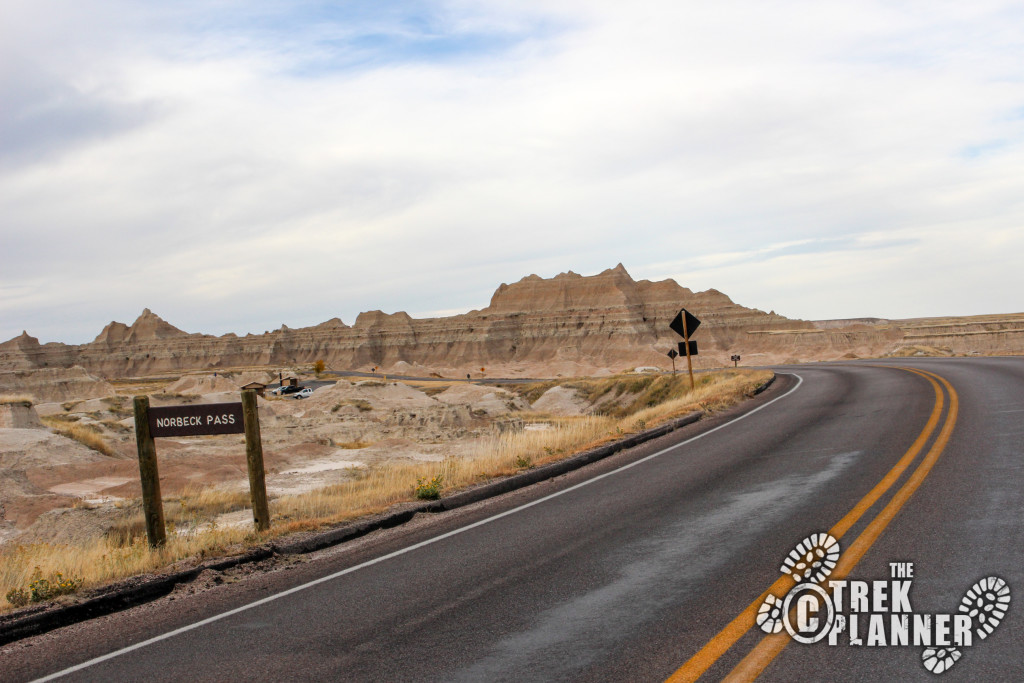 From here the road will stay mostly on top of the interesting formations until about the Bigfoot Pass Overlook.  I didn't get out of my car again until this pass but there was another cool stop along the way called White River Valley Overlook if you want to stop there too.
You will go through some grasslands and then come to the Bigfoot Pass Overlook.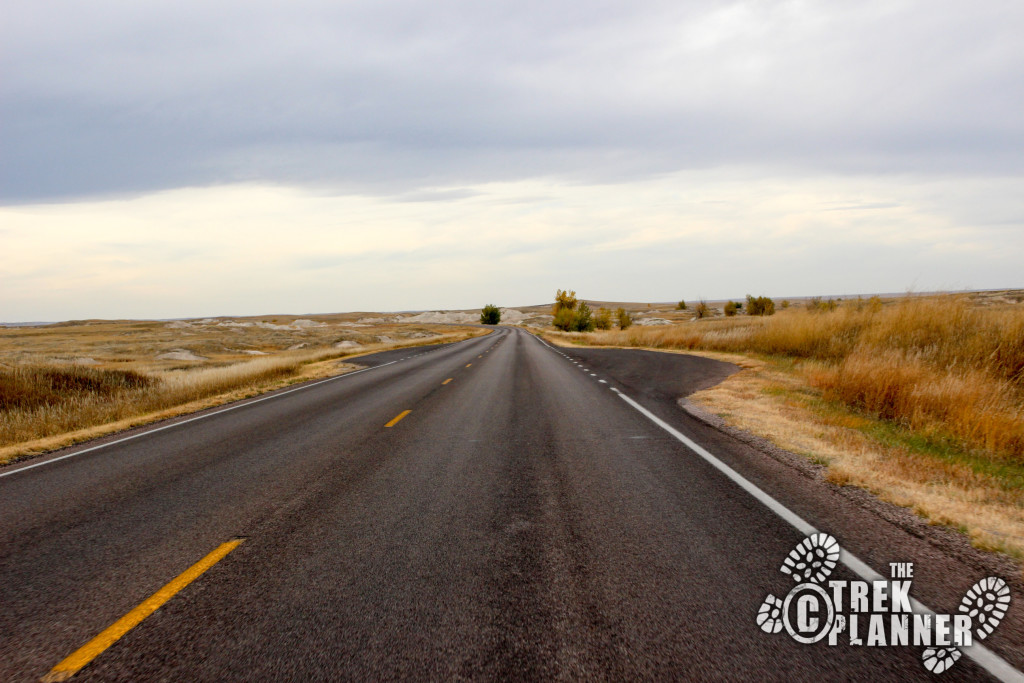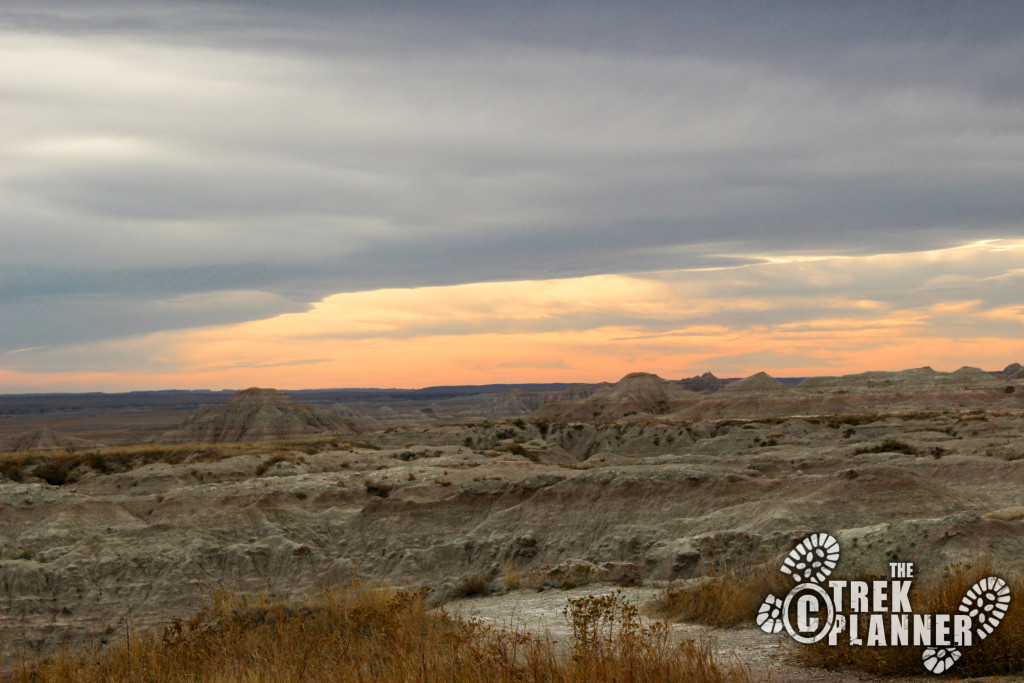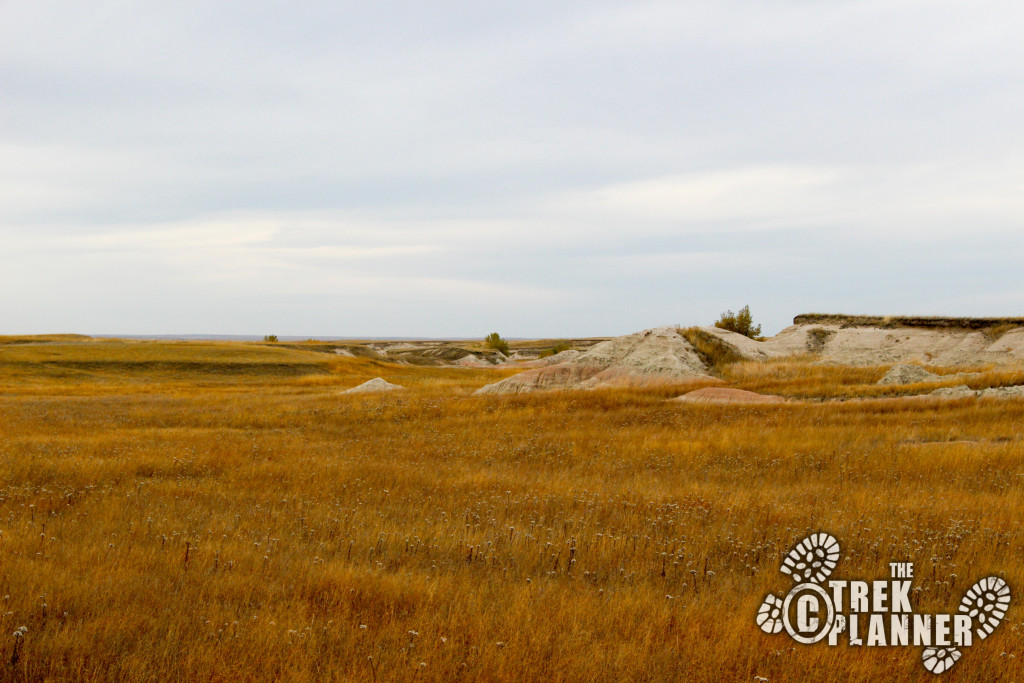 For me, I think the Bigfoot Pass Overlook was probably my favorite point along the drive.  You could see the many layers in the rock and there were a few pinkish colored bands.  There is a cool overlook with a bench here that you can walk to in no time at all.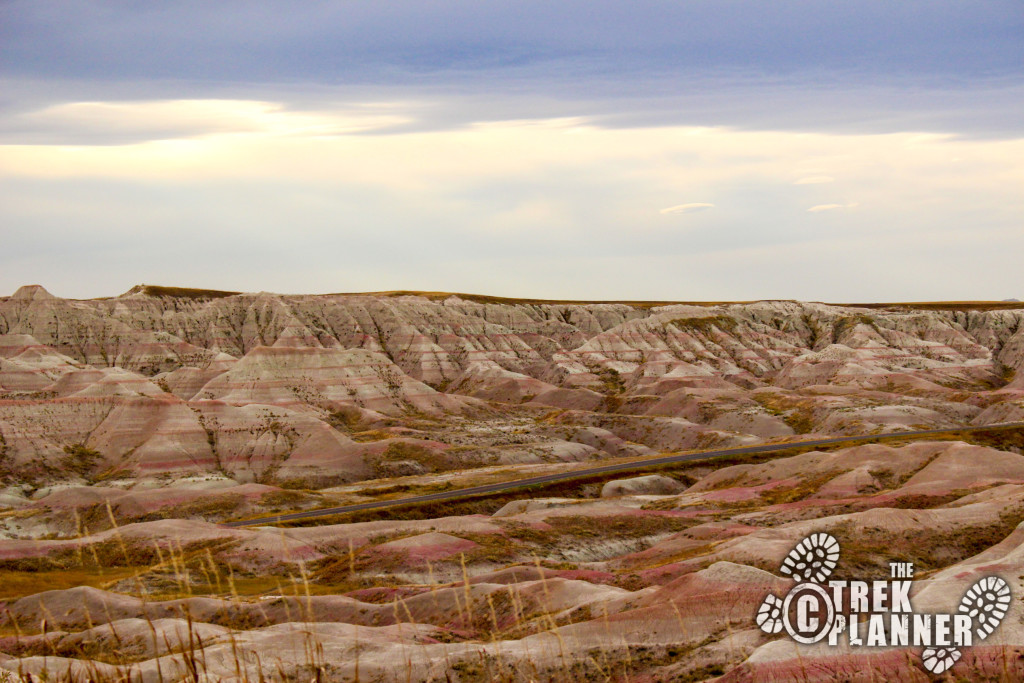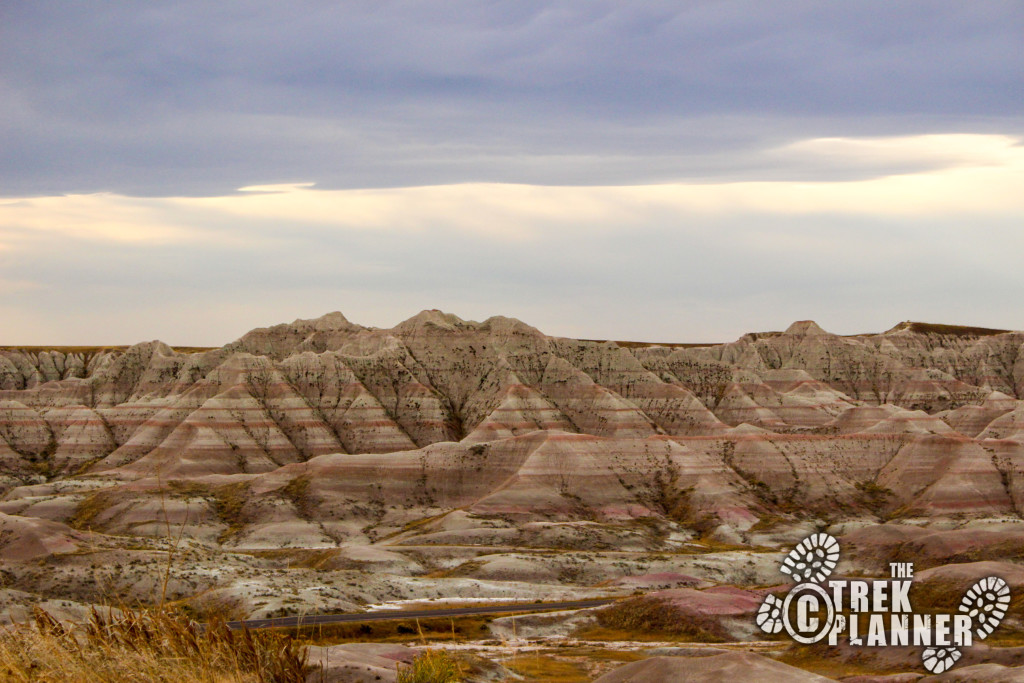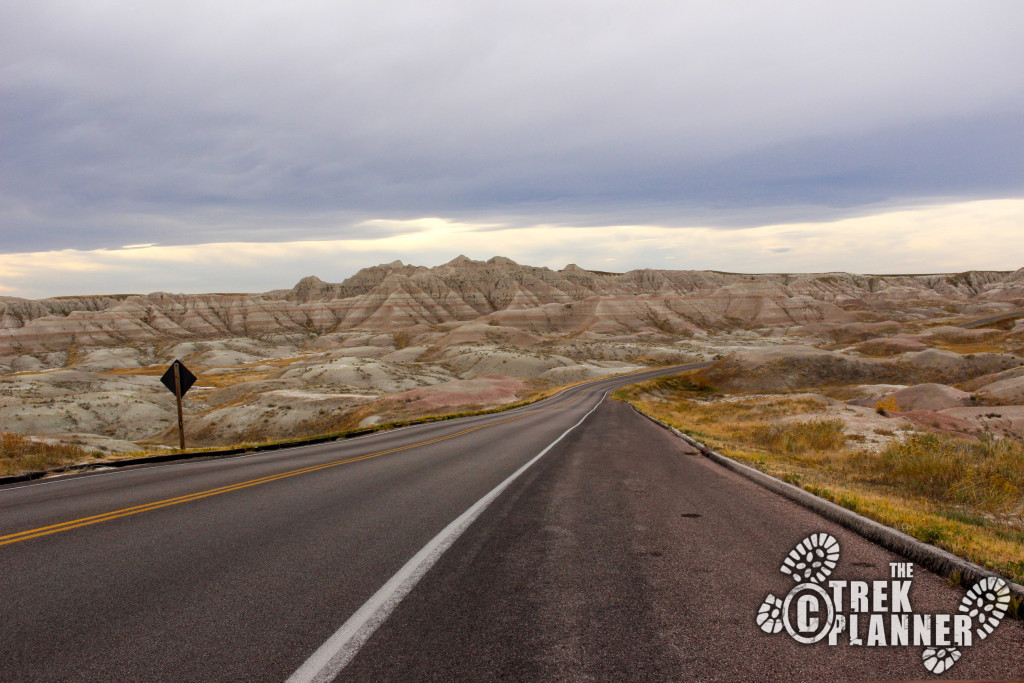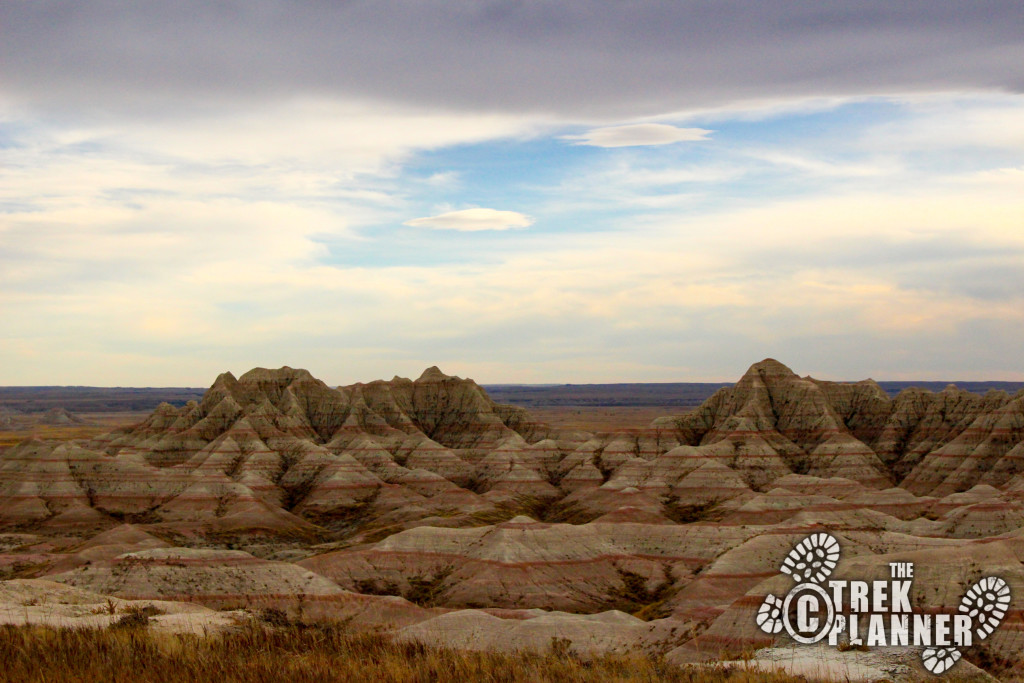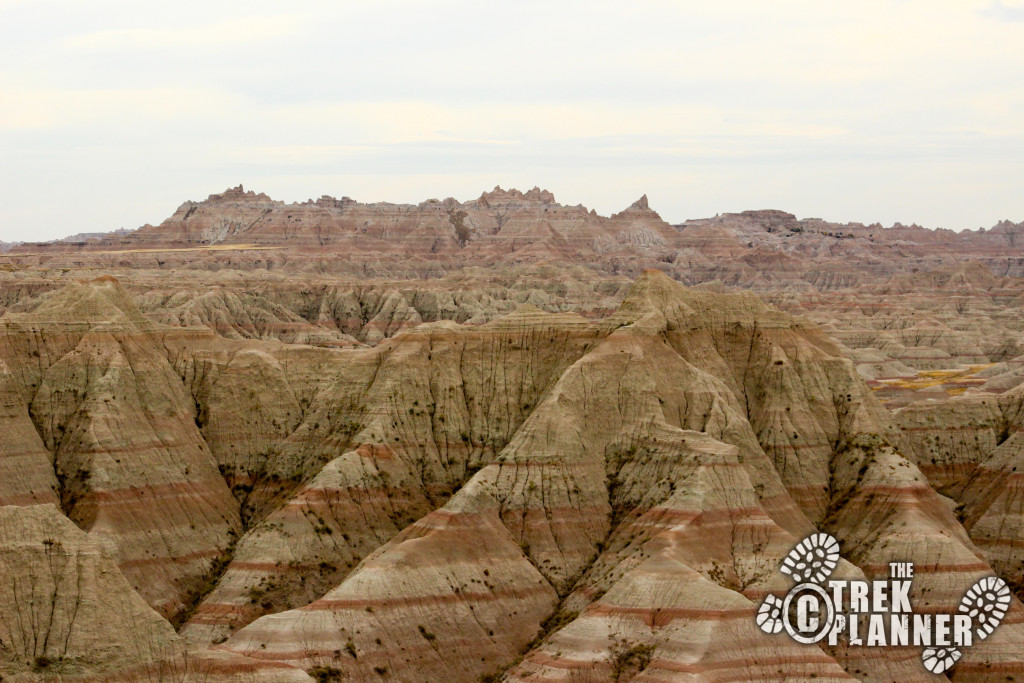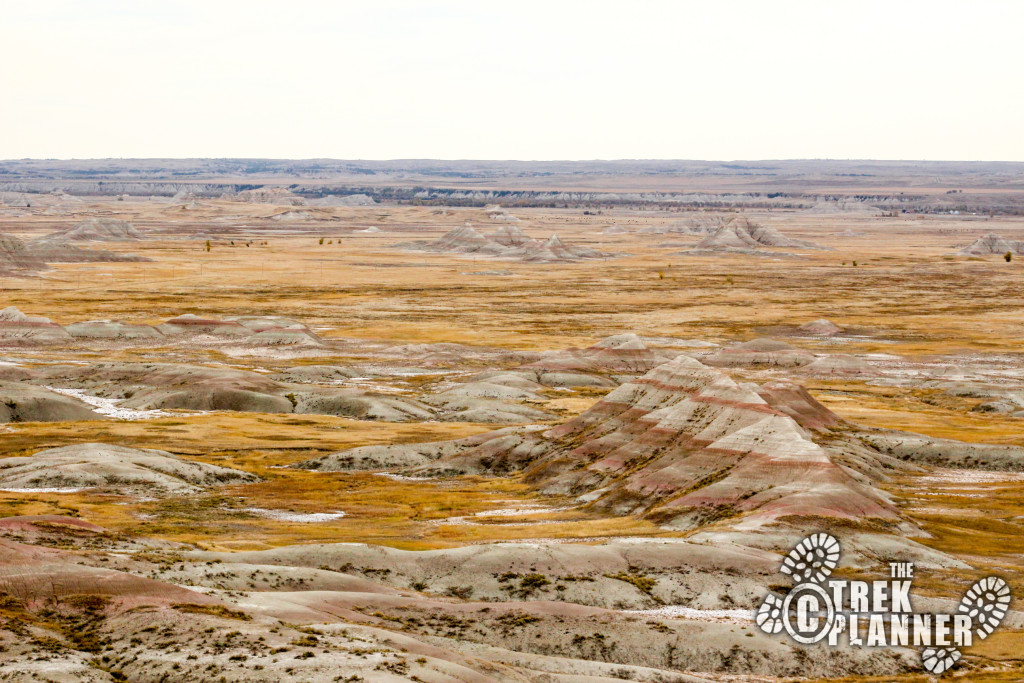 The road goes through the pass then it eventually comes back up on top to the north of the rock and mud formations in the valley below.
It was here in the grassland area I found a truck pulled over with its emergency blinkers on.  There were three younger looking people who were standing to the side of their truck and they were looking at me as I got closer.   They looked a little worried and I decided to pull over to see if they needed help.  As I approached they all got this weird nervous look on their faces and I asked "do you need help?".  All three looked at each other and one started to bust up laughing.  She then said "No! We work for the park!". Confused at what in the world was going on I said "Oh, well you just looked like you needed some help,"  the girl laughed even harder, almost hysterical now, and said again that they work for the Badlands National Park and they didn't need help…
I thought it was strange.  Who knew that by just offering for help you would get your face laughed at like YOU were the crazy one!  Anyway!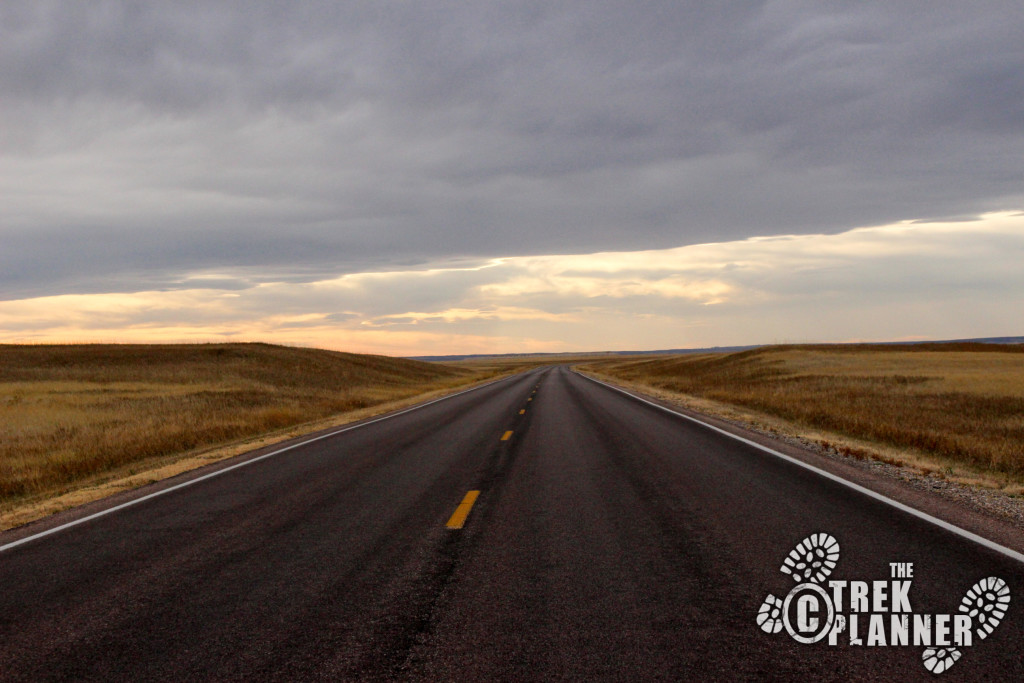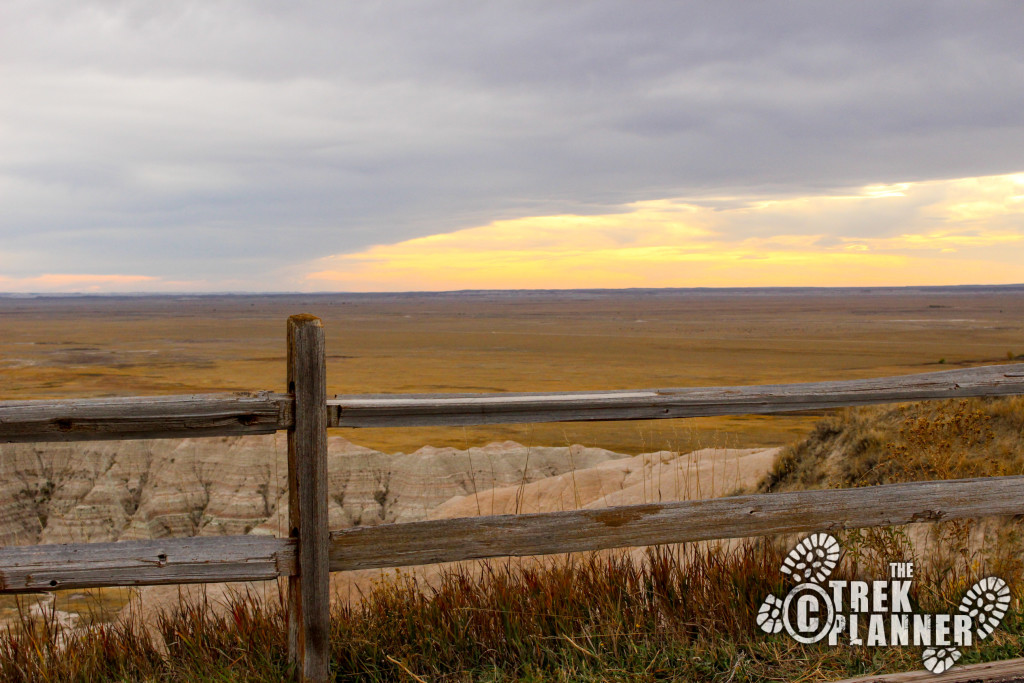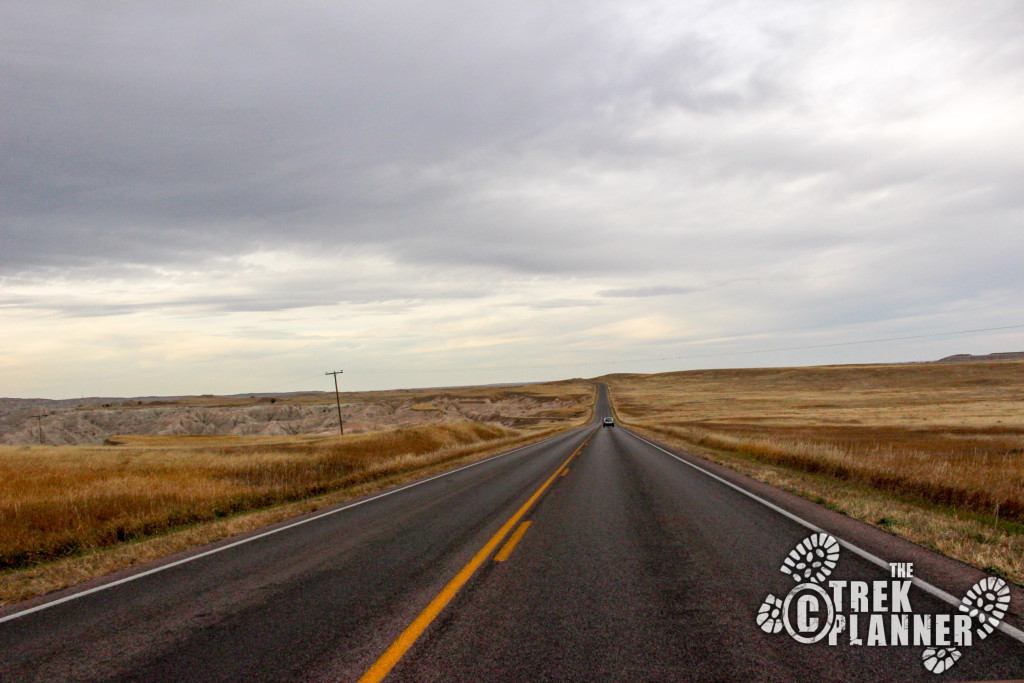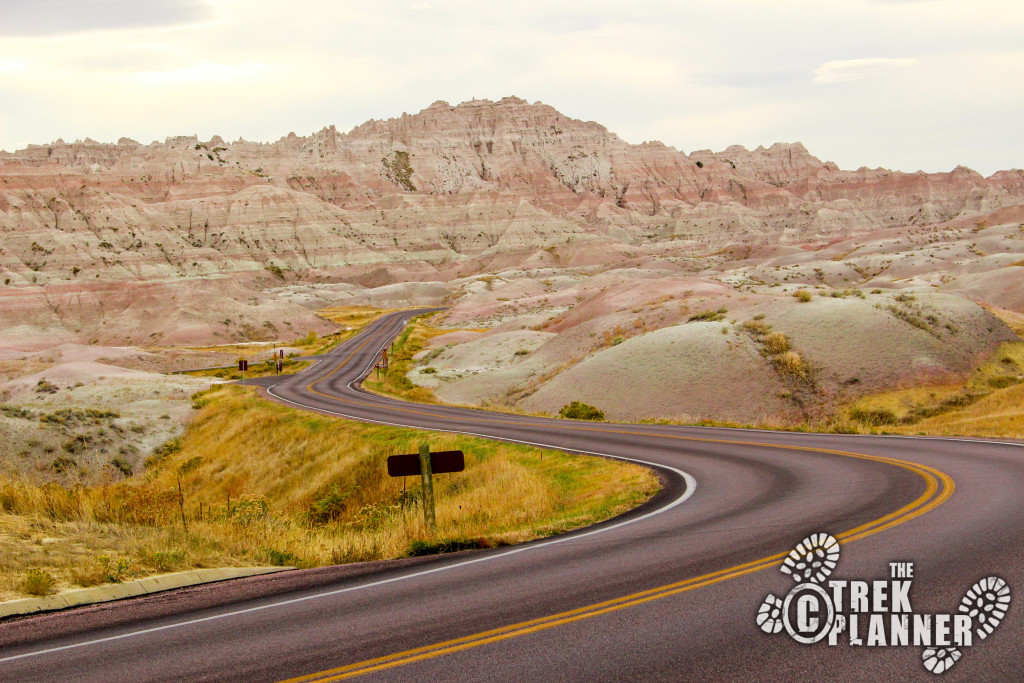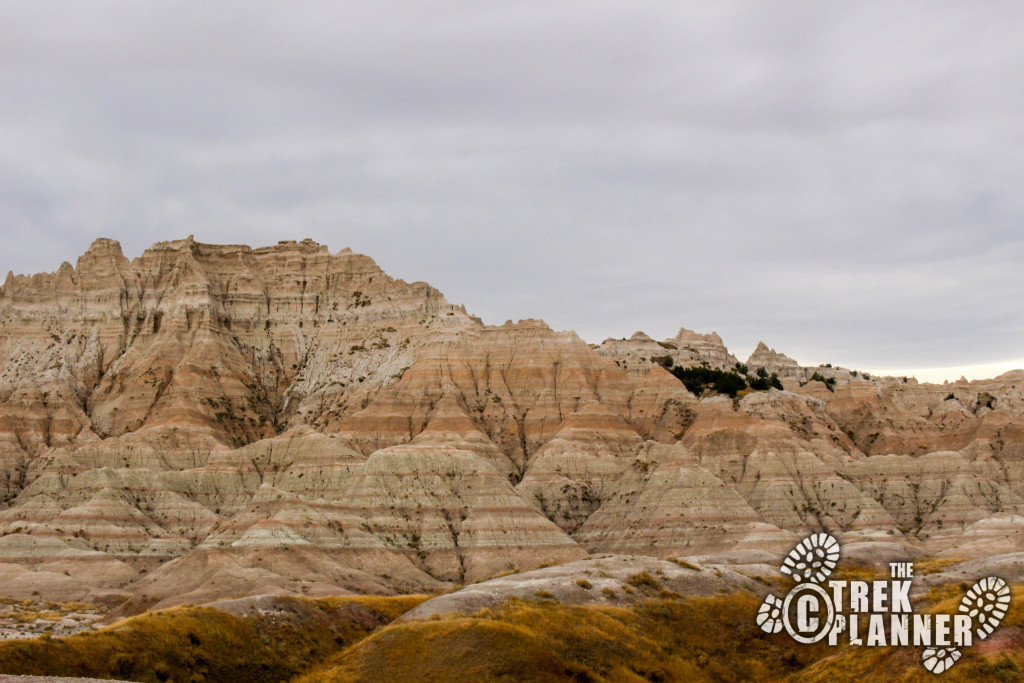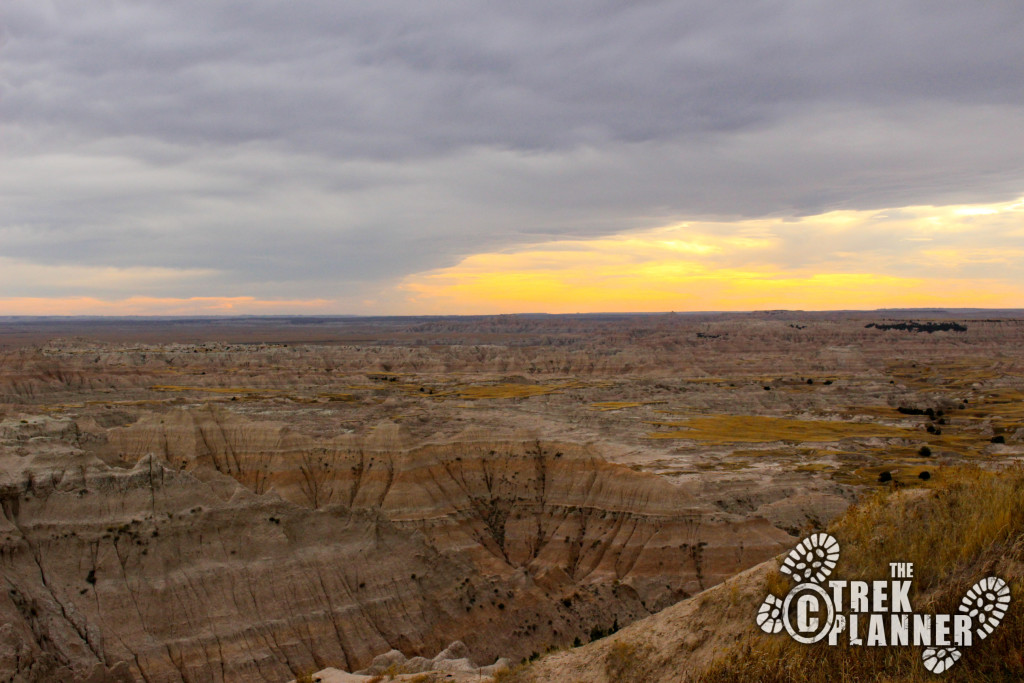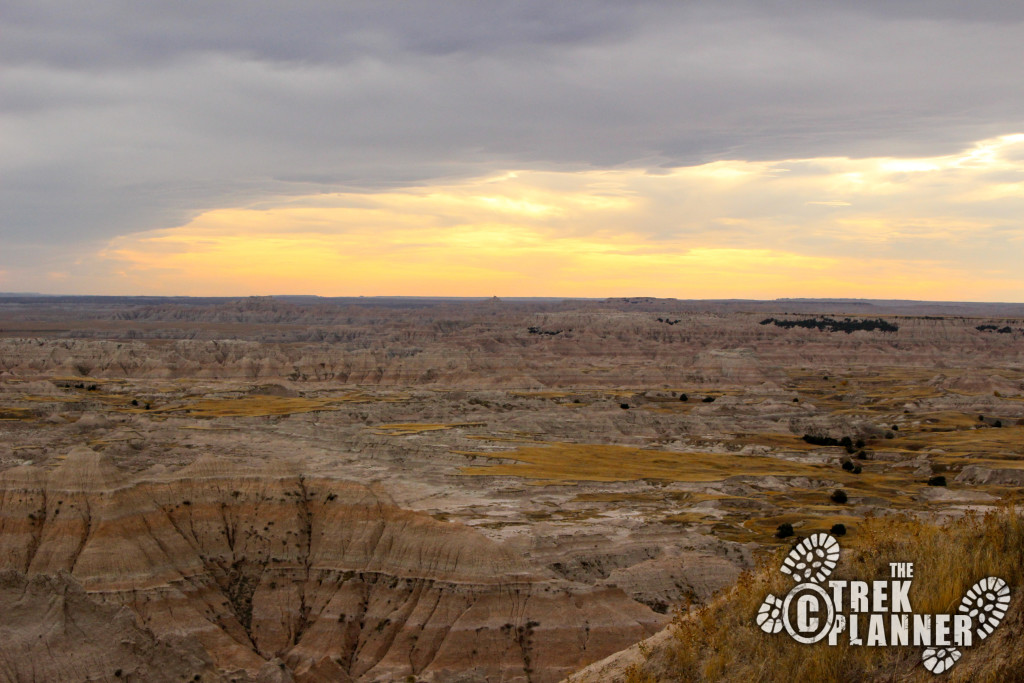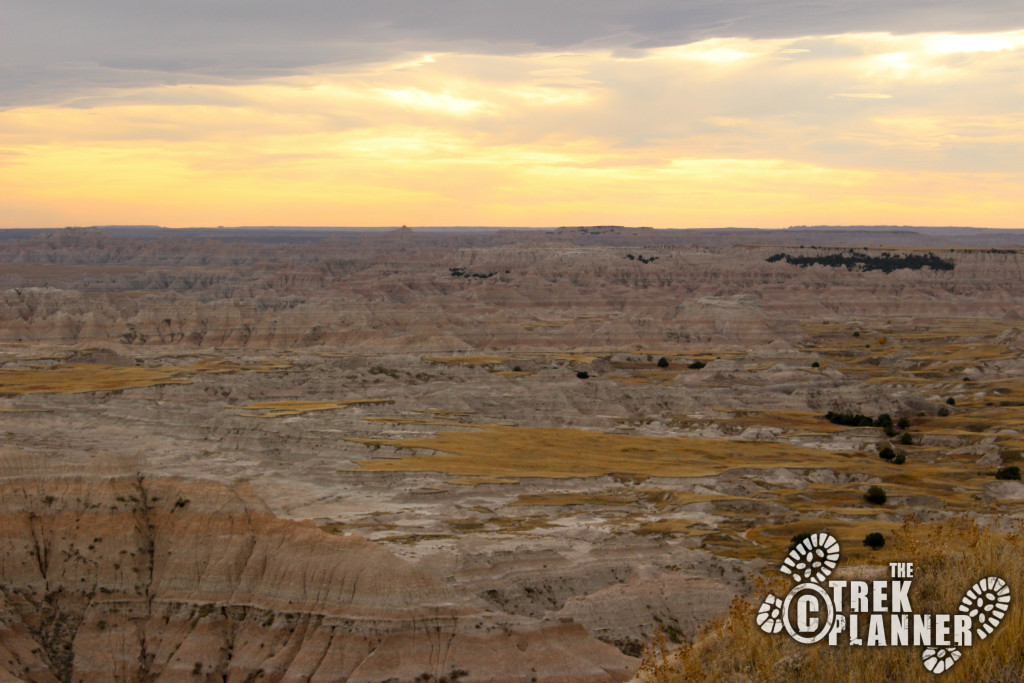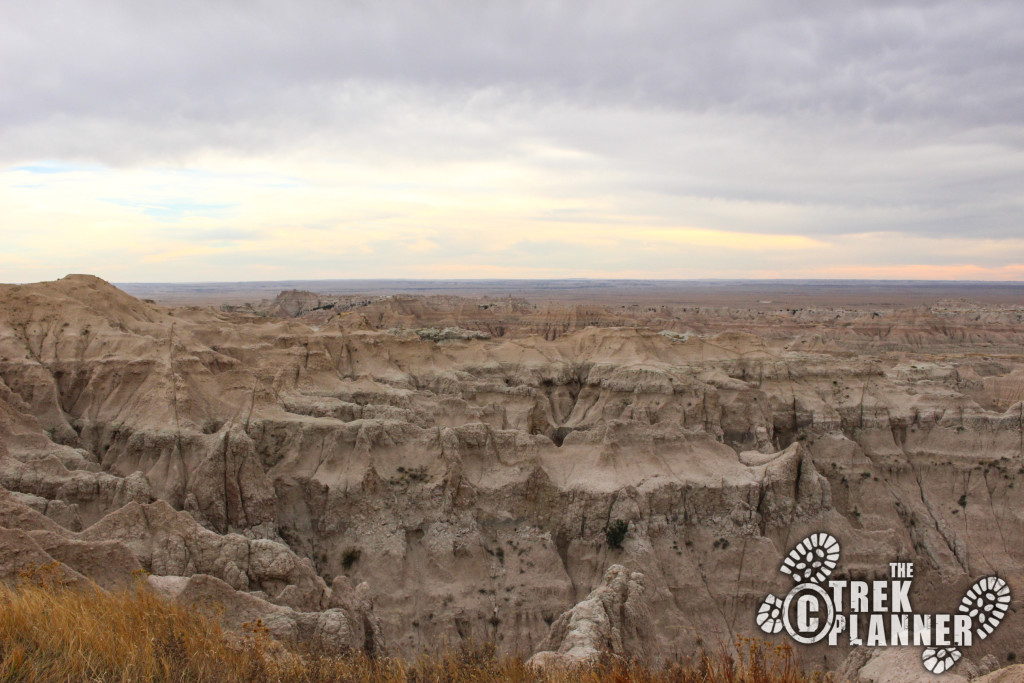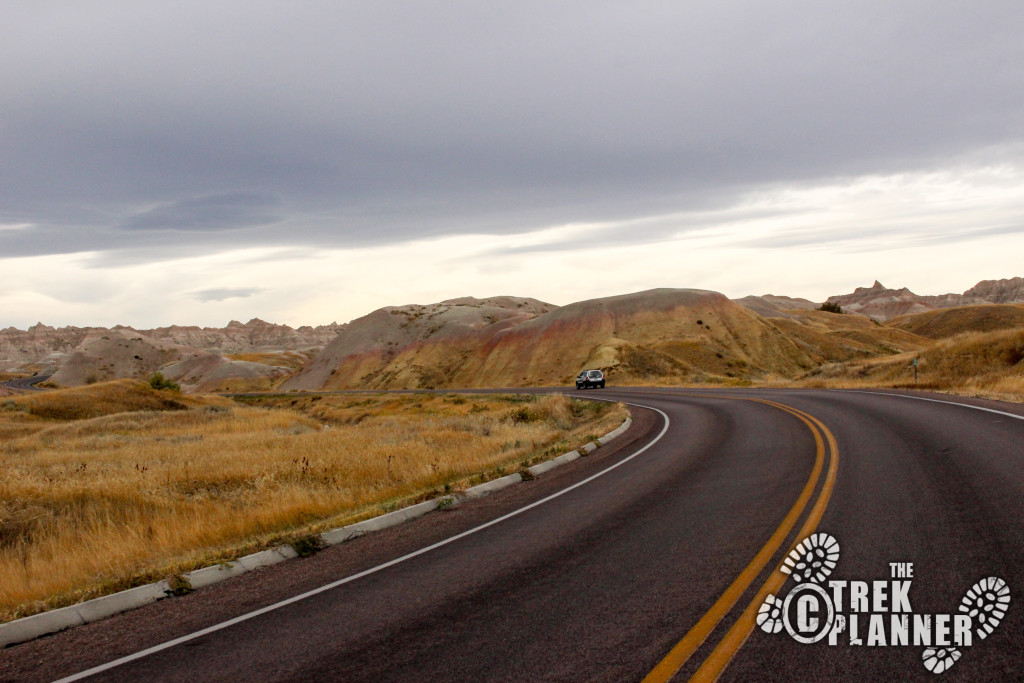 The last major stop is called the Pinnacles Overlook.  It is a vast valley full of colors and tall and jagged towers.  It would be very fun to come back and go exploring down below.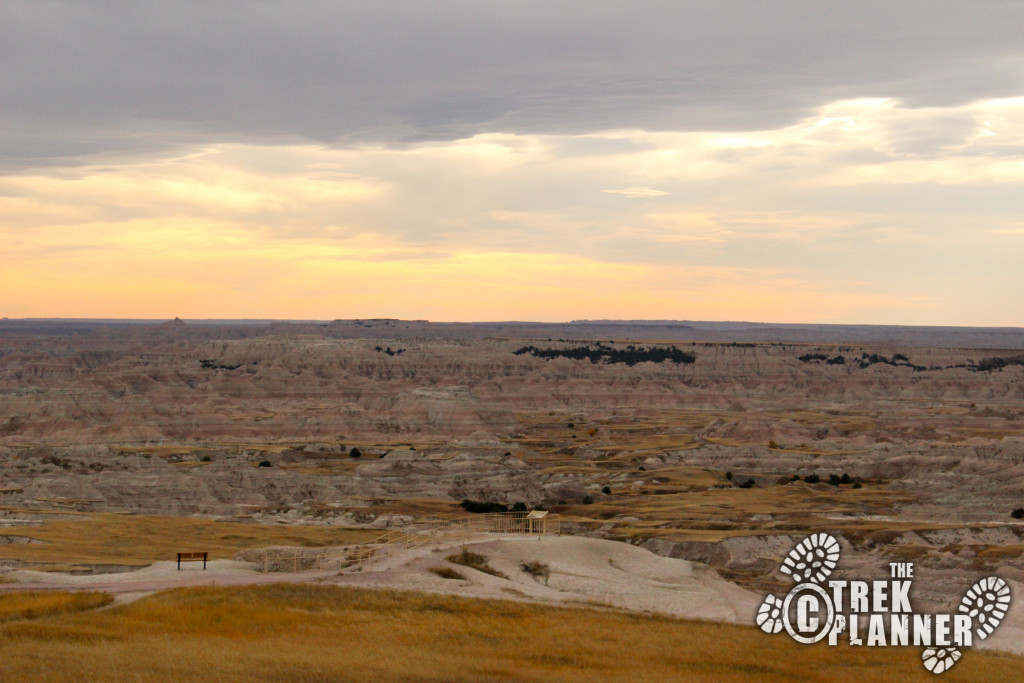 The road now makes its way north until you come to a ranger station to conclude the scenic journey through the Badlands.
Personal Thoughts:
I really enjoyed the drive through the national park.  If I came back I would probably do this drive again because it showed you so much and it was a very casual and relaxed way to view the park.