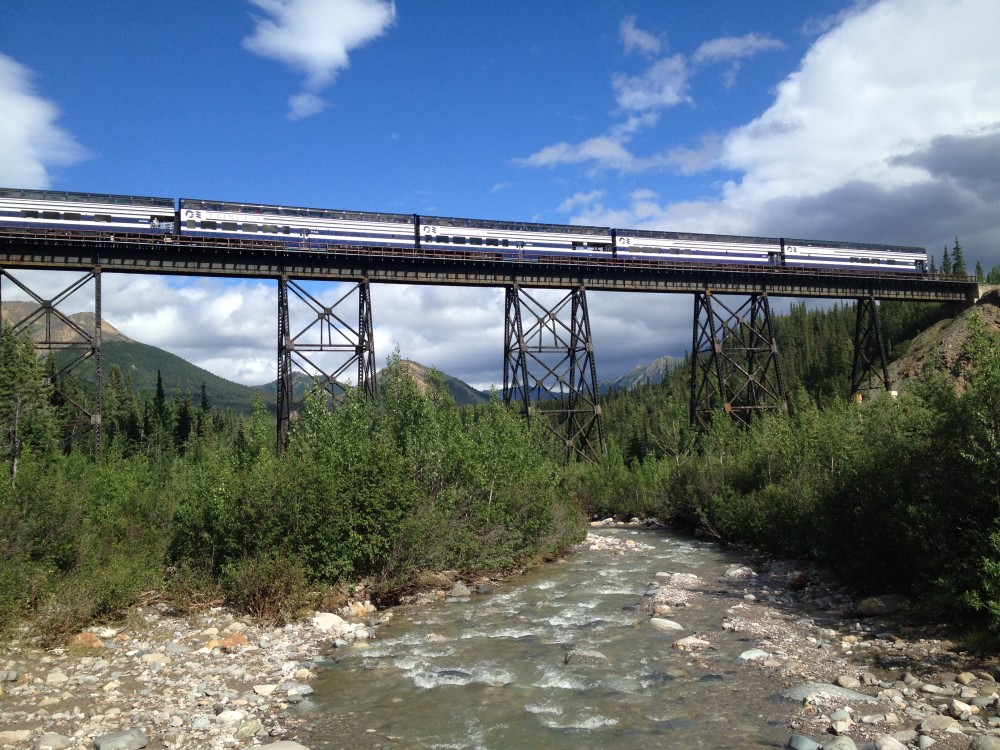 Overview
The Alaskan Railroad starts or stops in Anchorage or Fairbanks and makes stops in Talkeetna and Denali.
Wildlife, several mountain ranges, many communities and towns, Denali and more.
12 + hours to go from Anchorage to Fairbanks or the other way around.
Check with Alaska Railroad for animal permissions
Water and other beverages are served on board. I would bring 1 liter of water.
Train usually departs Anchorage and Fairbanks around 8am. PLEASE CHECK WITH RAIL DEPOT FOR MOST CURRENT UP TO DATE DEPARTURE TIMES.
Lots of sun exposure. But the domed rail cars are tinted.
Yes. At each main stopping location in Anchorage, Talkeetna, Denali and Fairbanks.
You are free to bring food aboard or purchase meals and snacks while onboard.
Camera, sun glasses, hat, light jacket.
GPS Coordinates:
Seward Rail Depot: 60.121926°, -149.438679°
Grandview Rail Depot: 60.48596, -149.36695
Portage Rail Depot: 60.84023, -148.98177
Girdwood Rail Depot: 60.94381, -149.17256
Whittier Rail Depot: 60.77703, -148.69717
Anchorage Rail Depot: 61.221938°, -149.889330°
Wasilla Rail Depot: 61.580453°, -149.440590°
Talkeetna Rail Depot: 62.315731°, -150.102975°
Cantwell Rail Depot: 63.39131, -148.95146
Denali Rail Depot: 63.730723°, -148.913569°
Healy Rail Depot: 63.85738, -148.96749
Nenana Rail Depot: 64.564423°, -149.095866°
Fairbanks Rail Depot:  64.851483°, -147.741167°
Full Train Map
The Alaskan Railroad Information: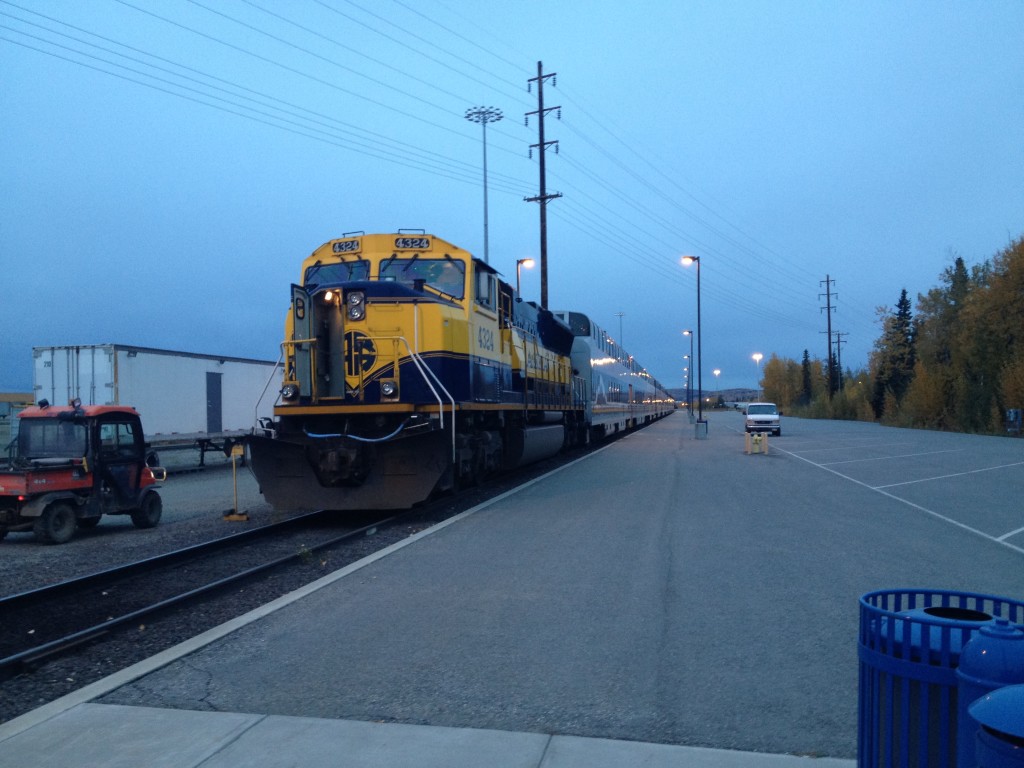 The Alaska Railroad is an incredible way to see much of Alaska.  The Railroad has a few different route options for you to choose from depending on your destination.  There are also several different options for seating but overall, pretty much every seat is a good one!
Alaska Rail Engines
The Alaska Railroad operates all of the engines on the rail and they even have their own leisure cars (Adventure and Goldstar service).   Other companies such as Royal Celebrity, Holland America and Princess Cruise Lines, also own their own luxury rail cars but the AK Railroad pulls these cars with their engines.  When you book a ticket online, you must go through one of these companies to do so.  While I was working in Alaska, I had the opportunity to ride the rail cars for Holland America, Princess Cruise Lines and the Alaska Railroad Goldstar service.  These cars are very comfortable and have many amenities.
Dome Style Seating
Most of the rail cars are dome style, meaning, the roofs are made of glass and you can look straight out the top if you want. Check out the pictures below of some of the dome cars.
Holland America cars have bus style seating
Princess Rail Cars have table seating
Dome cars offer excellent views!
Meal and Bar Service
Depending on the type of ticket you purchased, you may or may not have the included meal service in the dining cars.  I have always enjoyed the meal service on the train but if you simply want bar service, for an additional cost per item, then you can enjoy beer, wine, coffee, tea, soda, smoothies, water and snacks.
Bar service
Meal service
Amenities
You will find that most of the rail cars are double-decker style.  The top floor is where your reserved seat is located.  The bar is usually up top too so you can get your drinks.  Usually, there is a "rail guide" who points out the interesting landmarks and history of the train, narrating the journey.  On the lower floor, not every car will have these features, but you will find the dining area, gift shop, restrooms and some outdoor viewing platforms.  The outdoor platforms are where you can smoke too.
Please note that you are not confined to one particular car.  On more than one occasion I was seated on the second to last rail car and I wanted to see the "caboose" so I simply walked through the cars and went to the back!
You can see the viewing platforms
Spacious viewing platform deck
Railroad Route Maps
Please note that the train may stop at any location along the tracks for any reason with or without notice.
These are the following rail route maps:
Coastal Classic
Glacier Discovery
Denali Star
Aurora Winter
Hurricane Turn
Coastal Classic
Travels round trip Anchorage to Seward to Anchorage
Each way takes about 5 1/2 hours
Route destinations:

Anchorage 
Girdwood
Seward
Coastal Classic Train
Girdwood

Glacier Discovery
Travels round trip Anchorage to Grandview to Anchorage

Round trip

takes about 12 hours
Goes through the Anton Anderson Memorial Tunnel which is about 2.5 miles long.
Route destinations:

Anchorage 
Girdwood
Whittier
Portage
Spencer
Grandview
Anton Anderson Memorial Tunnel
Inside the tunnel
Lots of glaciers to be seen
Denali Star
Travels round trip from Anchorage to Fairbanks to Anchorage

One way

from Anchorage to Fairbanks is about 12 hours.  If you want to get a ride back to Anchorage, you will need to wait until the next day for travel.
Route destinations:

Anchorage 
Wasilla
Talkeetna
Denali
Fairbanks
Denali Star Train
Denali Star Train
Denali Star Train
Aurora Winter
This train operates on a limited basis in the winter months and goes from Anchorage to Fairbanks to Anchorage.
Route destinations:

Anchorage 
Wasilla
Talkeenta
Chase
Curry
Deadhorse
Sherman
Gold Creek
Canyon
Twin Bridges
Chulitna
Hurricane Gulch
Denali Crossing
Healy
Nenana
Fairbanks
Hurricane Turn
Travels round trip Talkeetna to Hurricane Gulch to Talkeetna
This train makes stops for Alaskans who live north of Talkeenta away from the roads.
Trek Notes
This trek is set up for the train from Anchorage to Fairbanks. The major portions of the route will be in RED and the points of interest will be in bold BLACK.
For this Trek I will not be putting specific rail arrivals and departure times but if you want to purchase rail road tickets or see specific times please visit: http://alaskarailroad.com/
I am posting pictures from all of my experiences on the train.  So you will see about 8 years worth of pictures here.
Railroad Guide
Anchorage to Talkeetna
The first leg of the journey begins at the train depot in Anchorage and goes until Talkeenta.
Anchorage Rail Depot
The rail depot in Anchorage is located just below the down town area.  The train usually departs in the mornings and there is really good breakfast service on the train so if you haven't eaten make sure you go down and get some food! Please note, that meal service may or may not be included with your ticket purchase.
The train slowly winds around the northern edge of Anchorage through tall spruce and birch trees and you will pass the Joint Base of Elmendorf-Richardson.  You will pass through a few more very small landmarks as you make your way to Eklutna.
Eklutna
Eklutna isn't a stop on the train but it has a few points of interest here.  Eklutna has some of the oldest Russian Orthodox churches in North America.  Here you can see some spirit houses which are basically small house-like structures placed over graves.  The story for the houses is that the houses would provide comfort to the deceased in the afterlife.
Matanuska
Back in the day when the trains would run on coal, the Matanuska coal mines would provide that important fuel.  There isn't much to see here.
Palmer Junction
You wouldn't think of it, but Alaska has a rich history in farming.  In fact, some of the world records for cabbage size were grown in Palmer.  As part of the New Deal signed by President Roosevelt back in the early 1930s, about 200 families departed from the Midwest and came to the Palmer area to begin a great farming experiment.  It wasn't terribly successful but many crops and dairy are still produced there to this day.
Wasilla
Wasilla is home to about 7,800 people.   There are lots of modern restaurants (including fast food) and big box stores.  There is a small train depot here but this is basically your last view of a large city until you come to Fairbanks.
Willow
Willow is a small community with a population of about 2,000.  In the late 1890s gold was discovered and soon people came from all over to mine and dredge here.
Montana
When talking with some of my Anchorage friends, I've heard that there is some good fishing here at the creek.  Other than that, there isn't much else to see besides the creek and all of the trees.
Sunshine
I have also heard that there are some really cool camping and fishing spots near Sunshine.  There are a few stores and even a Subway restaurant in town.
Talkeetna Rail Depot
The Talkeenta Rail Depot is located just a short walk outside of town.
Talkeetna is one of my favorite places in Alaska.  It is a small fun town with really good food and fun interesting places to see and shop.  If you disembark here in Talkeetna, I would suggest you try a pizza or sandwich at Mountain High Pizza Pie. Get your breakfast and coffee at The Roadhouse – the serving sizes are huge!   If you are looking for something fancy you should stop at the Wildflower Cafe – this place is also a great place to stay!  There are many other great places to eat and visit so plan on bringing a big appetite.

Looking down from our room at the Wildfower Cafe
Colorful houses
Get your breakfast here at The Roadhouse
Wildflower Cafe – A little pricey but the food is very good
Talkeetna can get very busy when the trains arrive bringing in hundreds of people

Mountain High Pizza Pie
If you have some extra time, take a quick walk down to the Susitna River which is located west of Talkeenta.  The river is very wide and on clear days you can get great views of Denali (formerly known as Mt. McKinley).  In the picture below, you are about still about 60 miles away from the mountain (as the crow flies).
Talkeetna to Denali National Park
The train will stop for only a few minutes in Talkeetna to pick up and drop off guests (you aren't allowed to get off the train unless you are disembarking) and then your next stop will be Denali National Park!
The train ride to Denali from Talkeetna offers some of the most beautiful locations on the Alaskan Railroad.   It is another 4 hour journey which wanders over many creeks and rivers and goes through the Indian Valley, Hurricane Gulch, Broad Pass, Cantwell and you will eventually ride through a sliver of Denali National Park until you come to the rail depot near the visitor center to Denali National Park.
Along this route north of Talkeetna,  you will quickly be offered incredible views of Denali – weather permitting of course.  It is never guaranteed that you will see The Mountain but you may have a very good chance if there are no/little clouds obviously.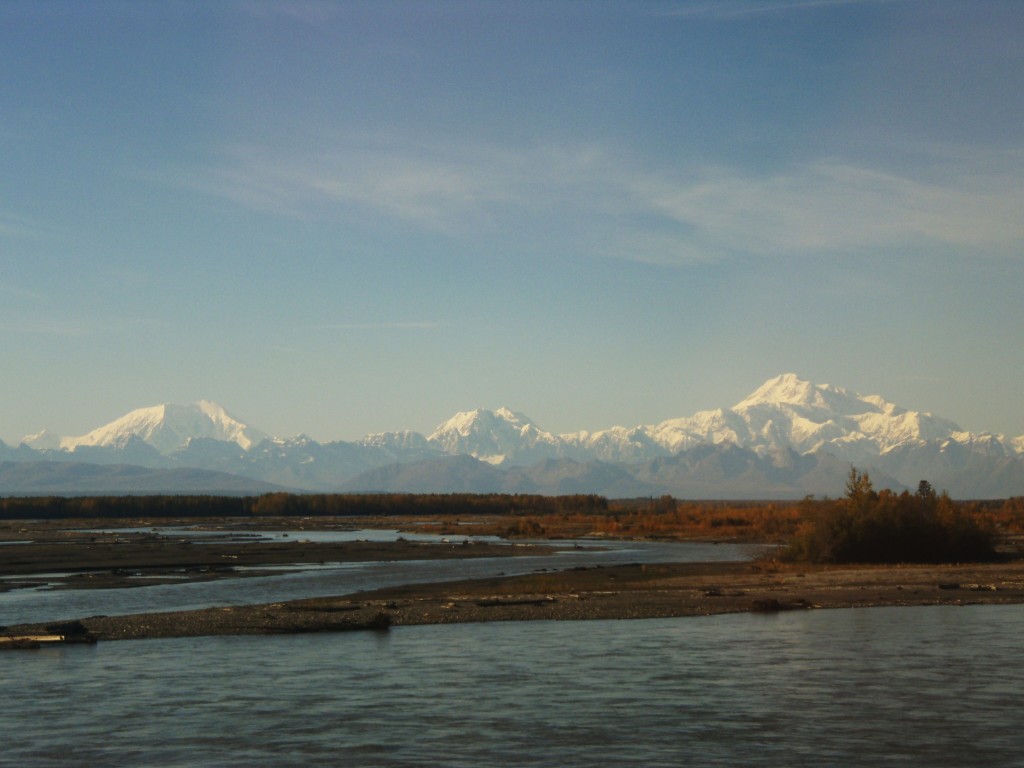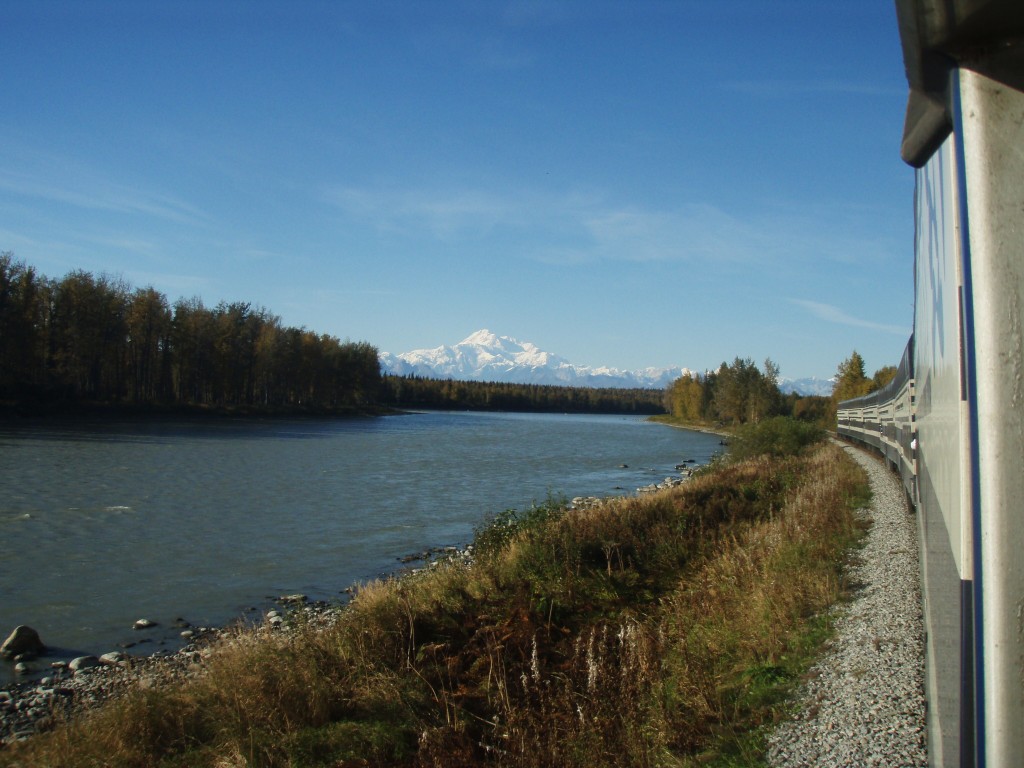 It is simply incredible to see Denali in person.  Pictures do not do this mountain justice.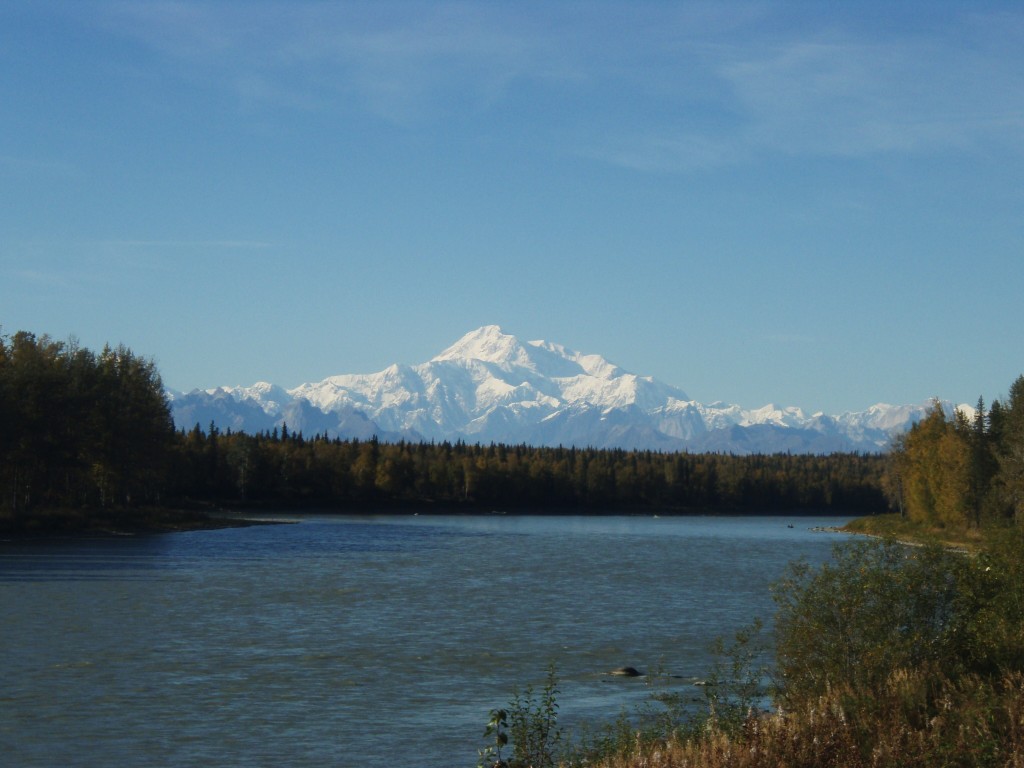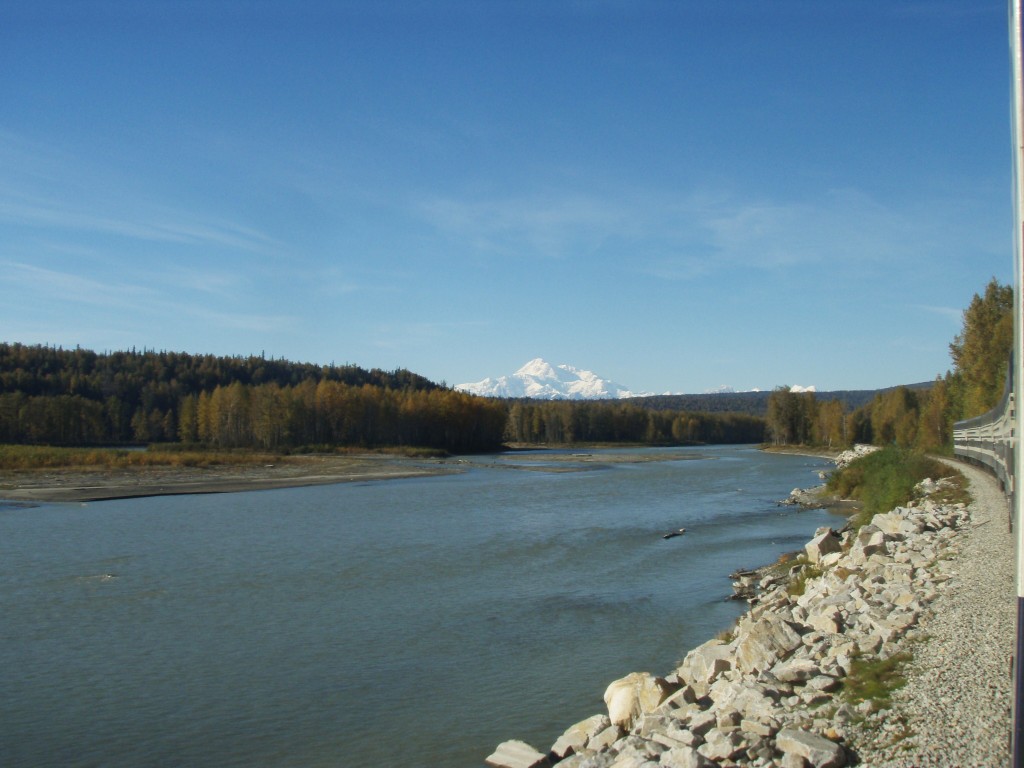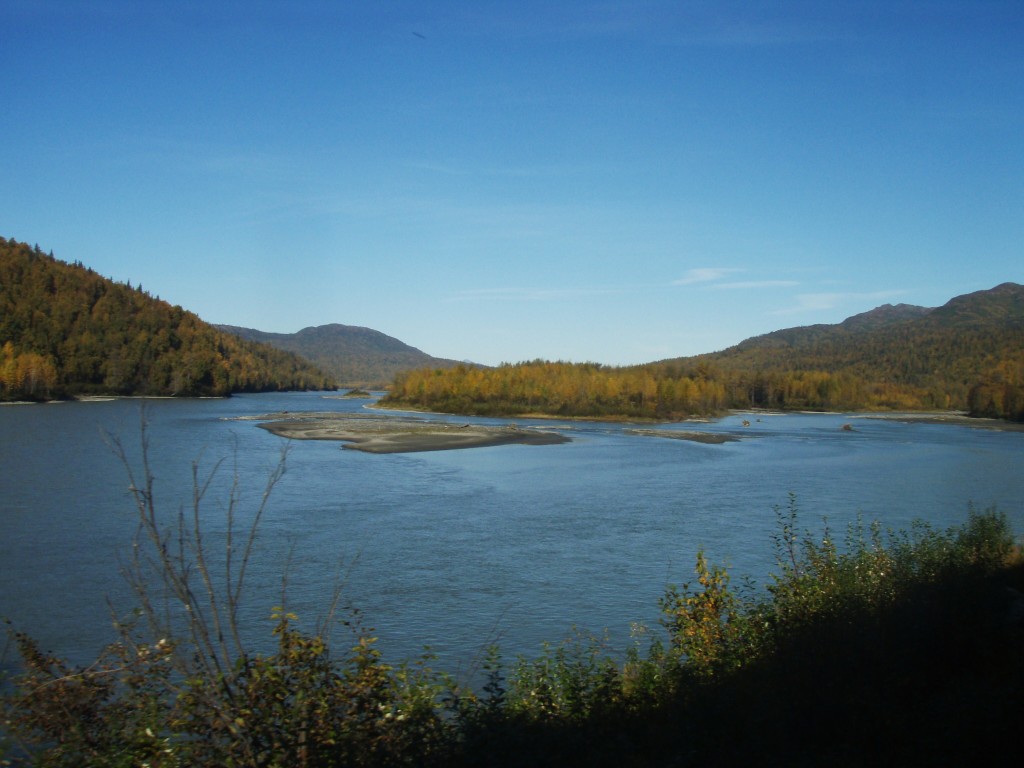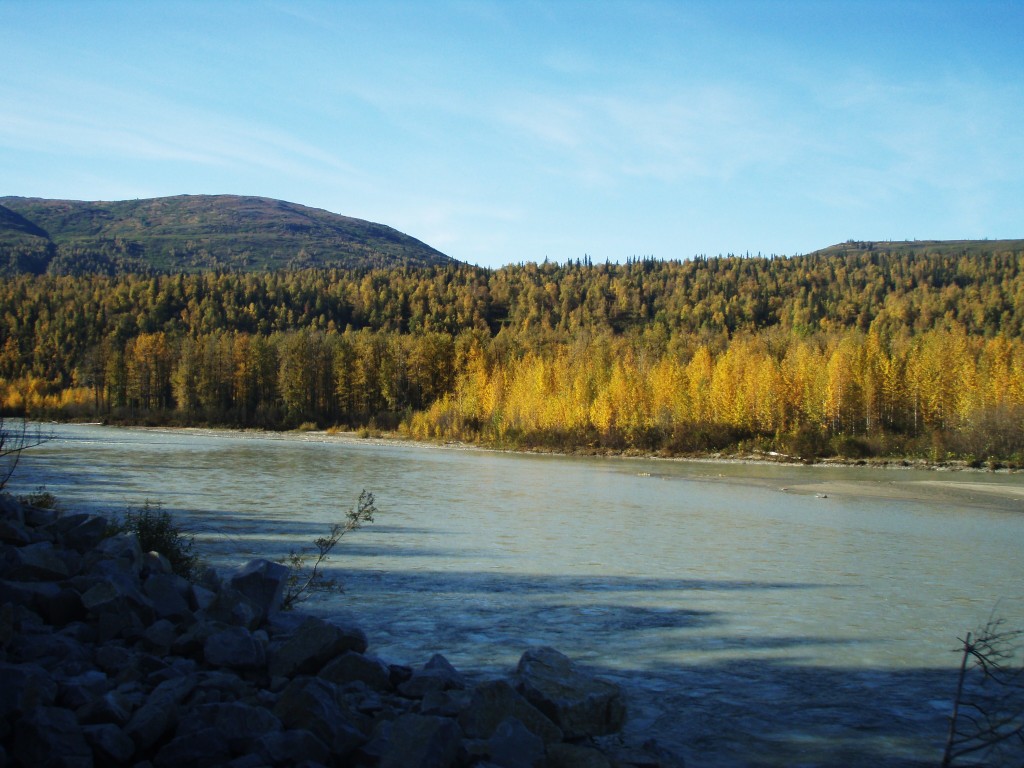 Curry
Located about 22 miles north of Talkeetna, Curry was once home to a luxury resort back in 1922.  There was a hotel, rail station and even a golf course!  Now days, there isn't much going on but this is also a great place for fishing and exploring.  There are a few artifacts laying around but the hotel eventually burned down in a fire in 1957.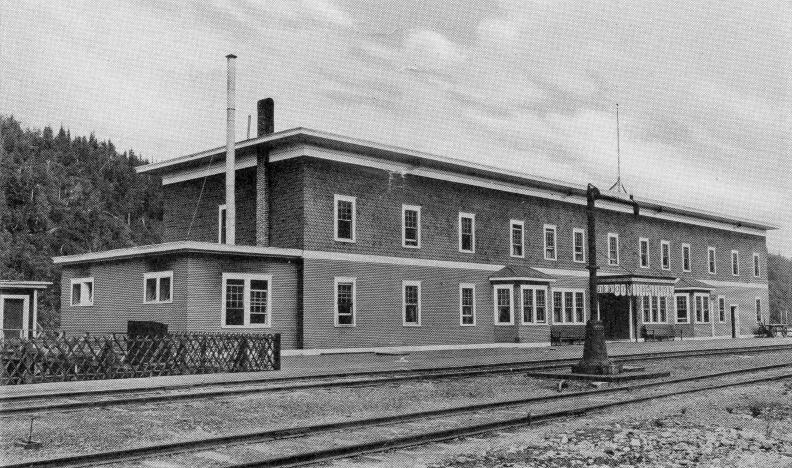 Sherman
Sherman is a small homestead by Mary and Clyde Lovel.  If you blink you will miss the "town"!
You can see their blue colored house from the train tracks and on many occasions they have both come outside their house to wave as the train goes by!  Mary has written a few books about her adventures and stories in Alaska and about where they live.  I have read one of her books called "Journey to a Dream" and it is a fascinating story about her life out in the Alaskan wilderness.  Side note, Mary and Clyde are VERY nice people.  I have met them once when they came to visit a hotel in Denali and they loved to chat about Alaska and about their experiences.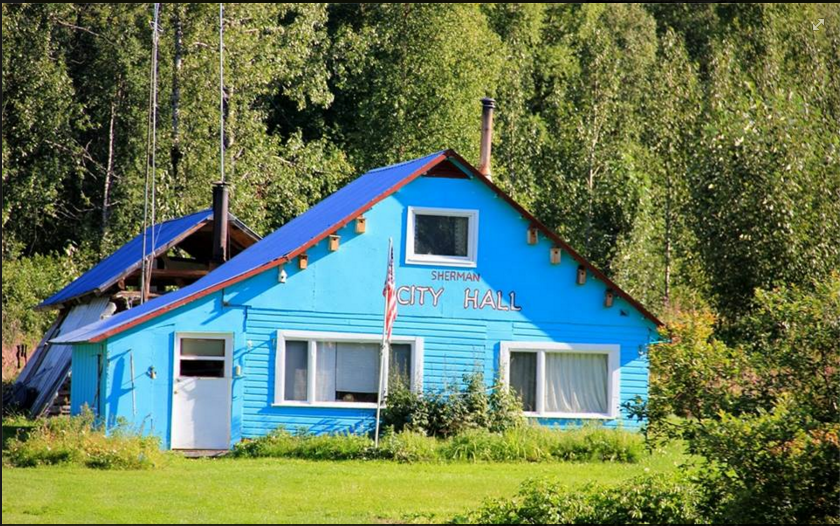 Indian River Canyon
This canyon and the entire valley is really cool!  You can see a few cabins scattered around this place and you will quickly see why some people have moved here!  For how amazing this place was, I only took three blurry pictures but just imagine hills and mountains filled with trees, ponds, lakes and creeks!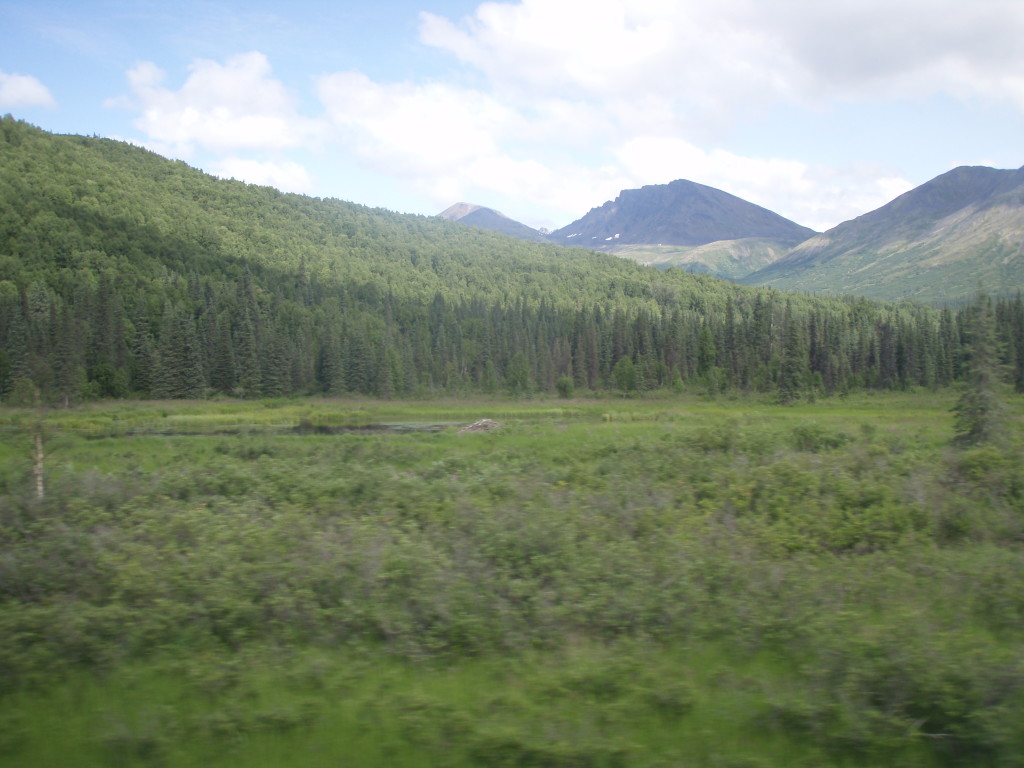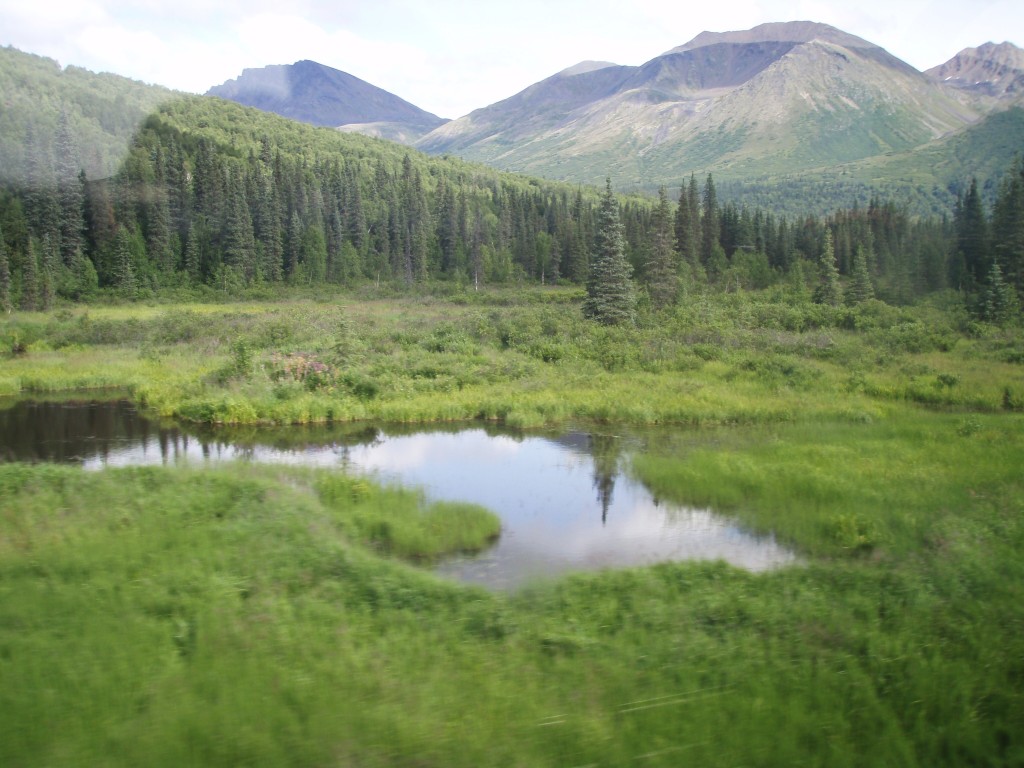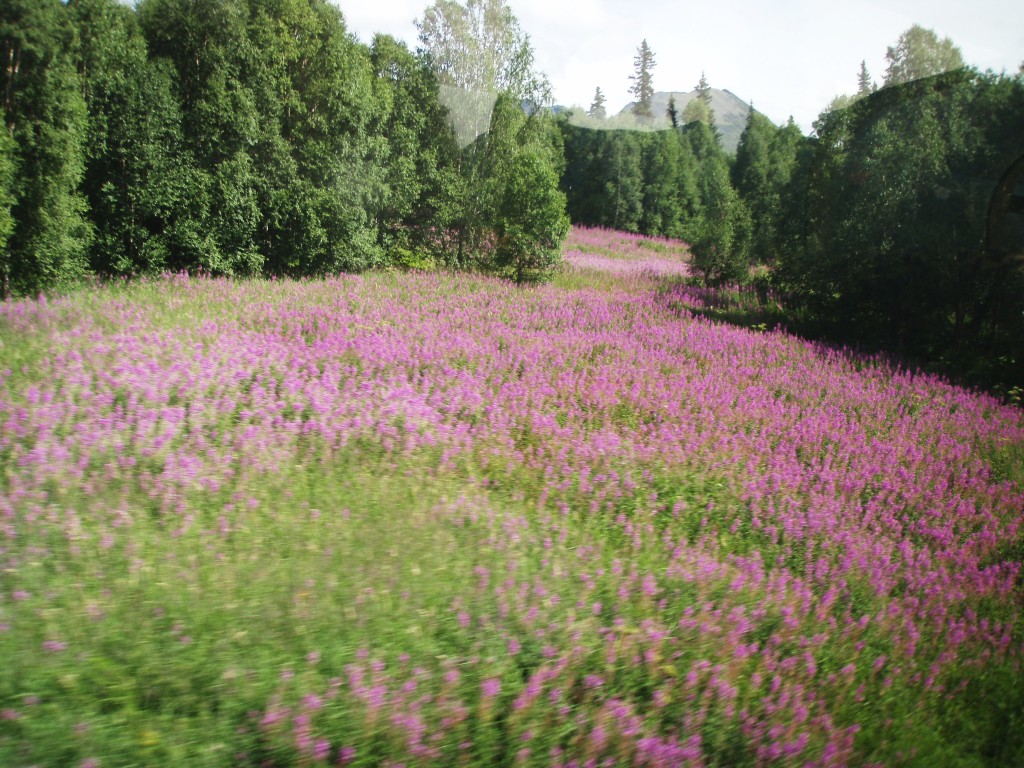 Hurricane Gulch
After about 2 hours of travel, the train will slow down or even stop near Hurricane Gulch.   It is a about a 300 foot drop to the bottom!  This is also the last stop on the Hurricane Turn train.  Some people get nervous as they travel over the bridge but I think it is so cool to look down as you go across.
Looking down Hurricane Gulch
Hurricane Bridge
Broad Pass
The train will continue on through Broad Pass which features a very wide pass with high mountains on the east and west sides.  This is also a great place to come berry picking in the late summer months.
If the weather is clear you will still get some amazing views of Denali.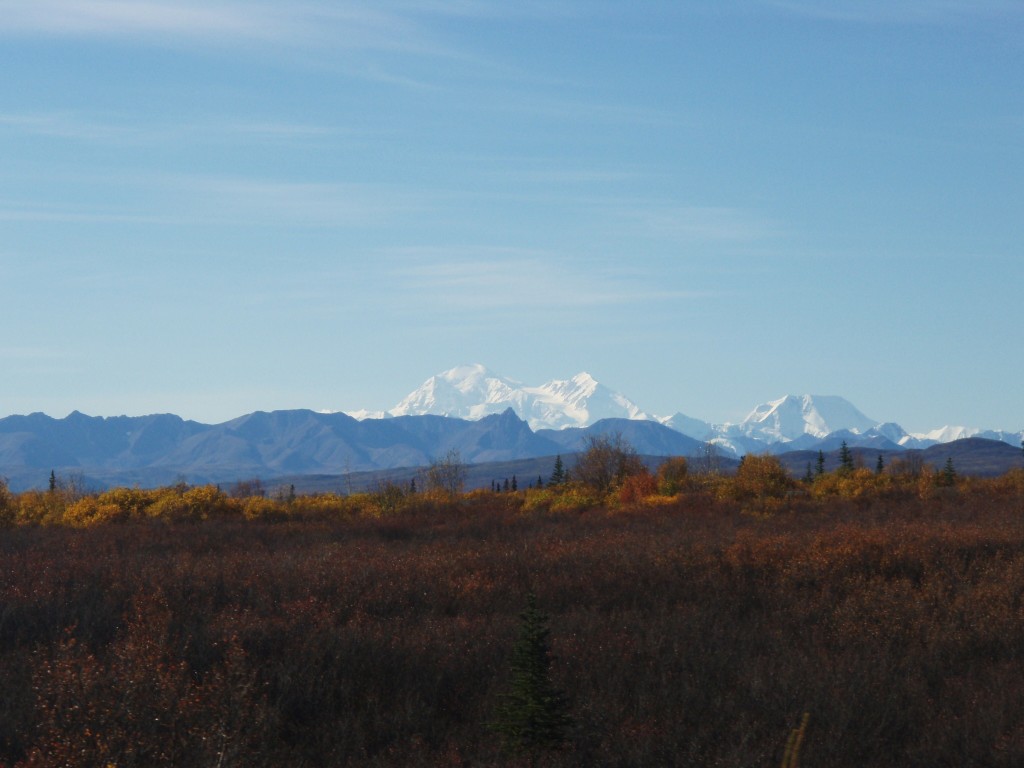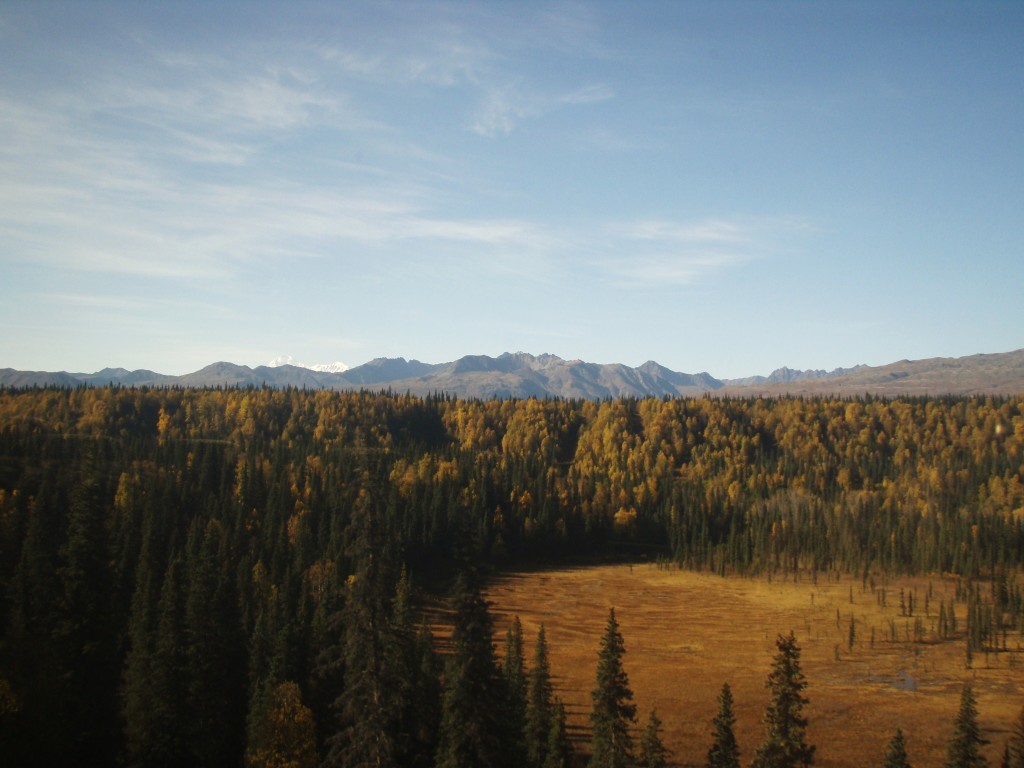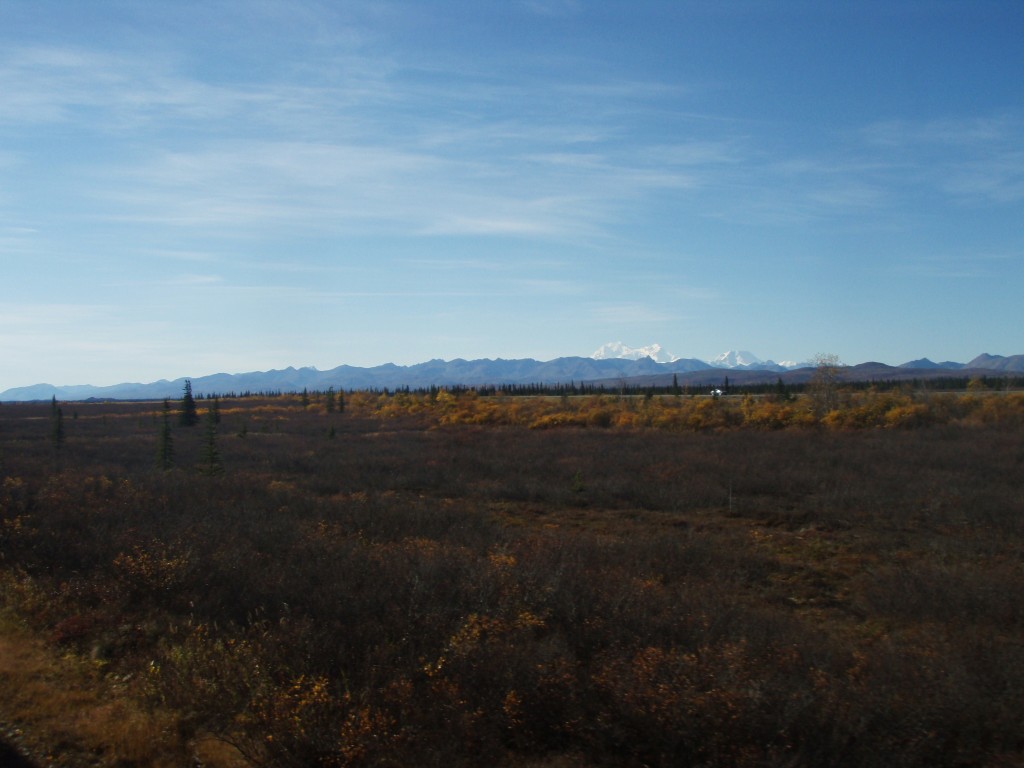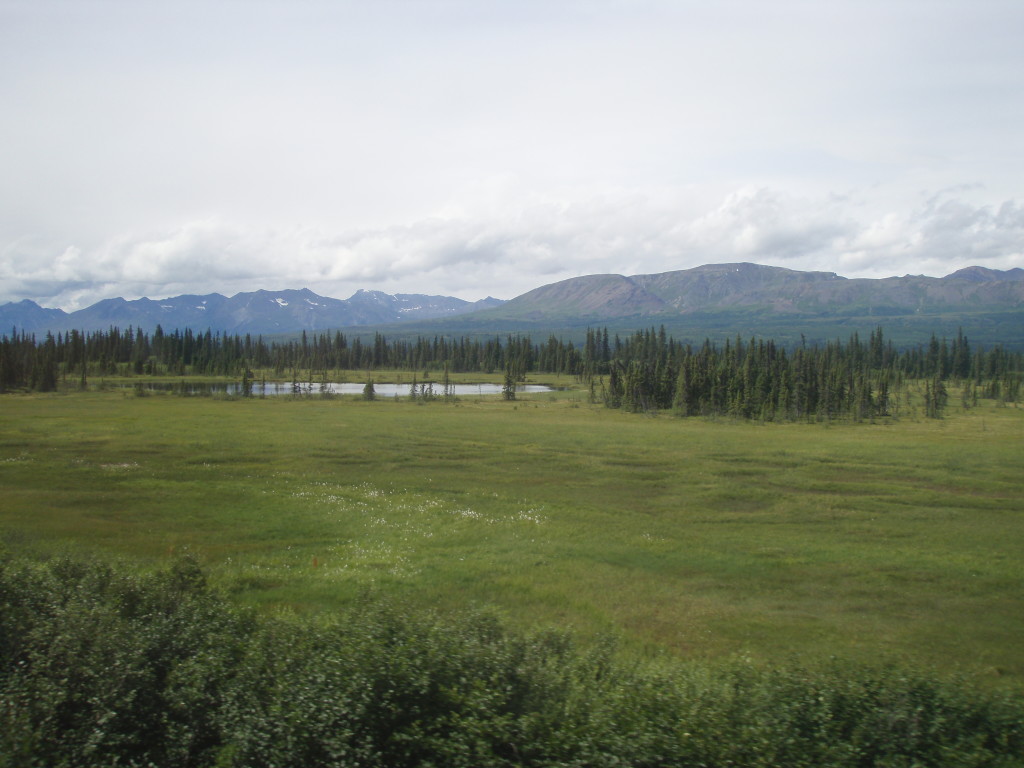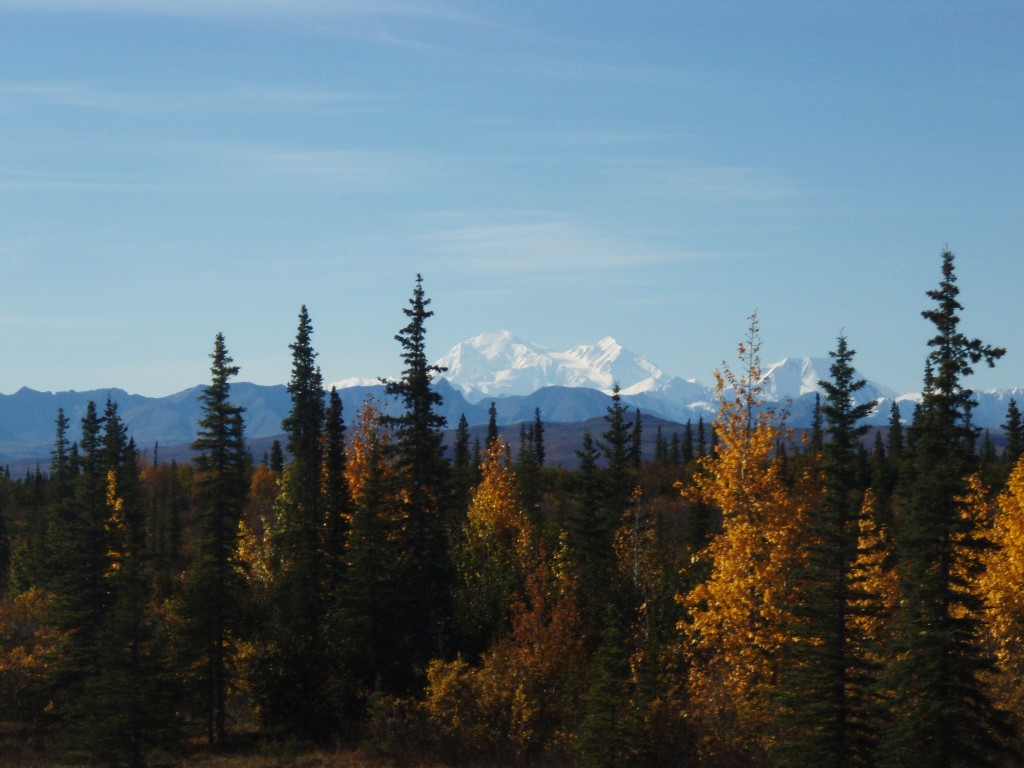 There are several large lakes at Broad Pass.  This is one of them.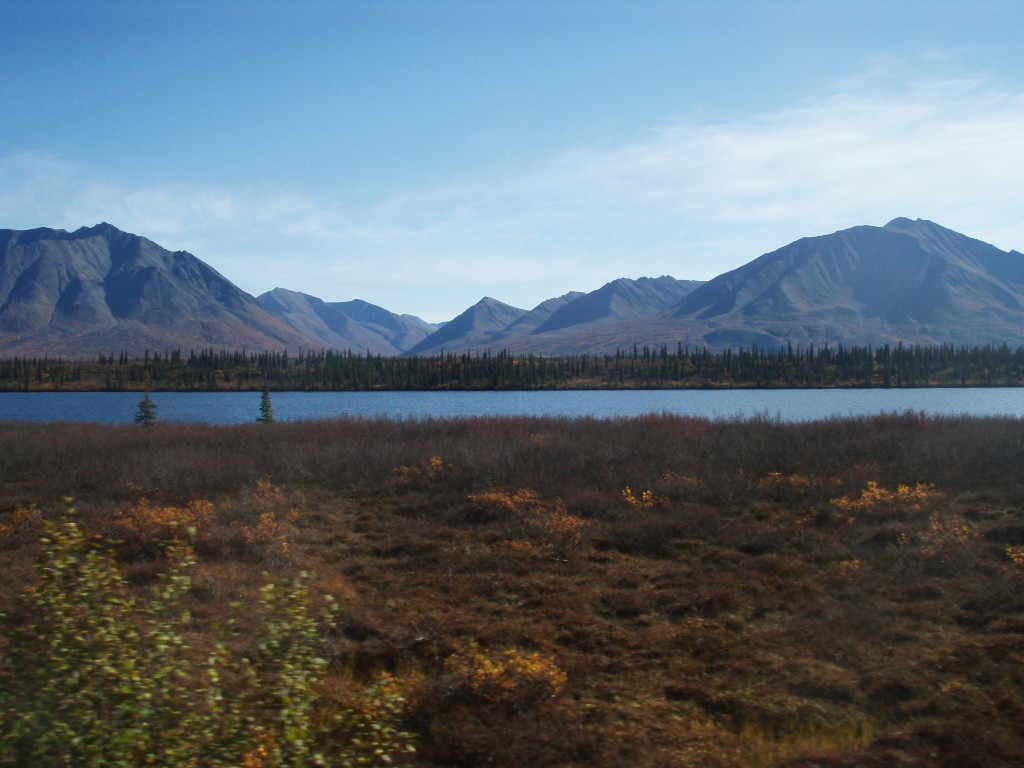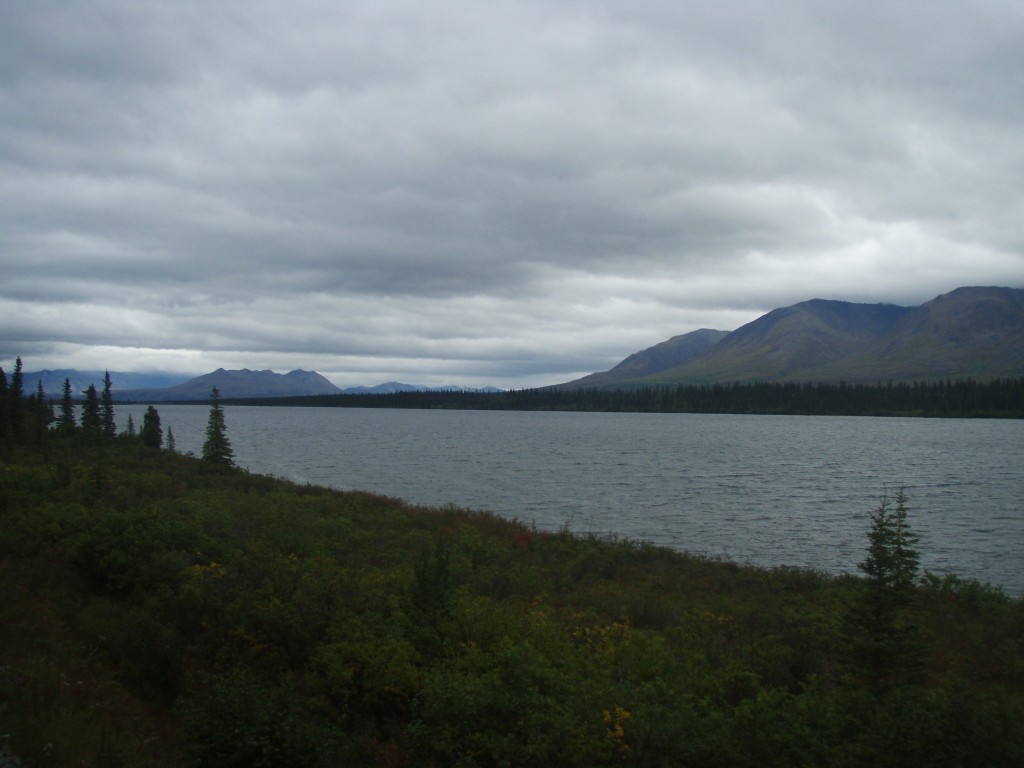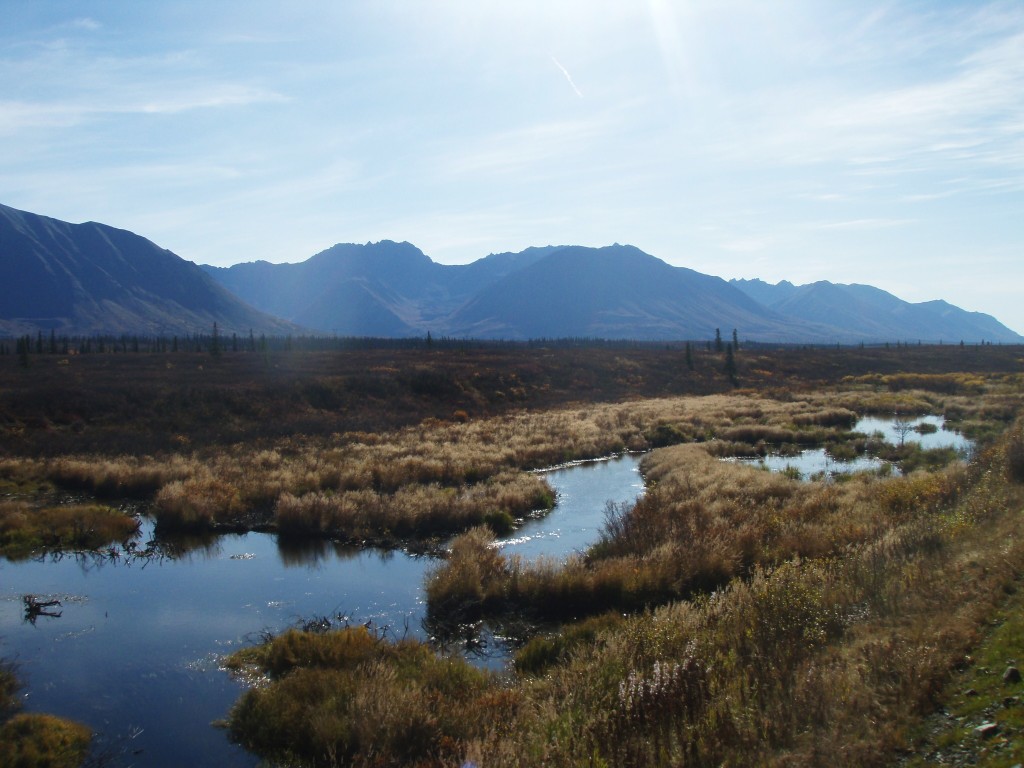 Cantwell
You will eventually make it to the town of Cantwell which is located just south of Denali National Park.  The train sometimes makes stops here to pick up people or drop off something.  I've been on the train when we stopped to pick up a few backpackers who made prior arrangements with the Alaska Railroad to be picked up here.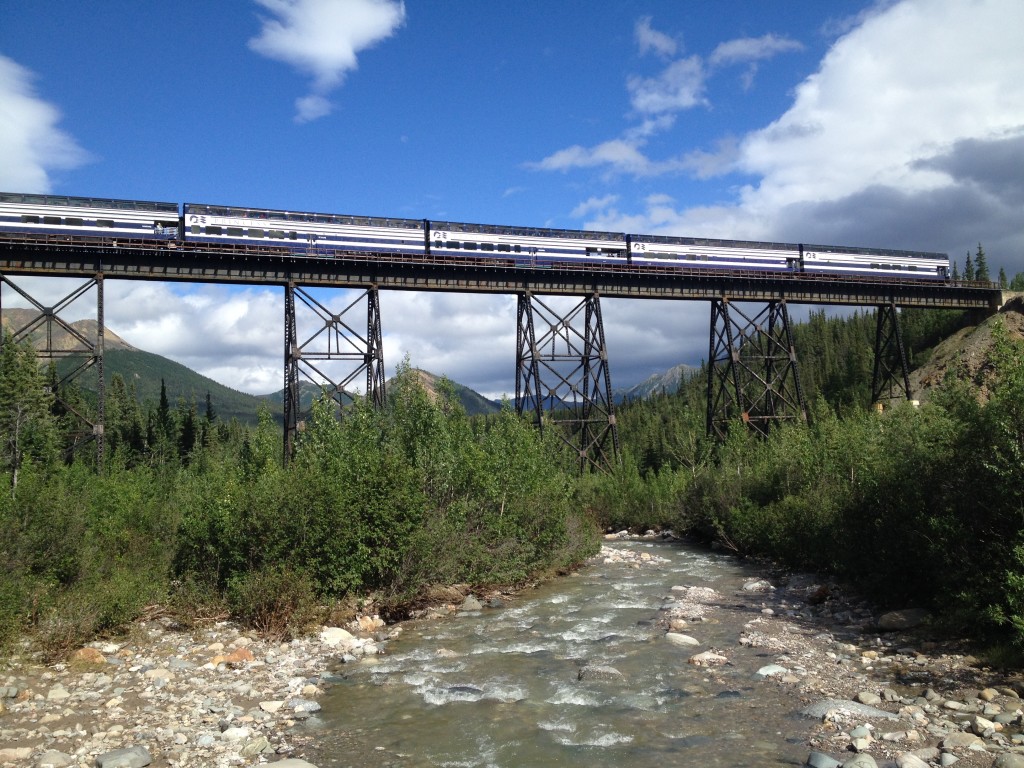 Denali National Park
At last you have arrived at Denali National Park Depot and the "town" of Denali which is nicknamed Glitter Gulch – I hate the name so I will just call this seasonal town Denali.  This place has hotels, restaurants and plenty of gift shops for you to enjoy but I know you have come to see Denali National Park, right??  So get off here and explore around the park for a few days or weeks or months or all summer if you can!
You could:
I've lived 5 summers in Denali National Park so it already has a special place in my heart!  This is the place where everyone wants to visit.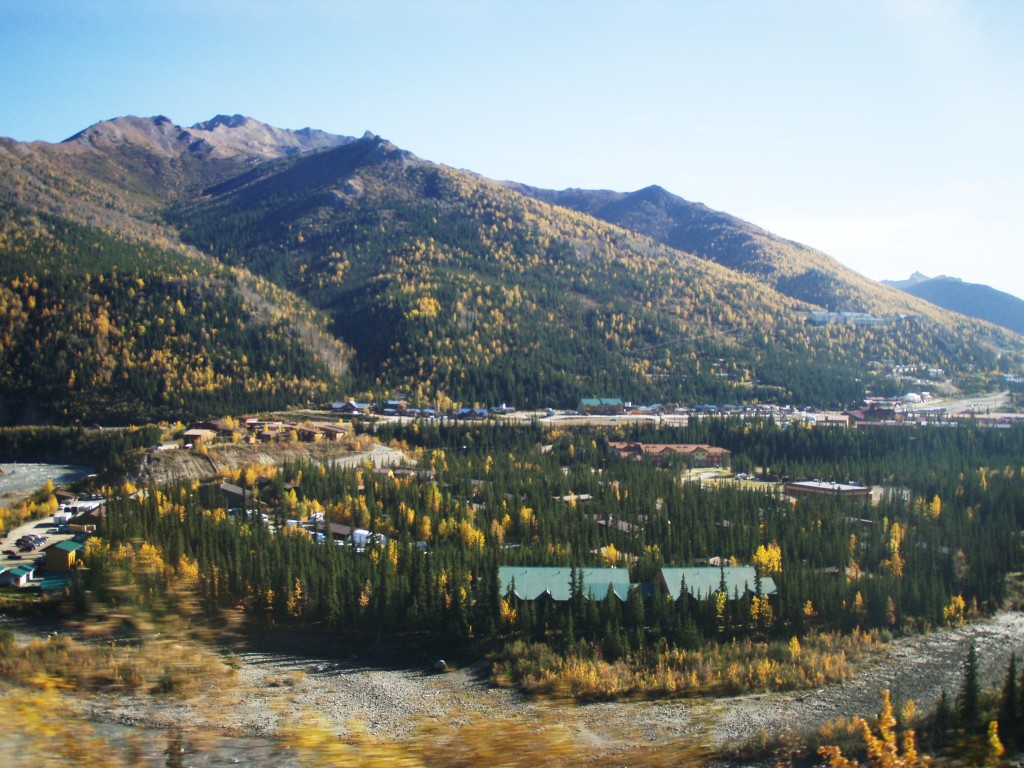 Denali National Park to Fairbanks
The ride to Fairbanks is another 4 hours and it features some mountain and hilly areas next to vast open wilderness.
The train continues from Denali National Park and winds up the canyon until it exits out near Healy which is about 30-45 minutes away.  This part of the journey is really cool as you pass above the Nenana river and could possibly see rafters.
In the picture below you can see Iceworm Gulch.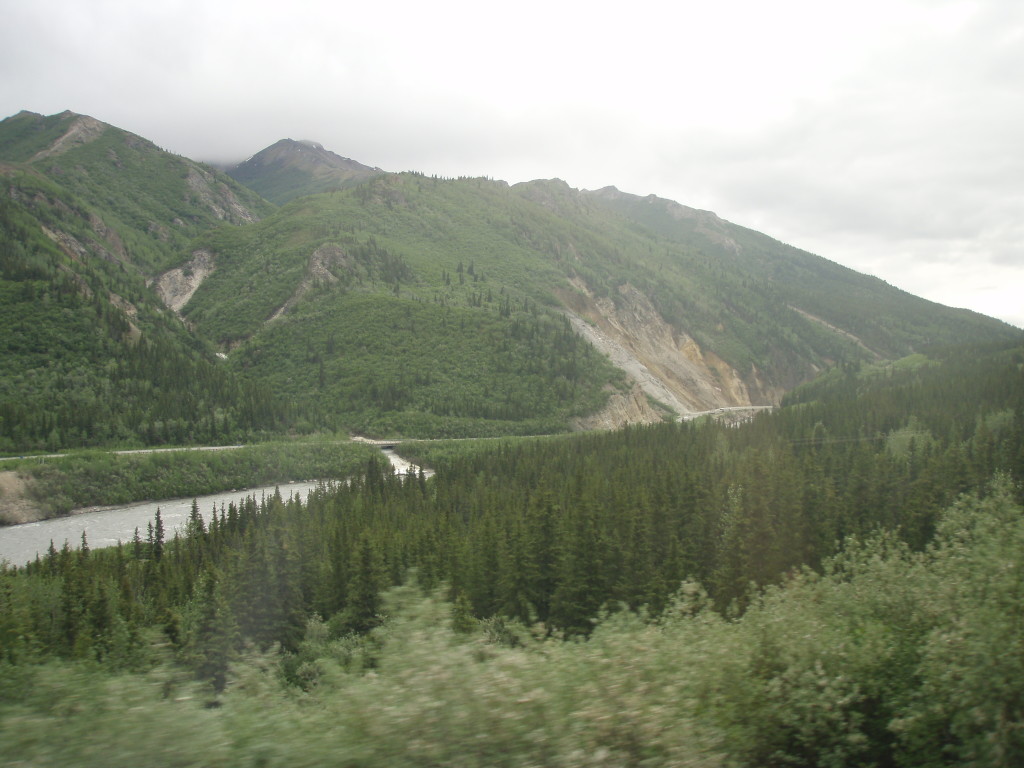 Windy Bridge
You will quickly come to another tall bridge but you will be going under it this time.  This bridge is called Windy Bridge and it is located a few miles north of Denali National Park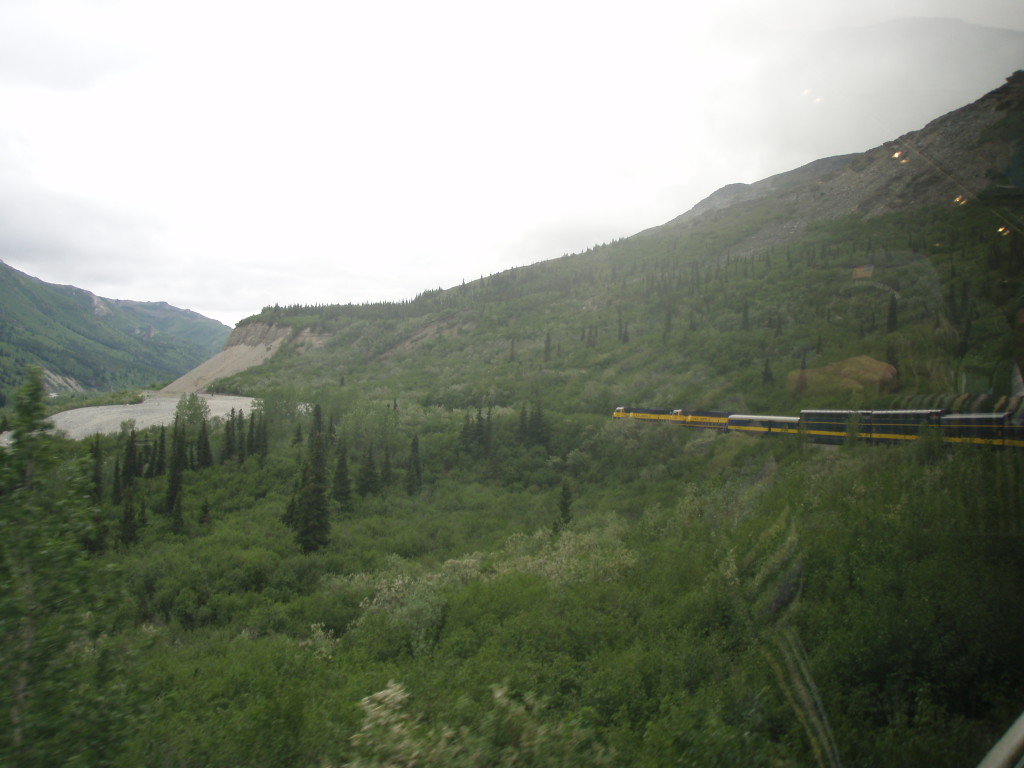 Healy
Immediately outside of the canyon you will come upon the small Healy rail depot.  The train may or may not stop here to pick up workers or supplies but it is not a regular passenger boarding area.  You might notice a tall structure on the other side of the river.  This is the coal mine area which is called the Usibelli Coal Mine.
The train continues on and eventually builds up some speed for a little ways.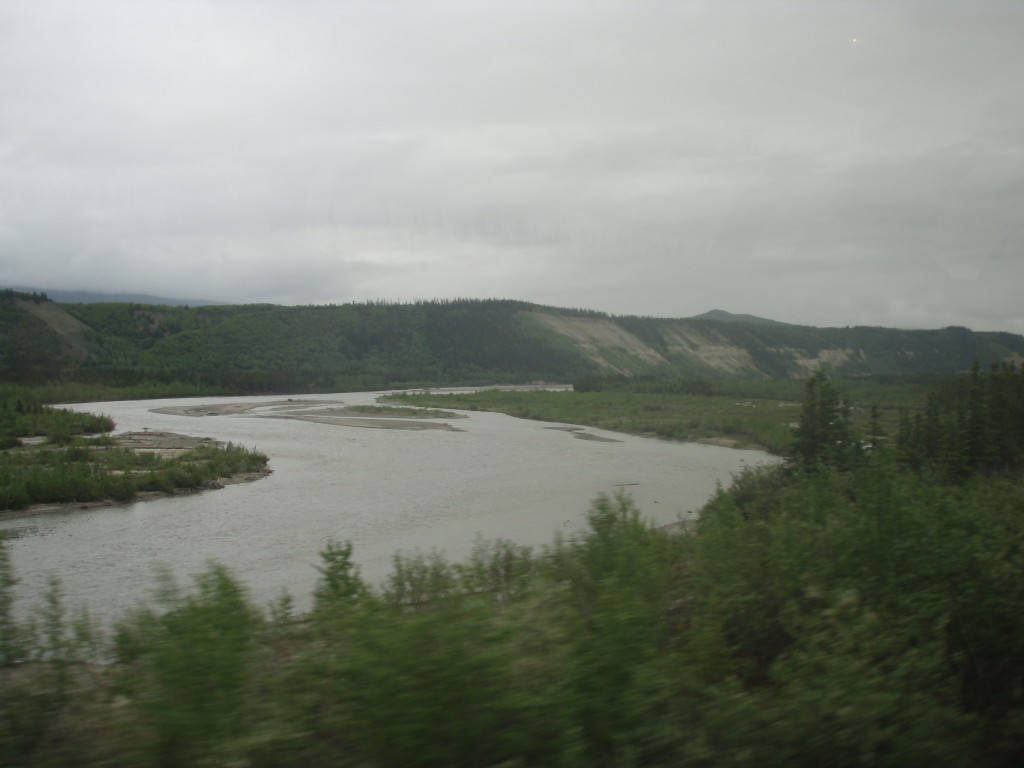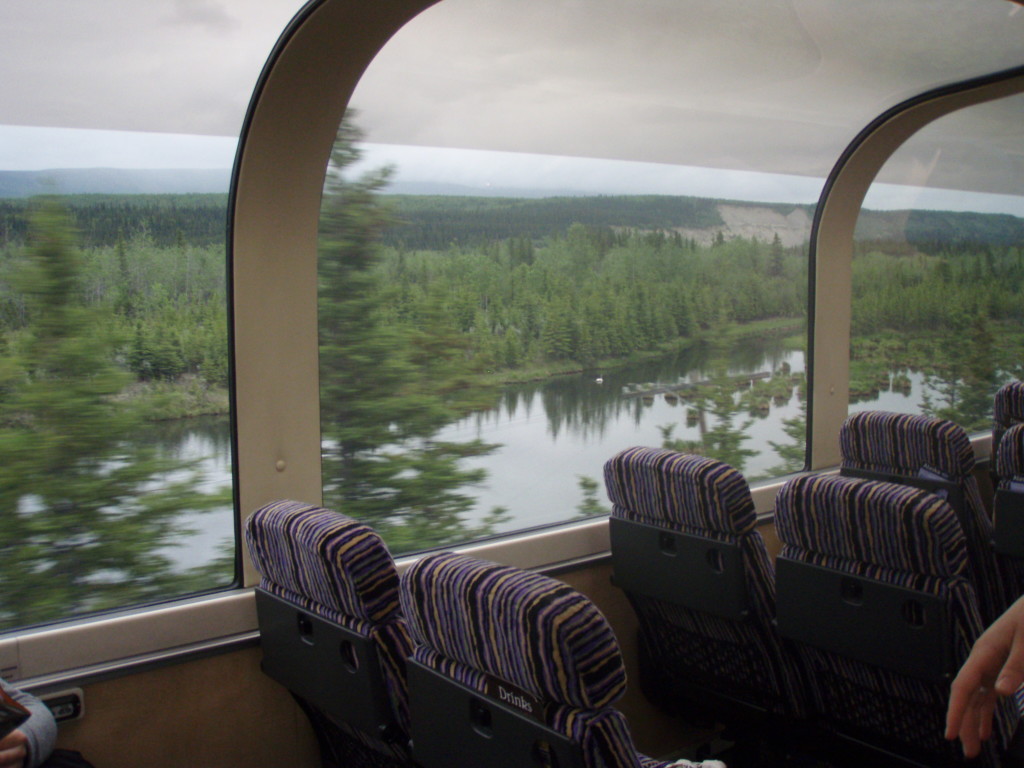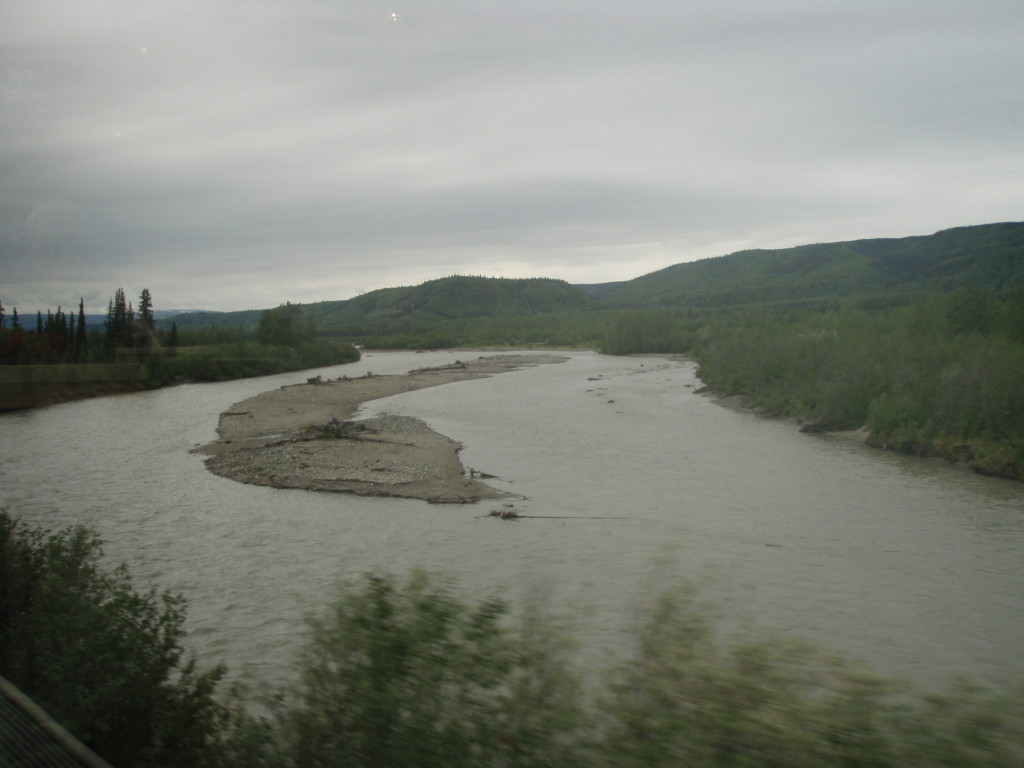 Once you have left all the mountains and canyon behind your next "major" town will be Nenana but there are other points of interest along the way.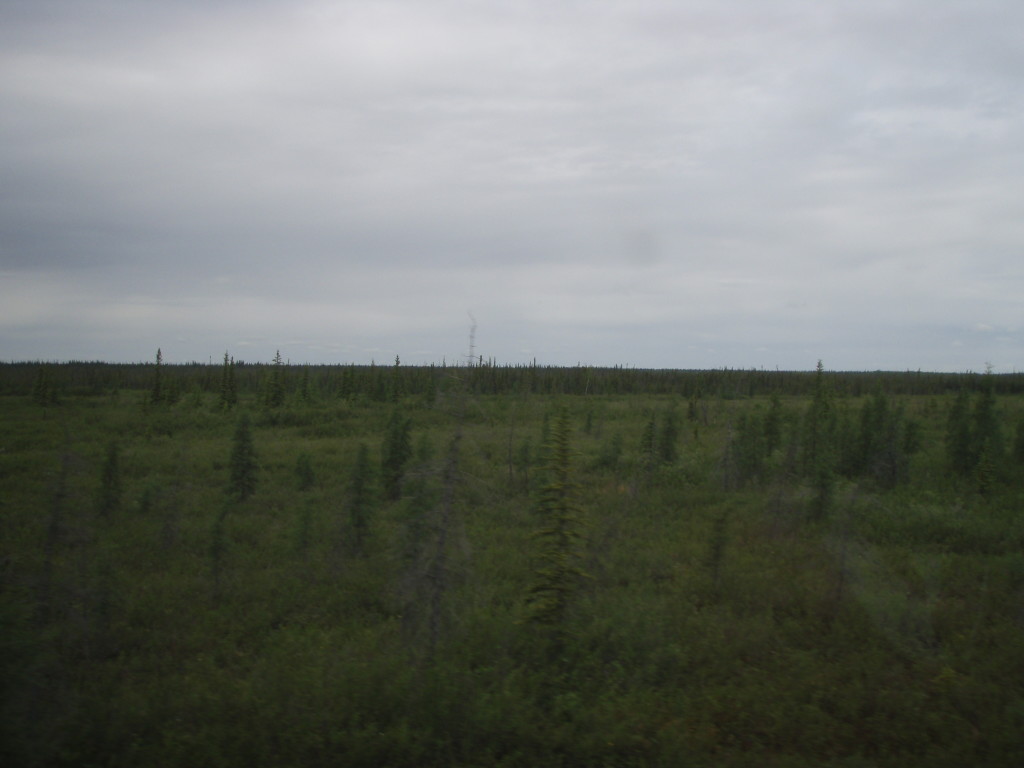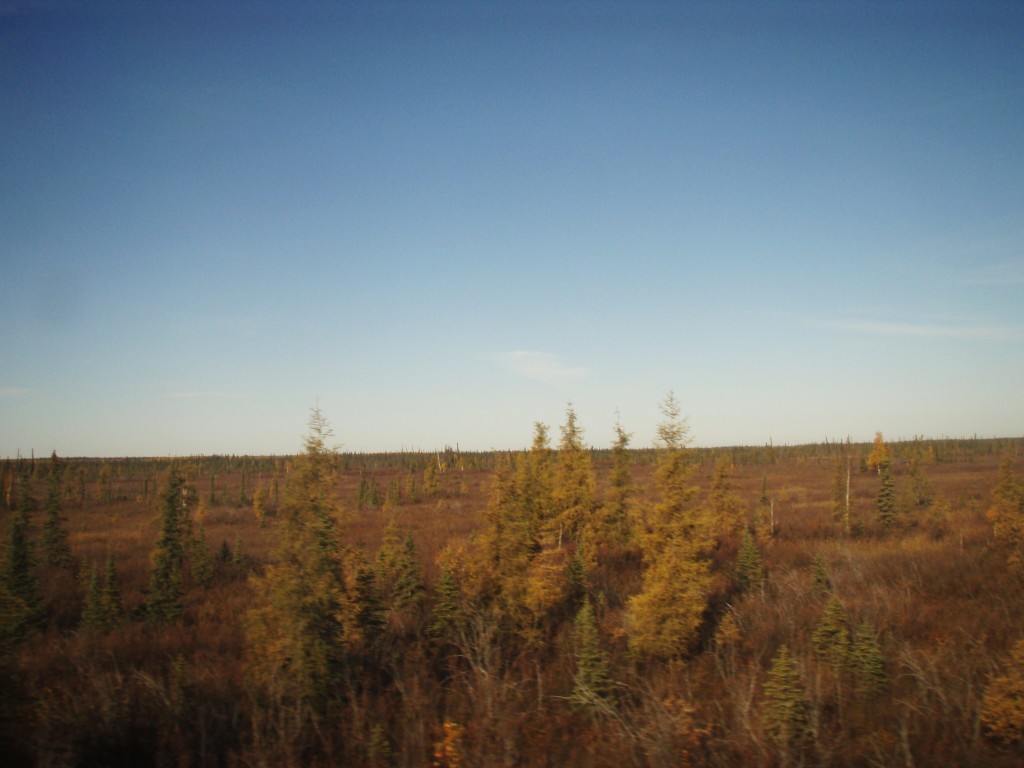 Clear and Anderson
Before Nenana the train gets quick views of the radar installations at Clear and Anderson.  These were used during the cold war and are even still used today I have been told.  The radar installations are huge!  They look like they could be over a hundred yards wide – they stick clear up passed all the surrounding trees.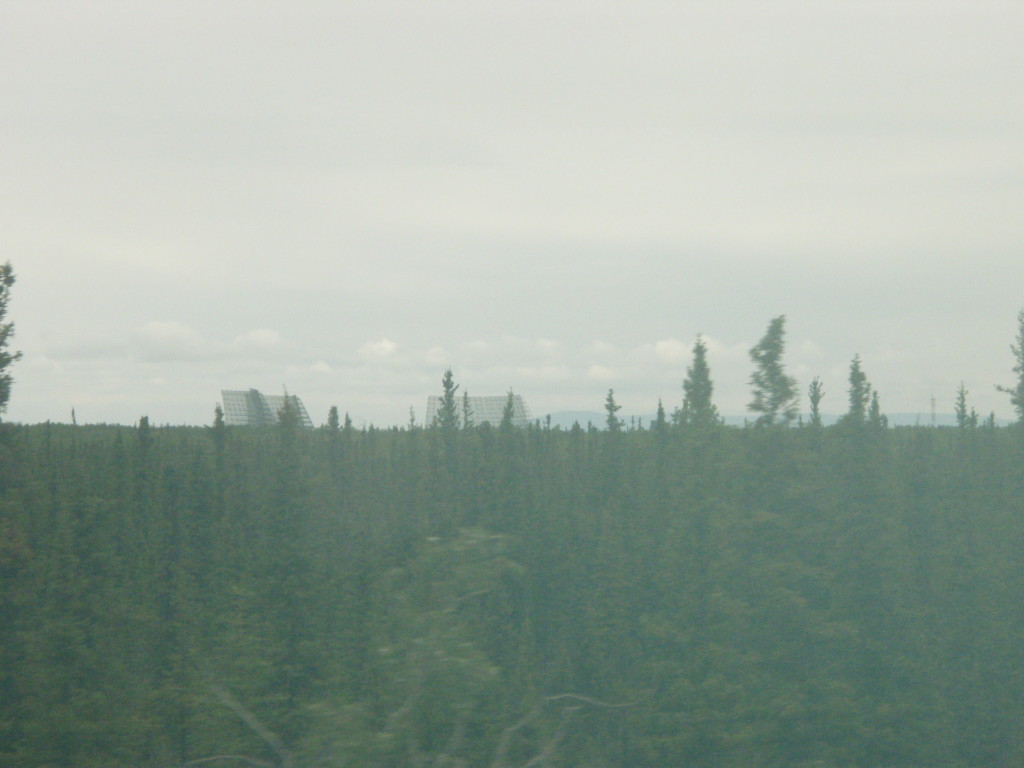 Nenana
The train will keep going a little ways until it comes to Nenana.  Nenana is a small town which has a gas station, several restaurants, a train museum and  other points of interest for local history.  When I go to Fairbanks by vehicle, I usually make a stop here at the gas station to buy my $6 tiny bag of chips – it's tradition!
Nenana is well known for several reasons.
It is where barges pick up supplies and go up the rivers to deliver them to villages.  This is the location for the confluence of the Nenana and Tanana rivers.
Here in Nenana, President Harding drove the golden spike in the railroad signifying the completion of the Alaska Railroad.  This event occurred on July 15, 1923 right near the Mears Memorial truss bridge.  The bridge itself is really cool because it is one of the largest simple truss bridges in the world.
Also, there is a fun contest called the Nenana Ice Classic.  This contest is where you submit your paid guesses as to the exact day, hour and minutes that the river ice will break below a tall "tripod".  If your guess wins, you could receive a lot of money!  Check out their website for more information.
The train winds around the north part of town very slowly until it crosses its own bridge and curves back around the other side of the river.
The train then goes north of all the rolling hills until you come to Fairbanks.  I really enjoy this part of the journey, especially during the Fall season because of all the leaves changing colors.  It is really a beautiful section of the train ride!
Some of my pictures are pretty blurry but you get the idea that most of the trees turn bright shades of yellow.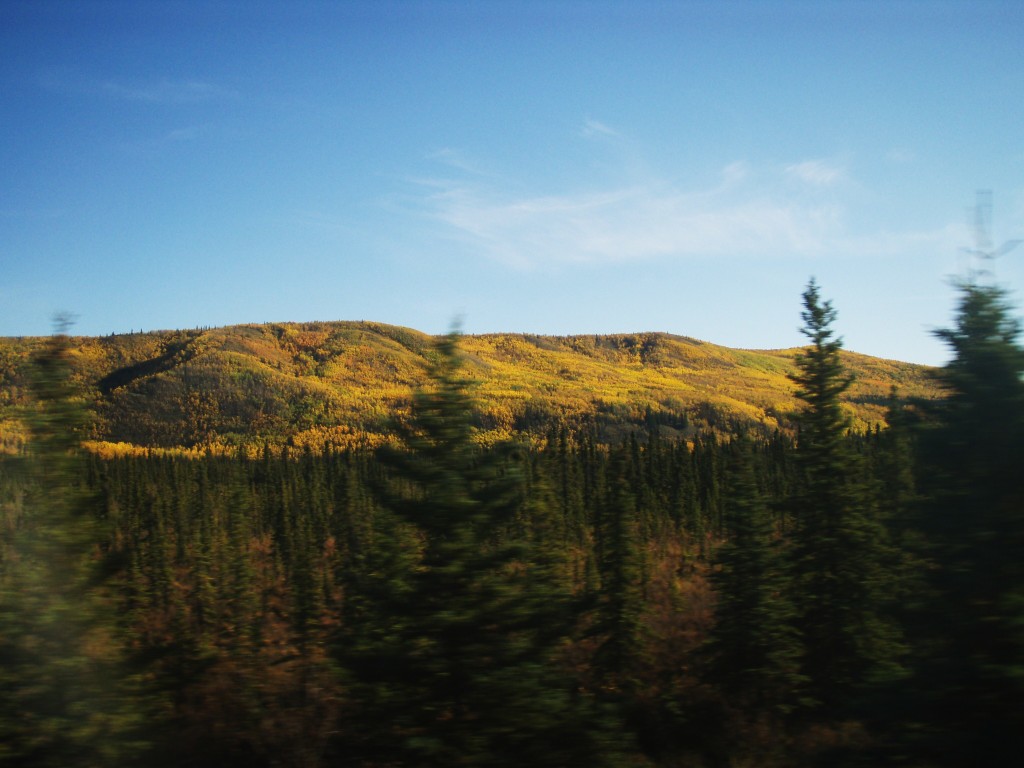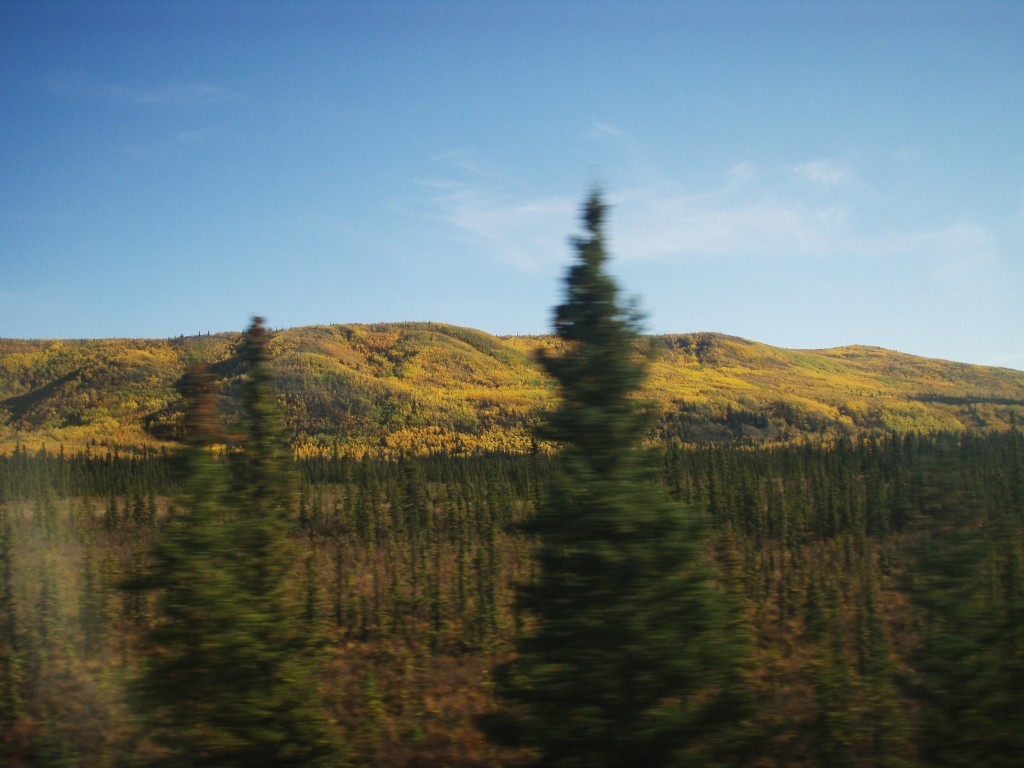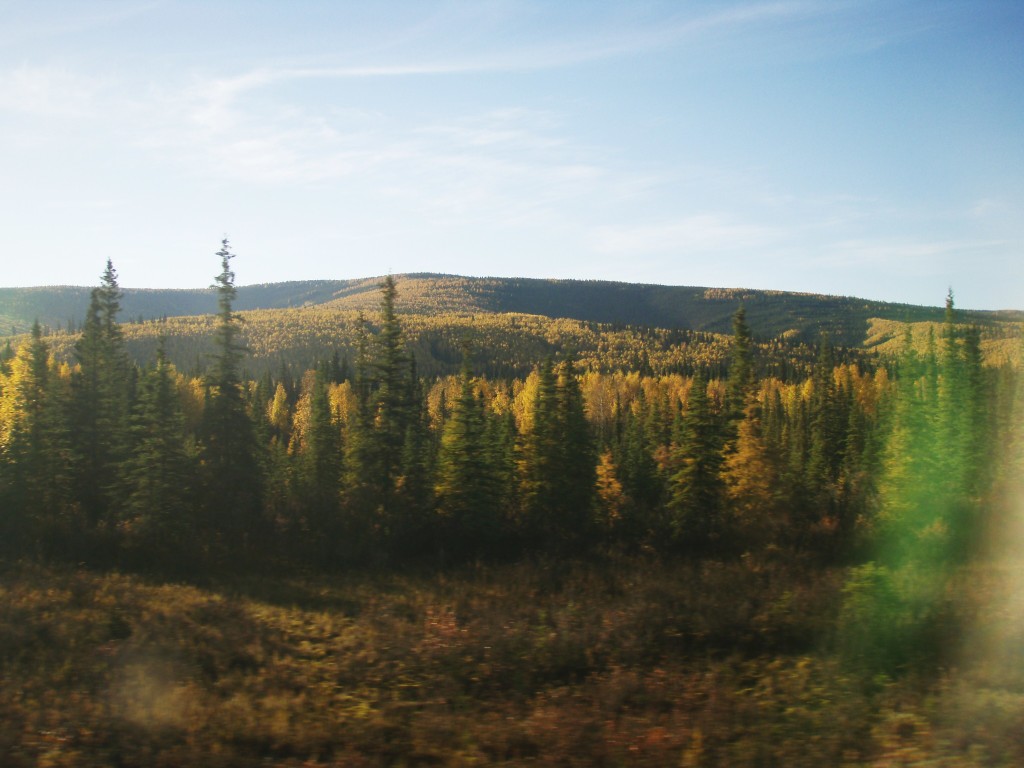 Fairbanks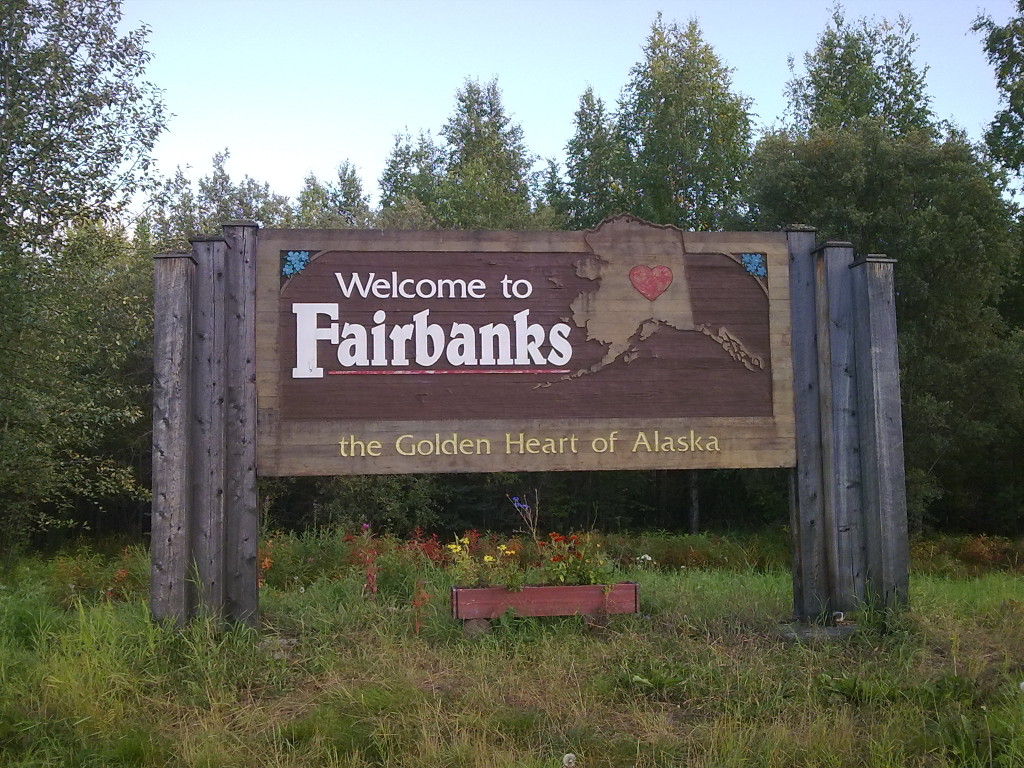 You have finally arrived in Fairbanks!  It has been a very long trip but you are finally at your journey's end on the railroad.  I have lived for some time in Fairbanks and have come to really enjoy the city.  There are tons of things to do and see around here.
Fairbanks is a large city that has tons of restaurants, shops, big box stores and lots of outdoor opportunities.  There is a large university here, lots of military presence in terms of bases and other installations, and there is of course lots of business for mining and oil.
By the way, I think Fairbanks has some really good food which may explain why I was so poor when I came home after my first summer living here – I ate out almost every day!  I remember talking to a lady at the post office who had just moved here from New York City and she said that she was surprised by all the amazingly good restaurants all over the state.
If you have time, I suggest you go check out the University of Alaska Fairbanks (UAF) and see the Museum of the North.  It is an incredible museum with lots of exhibits, presentations and Alaskan artifacts.  Plus the architecture is really cool too!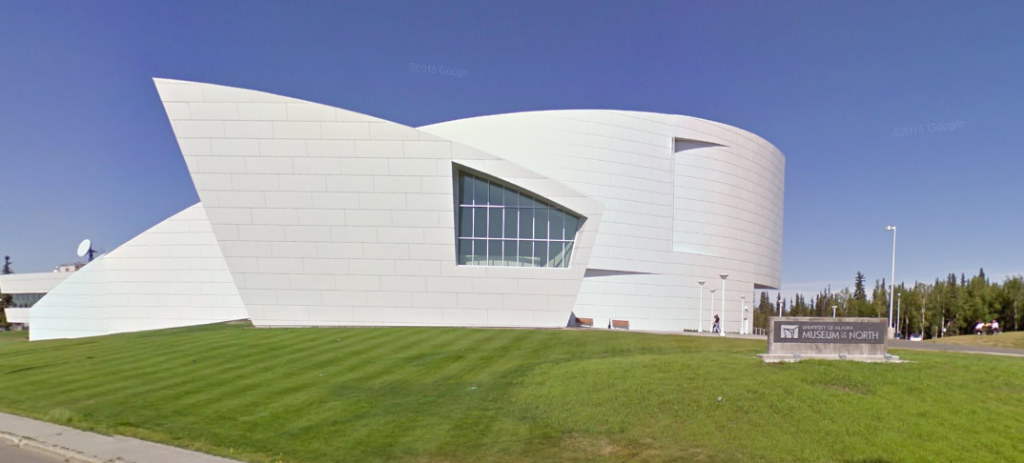 Downtown Fairbanks has lots of good restaurants and shops.  I've spent many hours wandering around trying to see everything.  The Chena river flows through downtown too and you could even kayak, or canoe down it in a rental.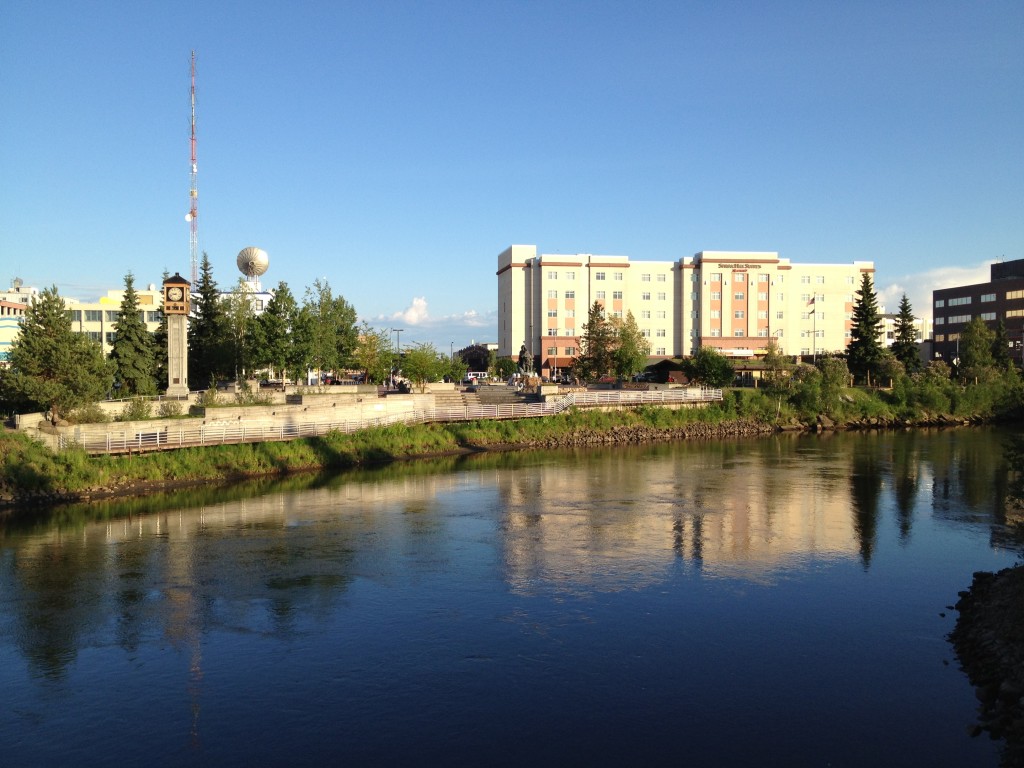 If you have a vehicle, you could also check out part of the Trans-Alaska Pipeline.  It is located a short drive north of Fairbanks about 10 minutes and you get to see how the oil gets pumped from Prudhoe Bay to Valdez.
Personal Thoughts:
Riding trains has always been something that I really enjoy and riding a train through the Alaskan wilderness is even more special.  If you have the time and resources, I would highly suggest you spend a couple of days riding the train, stopping at some of these locations and do your own exploration.  I wouldn't suggest going from Anchorage to Fairbanks in one day on the train but maybe spread it out to make it more enjoyable.  I have been on the train several dozen times and I find it just as exciting as the very first time.  This is a must do trip!